'Fear the Walking Dead': What Happened to Morgan and Why Are His Eyes Red?
Fear the Walking Dead fans went into Season 6 thinking the AMC show might have been given the big shake-up many of them think it desperately needs by killing off Morgan Jones (played by Lennie James). In the last finale, he was seen with a bullet wound in his head, surrounded by a massive group of walkers, and seemed just seconds away from being killed off.
However, when FTWD Season 6, Episode 1 began about five weeks after the events of that finale, it was revealed that Morgan had somehow made it out alive. However, the character has greatly changed since his last appearance on The Walking Dead spin-off.
In the episode, suitably titled "The End is the Beginning," we learned that just as started to pass out, he heard gunshots fired at the walkers. When he later came round, he was safe from the hordes of undead, his bullet wound was dressed and he had been left a message reading, "You don't know me, but I heard your message. You need to do the same. You still have things left to do."
In the events between the last finale and the Season 6 premiere, Morgan has made a home for himself in an old water tower he had previously made as a safe place for Grace (Karen David).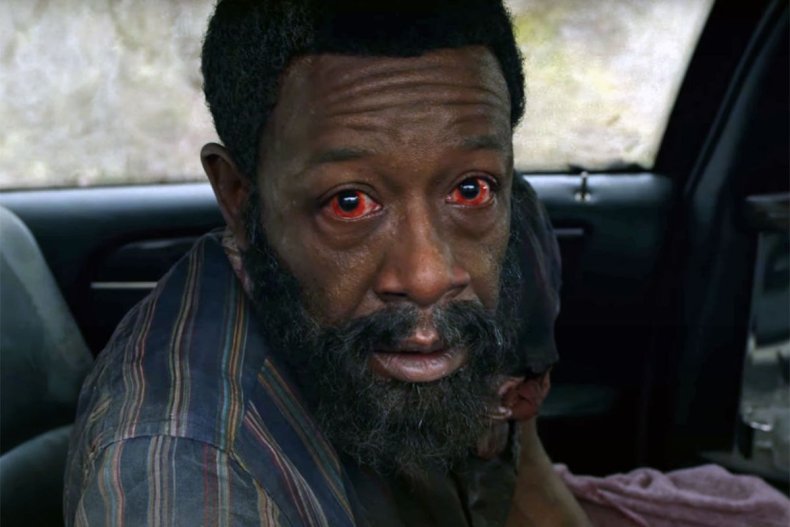 Though the mystery well-wisher has saved his life, his patching up of the wound was not wholly successful. He was not able to take out the bullet, which seems to be slowly killing him—he can now walk unattacked among walkers, who may either see him as half-dead, or think he is one of them because of his horrible smell.
This seems to explain why his eyes are red. The blood vessels in his eyes seem to have burst, a sign of the horrible internal damage the bullet is doing.
Speaking to CinemaBlend, James said of this: "There's a reason why he's in this limbo, this place between life and death, and he's there to make something safe for Grace. That's all that there is left for him, because he can feel himself dying."
However, at New York Comic-Con, Fear the Walking Dead co-showrunner Andrew Chambliss hinted that these red eyes are a sign that Morgan is becoming a new type of character on the show. He said: "Something is definitely going on with Morgan and its something that we haven't quite seen before in the Walking Dead universe. And it is going to push Morgan to new places and make him really question everything he's ever been about and kind of who he wants to be going forward... if he gets to go forward."
Though Isaac (Michael Abbott Jr.) managed to get the bullet out in FWTD Season 6, Episode 1, Morgan is still a changed man possibly marked for death. Speaking to Ginny (Colby Minifie) over the radio in the episode, he says, "Morgan Jones is dead. You are dealing with somebody else now." Fans will have to keep watching to find out exactly who this new Morgan is.
Fear the Walking Dead airs Sundays at 9 p.m. ET / 8 p.m. CT on AMC.