'Fear the Walking Dead' Season 7: Will There Be Another Season?
Fear the Walking Dead is at the end of another season, but fans have reason to be worried about the future of the AMC show and its potential of getting a Season 7.
Its mother show, The Walking Dead, recently announced it was coming to an end in 2022, while fellow spin-off World Beyond was always intended to end after two seasons.
With these other Walking Dead shows set to end in the next year, fans may be left wondering whether AMC is bringing the whole Walking Dead universe to a close. Here's what we know about the future of FTWD.
Will there be another season of Fear the Walking Dead?
For now, the future of FTWD is secure. The show was renewed for Season 7 in December 2020.
Filming began on the show in April 2021, with the show set to return in fall 2021, midway through the final 24 episodes of The Walking Dead. Specifically, according to ComicBook.com, the series is expected to be back in October.
The news was announced via the @FearTWD Twitter account, in a post that read: "The past is dead... but the future is bright. #FearTWD is coming back for a 7th season."
This was alongside a video featuring cryptic images featuring the number seven, including two dice, a watch stopped to seven o'clock and a bullet-ridden sign for Texas State Highway 7.
As for the future of the series, co-showrunners Ian Goldberg told Insider he is not planning Season 7 to be the final season of the show. "It is not the final season, at least as far as we know from AMC," he said. "They haven't told us that. We're gonna keep telling these stories as long as AMC tells us to keep doing them. Don't think about saying goodbye yet, we're sticking around for a while."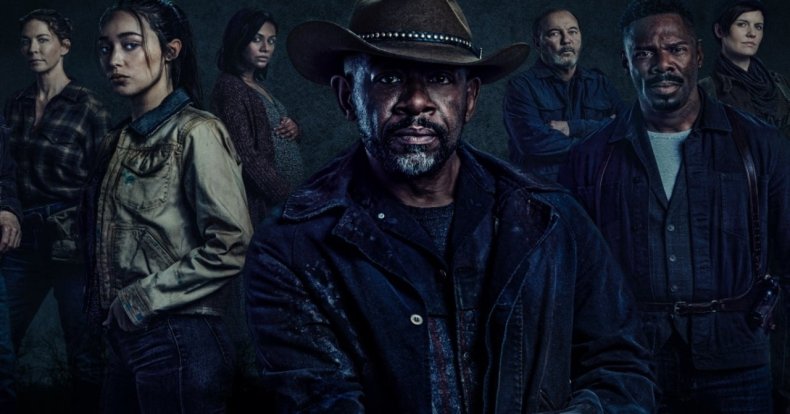 In an Entertainment Weekly recap of the current season finale, Goldberg teased about the next season: "Well, I can say that we were very excited about the new form the show took in the anthology format in Season 6, with telling more concentrated characters' stories. That will continue into Season 7. We will continue to tell the show in that structure, and in that format."
Co-showrunner Andrew Chambliss added, "we really are creating a new world. The new show is going to look very different, the walkers are going to look very different. Everything is going to feel much more heightened, so we're really excited about that."
FTWD is set to be joined by more content set in the post-apocalyptic world. Also upcoming is a trilogy of TV movies starring Andrew Lincoln's Rick Grimes, plus a spin-off starring Daryl and Carol (played by Norman Reedus and Melissa McBride).
Speaking of the latter, Lincoln told SFX in April 2021, "We're very excited about how, at the first available opportunity, we're going to go into production—there's talk of it being spring. I can't wait to get those cowboy boots."
Askew whether he would cross over from FTWD to be reunited with his former co-star, James told ComicBook.com, "if it comes around I'd jump at the chance. But at this point, I've got absolutely no idea."
Fear the Walking Dead Season 7 comes to AMC in October 2021. Seasons 1 to 5 are streaming on Hulu, and Season 6 is on AMC and AMC+.