'Fear the Walking Dead' Spoilers 4x10: Does Alicia Kill Charlie in Episode 10?
Fear the Walking Dead Season 4 continues with episode 10 on Sunday, and previews suggest the upcoming plot features a heated confrontation between Alicia and Charlie. Does Alicia kill Charlie to avenge the death of her brother, or is she willing to let bygones be bygones? The latest spoiler report from the Fear the Spoiling Dead Fans Facebook page has your answer.
SPOILERS for episode 10 of Fear the Walking Dead follow this break. Those who don't want to know the true plot are encouraged to stay away.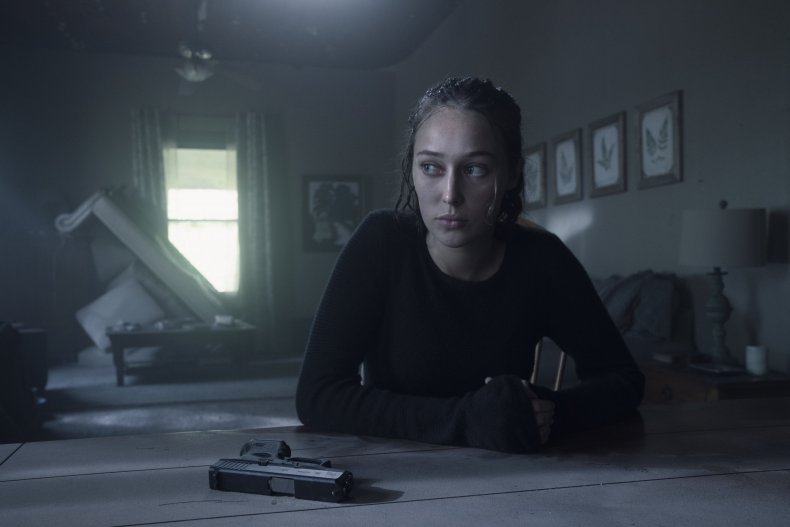 Episode 10 begins with Alicia finding an abandoned house, which she enters to shelter from the raging storm. She soon realizes, however, that she's not alone. Inside, a mother, father and two teenage children have since transformed into walkers. She puts the family to rest and makes herself at home.
Also seeking refuge from the harsh weather, it just so happens that Charlie has come upon the exact same house. When Alicia discovers this, her mind and heart struggle with how she should proceed. While her brain suggests it's best to respond to Nick's unfortunate fate, her emotions say otherwise. Knowing that Madison would not call for such unnecessary violence, she opts to take the path of forgiveness. In fact, Alicia even goes far enough to decline shooting Charlie when the girl asks her to do so. Amidst those realizations, viewers also learn what happened to Charlie's parents before the apocalypse.
The episode ends when the storm breaks, and both girls leave the house together to find the rest of their group. When they reach the mansion, they find it's been totally destroyed. Alicia thinks everyone has died, but Charlie reminds her former enemy how good she is at finding things. With this thought in mind, they embark on a new quest to find their dispersed comrades.
As for things we won't see in episode 10 of Fear the Walking Dead, it's worth noting that this particular episode focuses entirely on the developing character arc between Alicia and Charlie. So, there are no further updates on other survivors this week. It's also strange that, despite the heated conversation, Charlie never explains why she killed Nick and doesn't apologize for it. A detail like that may be worth paying attention to as the relationship between these two characters continues to grow.
Fear the Walking Dead Season 4 episode 10 airs Aug. 19 on AMC at 9 p.m. local time.
What are your thoughts on episode 10 of Fear the Walking Dead after reading this plot synopsis? Did Alicia make the right call to spare Charlie? Tell us in the comments section!