Fearless Girl Statue Given Ruth Bader Ginsburg Makeover in Tribute to Supreme Court Justice
New York's iconic Fearless Girl statue has been given a Ruth Bader Ginsburg makeover in a moving tribute to the late Supreme Court justice.
Standing across from the New York Stock Exchange, the statue debuted a white lace collar in homage to Ginsburg's instantly recognizable fashion piece.
The bold new look also appeared in a full-page New York Times ad from State Street Advisors, below the line, "Here's to the original."
Since Fearless Girl was unveiled in New York in 2017, it has become a powerful monument to female empowerment.
The clever connection to Ginsburg is no accident, with the powerhouse Supreme Court justice known for a career dedicated to championing women's rights and eliminating gender-based discrimination.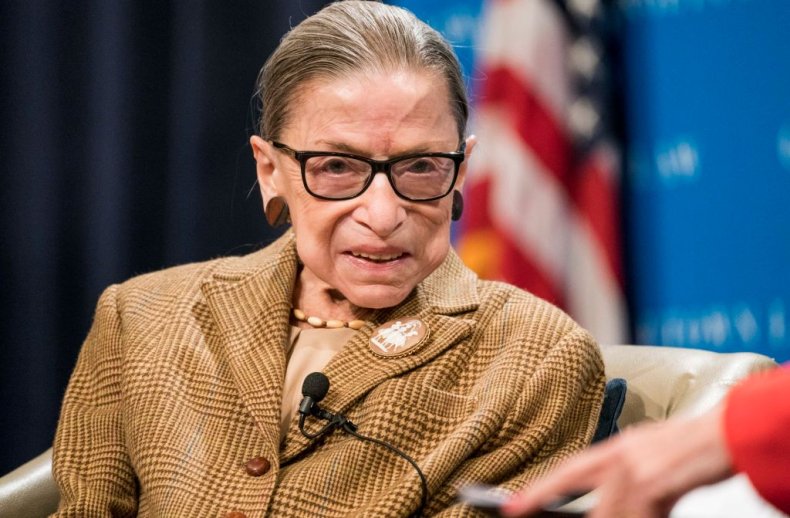 Ginsburg, who passed away on Friday evening due to complications from metastatic cancer of the pancreas at the age of 87, was a staple in the legal fight for women's rights in the 1970s.
Ginsburg made history as the second female justice to serve on the U.S. Supreme Court, where she stayed for 27 years.
She was also instrumental in launching the American Civil Liberties Union's Women's Rights Project in 1973.
And like her celebrated legal career, Ginsburg's collars became famous in their own right.
According to The New York Times, the signature laced neckwear was a statement meant to "unapologetically feminize" the traditionally "male" uniform and served as a "weapon" to punctuate her decisions.
The collar now covering the Fearless Girl was pulled from the Ginsburg costume of one of ad agency McCann's staffers, AdAge reports.
The idea for the ad was created yesterday and completed in under eight hours.
State Street Global advisers had claimed the Sunday ad space for a mask statement but changed tack with the news of Ginsburg's death.
Soon after her passing was announced, New York Governor Andrew Cuomo commemorated her life's work and dedication in a tweet.
"NY's heart breaks with the passing of Justice Ruth Bader Ginsburg," he wrote.
"During her extraordinary career, this Brooklyn native broke barriers & the letter RBG took on new meaning - as battle cry & inspiration."
Cuomo later released an official statement, saying: "Justice Ruth Bader Ginsburg selflessly pursued truth and justice in a world of division, giving voice to the voiceless and uplift those who were pushed aside by forces of hate and indifference.
"As a lawyer, jurist, and professor, she redefined gender equity and civil rights and ensured America lived up to her founding ideals - she was a monumental figure of equality, and we can all agree that she deserves a monument in her honor."
New York City Mayor Bill de Blasio also tweeted: "Justice Ginsburg was an unparalleled hometown hero. We will immediately begin plans for a Ruth Bader Ginsburg memorial."
Cuomo announced on Saturday that a statue honoring the late Supreme Court justice will be placed in her native Brooklyn.
A commission is set to oversee the process and select an artist and a specific location for the memorial in the next few days.