Fears of Losing Insurance Prompt Some Truckers to Leave Weeks-Long Protest
After demonstrating for three weeks, some truckers are beginning to leave anti-COVID mandate protests across Canada over fears that the federal government might revoke their insurance—a move that could make it difficult for these drivers to ever work again.
Earlier this week, Prime Minister Justin Trudeau brought insurance companies into the ongoing conflict, asking insurers to suspend coverage on trucks and vehicles used in the blockades, when he enacted the Emergencies Act.
"We are today serving notice: if your truck is being used in these illegal blockades, your corporate accounts will be frozen. The insurance on your vehicle will be suspended," Deputy Prime Minister Chrystia Freeland said on Monday. "Send your semi-trailers home."
As banks began freezing accounts of protesters and their supporters on Thursday, some truckers began leaving the protests after the government's latest announcement out of concerns that auto insurance may be suspended soon as well.
On Thursday, Eric Mueller, a key trucker figure in the demonstrations in Ottawa, drove away from the Fairmont Chateau Laurier in his Load Safe truck after spending 20 days in the nation's capital protesting the federal government's vaccine mandate for cross-border truck drivers, social media posts show.
Rich Russell, the owner of shipping company Load Safe, told the Toronto Star that he risked losing his entire company because one independent owner-operator employed by Russell was part of the Freedom Convoy.
He said that his insurance company had informed him that the insurance of the entire fleet could be suspended and the company bank account frozen due to the one driver's involvement with the protests.
Russell, who has not been involved with the demonstrations, did not name the driver but said they finally left their parking spot outside a hotel after Russell pleaded with him to do so.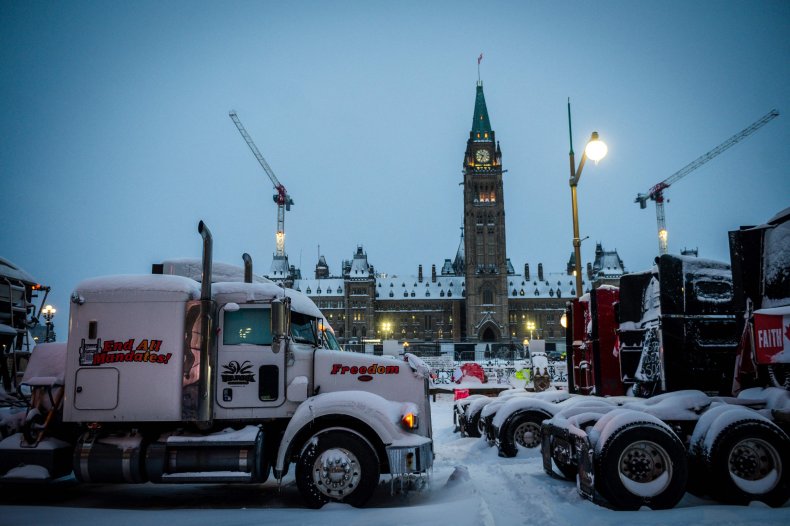 Insurance-related fears have also pushed out truckers in Alberta, who had been blocking a border crossing between the community of Coutts and Sweet Grass, Montana.
Corporal Gina Slaney of the Royal Canadian Mounted Police told Fortune on Tuesday that demonstrators were beginning to leave after hearing of the news that the federal government was imposing new and sweeping action against protesters.
"A lot of grown men were crying," trucker Jake Klassen told the outlet. "We didn't think [Trudeau] was going to enact that. We could lose everything."
While the broadened powers under the Emergencies Act seem to be doing more to quell the protests in Canada, some have warned that taking away insurance is not the best solution.
"I think as a government it would be bonkers," Queen's University law professor Erik Knutsen told the CBC last week. "If you yank insurance coverage and the person that did something, that hurt somebody, in one of these gatherings has no assets, it doesn't hurt the wrongdoer. It's hurting the victim."
"If that trucker didn't have a policy, and the pedestrian didn't have a policy to claim on, what would happen in that situation?" Bryan Yetman, president at First Durham Insurance, told Canadian Underwriter. "Having people who aren't really clear as to whether they're covered or not driving around doesn't seem like a particularly good idea."
Ottawa police are expected to crack down on protesters in the downtown core and other parts of Ottawa on Friday afternoon, prompting the House of Commons' to cancel its sitting to take up debate on Trudeau's emergency powers.