Fears That Washington, D.C. Is a Potential Super Spreader Site as Three Members of Coronavirus Task Force Self-Isolate
Concerns are mounting over the potential spread of the novel coronavirus in the White House and on Capitol Hill with three COVID-19 task force members self-isolating amid the outbreak.
Key figures Dr. Anthony Fauci, Director of the National Institute of Allergy and Infectious Diseases, Dr. Robert Redfield, Director of the Centers for Disease Control and Prevention and Stephen Hahn, Commissioner of the Food and Drug Administration have all taken isolation measures.
This comes after concerns over potential exposure, with three White House staff members having contracted COVID-19.
Former Barack Obama adviser David Plouffe spoke of the potential for spread in the White House, raising worries over the ability to social distance within its walls.
"The White House itself is now a super spreader site potentially," he told MSNBC.
"It's like working in a submarine. The halls are narrow, you're going to run into people."
President Donald Trump's valet and Vice President Mike Pence's press secretary have both tested positive for COVID-19.
Both Trump and Pence have tested negative for the virus, the White House has previously confirmed. There had been suggestions Pence himself might self-isolate, though this prospect was rejected.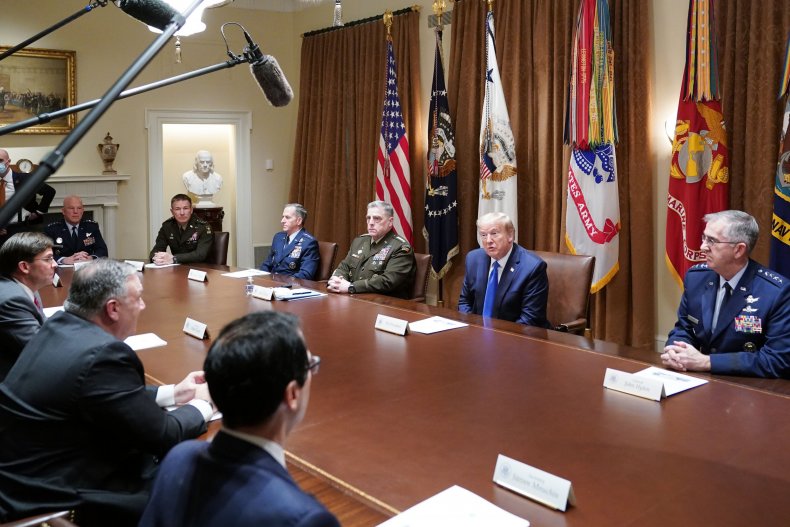 Amid this, White House economic adviser Kevin Hassett spoke of his concerns over carrying out his role.
"It is scary to go to work," he told CBS News.
Meanwhile, senior senator Lamar Alexander (R-TN) has gone into self-isolation, following one of his staff testing positive for COVID-19.
He had been among those to return to Washington, D.C., but will now work from home.
Alexander is due to chair the Senate health committee hearing on Tuesday remotely via a video link.
A statement from Alexander's chief of staff, David Cleary, said: "Senator Alexander has no symptoms and tested negative for COVID-19 on Thursday afternoon, May 7. After discussing this with the Senate's attending physician, Senator Alexander, out of an abundance of caution, has decided not to return to Washington, D.C., and will self-quarantine in Tennessee for 14 days."
Newsweek has contacted Alexander's team for further comment.
The three members of the task force that are self-isolating will give evidence to the committee remotely.
Senator Susan Collins (R-ME) has also reportedly raised concerns over colleagues becoming super spreaders once they return to their home states after working on Capitol Hill, according to Axios. Newsweek has contacted Collins for further comment.
Stay at home measures in Washington, D.C. remain in place, with residents urged only to leave home for essential reasons.
Despite this this Senate reconvened last week, albeit with social distancing measures in place.
The House of Representatives, however, continues to remain closed over fears of risks posed by the pandemic.
As of May 9 there had been 6,272 confirmed coronavirus cases in Washington, D.C. and 323 patients had died, according to the district's government website.
Newsweek has contacted the White House and D.C. Mayor Muriel Bowser for further comment.
New York is the state worst-hit by coronavirus in the U.S. with more than 335,000 cases.
The graphic below, from Statista, shows the most affected states in the nation.