FEC Demands Fox News' Jeanine Pirro Settle Outstanding Debts From Aborted 2006 Senate Campaign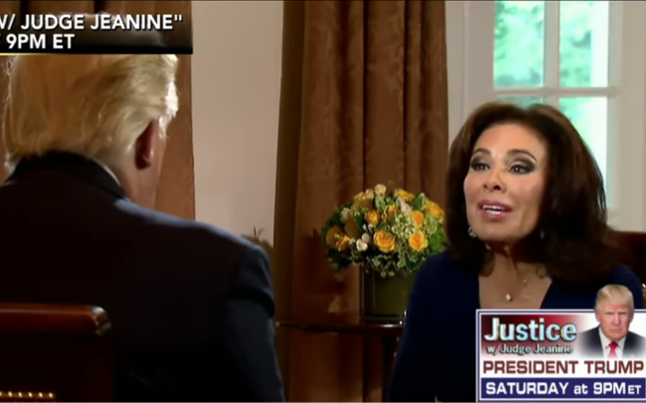 The Federal Election Commission (FEC) continues to demand Fox News host Jeanine Pirro submit a mandatory campaign finance report for her aborted 2006 U.S. Senate bid against Hillary Clinton.
In 2006, Pirro sought the Republican Party nomination to run against Hillary Clinton. But she dropped out of the Senate race to run for New York Attorney General—an election she lost to now-Governor Andrew Cuomo. Pirro, a former Westchester County, New York, judge and district attorney, has failed to comply with federal laws requiring her Pirro For Senate committee to submit activity reports and receipts. The years-old Senate campaign for Pirro, who is now host of Fox News Channel's Justice with Judge Jeanine, attempted to terminate itself without paying off around $600,000 in debts to 20 different vendors.
An FEC representative told Newsweek Wednesday that Pirro's campaign committee must show it has settled all "outstanding debts or obligations" before being permitted to terminate.
"The failure to timely file a complete report may result in civil money penalties, an audit or legal enforcement action. The civil money penalty calculation for late reports does not include a grace period and begins on the day following the due date for the report," reads the most recent FEC letter.
The FEC letter, sent from the Washington Reports Analysis Division on Tuesday, April 30, says Pirro For Senate Inc. "have failed to file" a report of receipts and disbursements.
The Pirro senate campaign received a similar FEC letter in February, which spokesman Jeffrey Buley told the Journal News he has attempted to settle the matter since 2011 and no longer has any money left to give the federal agency.
"The committee has no money to pay them off now anyway," Buley said. "Back when we tried to settle these things in '11, we still had some money and I was trying to settle it for quarters on the dollar but not everyone would agree."
"The @FEC wants @JudgeJeanine's old U.S. Senate campaign to explain why it won't comply with federal law — something it hasn't done for years by not filing mandatory campaign finance reports," editor at The Center for Public Integrity Dave Levinthal tweeted in February, showing a nearly identical FEC demand to file.
FEC representative Myles Martin told Newsweek Wednesday the FEC could resort to legal enforcement action against Pirro's senate committee.