Fed Chief Warns Coronavirus Could Permanently Damage Economy If Congress Fails to Provide Sufficient Support
Federal Reserve Chairman Jerome Powell urged Congress Wednesday to step in and provide further economic assistance due to the coronavirus pandemic.
Powell said during a teleconference on Wednesday that the U.S. economy could sustain permanent damage because of the country's response to the coronavirus.
Lawmakers have passed economic relief packages designed to help individual Americans with direct cash payouts and a program started to provide small businesses with loans in order to keep employees on the payroll. Powell's remarks on Wednesday implied those steps would not be enough to keep the U.S. economy afloat.
"While the economic response has been both timely and appropriately large," Powell said during an event held by the Peterson Institute for International Economics, "it may not be the final chapter, given that the path ahead is both highly uncertain and subject to significant downside risks. Since the answers are currently unknowable, policies will need to be ready to address a range of possible outcomes."
Business closures resulting from stay-at-home orders issued by state governments drove the U.S. unemployment rate to 14.7 percent in April, the highest level since the Great Depression. Over 27 million Americans have reported being without jobs.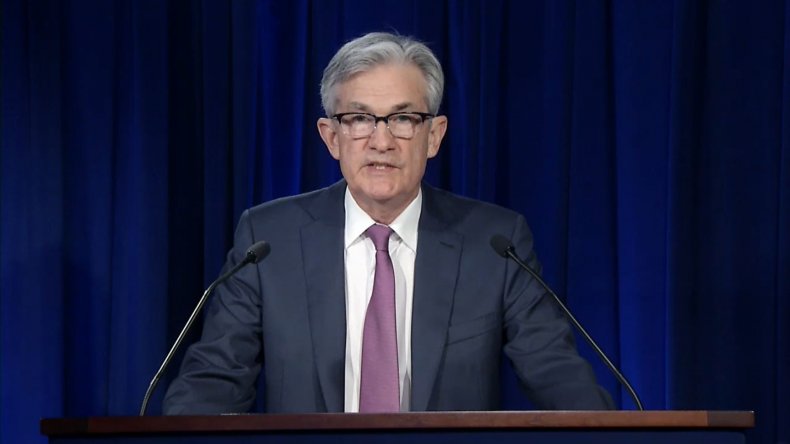 Republican Senate Majority Leader Mitch McConnell has said his party is no rush to begin crafting another stimulus package, saying Wednesday that the U.S. "can't borrow enough money to prop the economy up forever."
Democrats have already unveiled their next coronavirus stimulus package which would cost $3 trillion dollars. Included in the proposal are a second batch of direct payments in the amount of $1,200 for qualifying Americans.
House Speaker Nancy Pelosi encouraged fellow lawmakers to take swift action on the proposal. "The rent doesn't take a pause," Pelosi said Tuesday. "The hardship of losing a job or tragically losing a loved one doesn't take a pause."
Newsweek reached out to the offices of Senator McConnell and Speaker Pelosi for comment. This story will be updated with any response.
Some Republicans have rejected the new proposal, wanting instead to wait until assessments can be made of how previous packages have impacted the U.S. economy. GOP lawmakers have also emphasized the importance of reopening the country's businesses, despite warnings from health officials that states relaxing coronavirus mitigation practices too quickly could lead to another wave of infections.
Director of the National Institutes of Allergy and Infectious Diseases Dr. Anthony Fauci told the Senate on Tuesday that if states attempt to cut corners on coronavirus testing "without having the capability of being able to respond effectively and efficiently, my concern is that we will start to see little spikes that might turn into outbreaks."
Recent data indicated the U.S. had reported 1,423,884 positive cases of the coronavirus. As testing capacity for the virus expands throughout the U.S., the number of positive cases is expected to increase.