Large Banks Predict the Fed Will Ease Interest Rates This Year, But That Doesn't Mean a Recession Is Looming
Major U.S. banks predicted that the Federal Reserve would announce interest rate decreases later this year after the central bank's statements on Wednesday.
The Fed announced this week that it would leave interest rates unchanged for the moment, but was prepared to cut them if the economy weakened.
Goldman Sachs analysts changed predictions that the Fed would not announce rate easing this summer, indicating that they now expected the Fed to call for rate cuts in July and September. JP Morgan analysts similarly said that they expected rate cuts would be announced in July and September, as opposed to September and December. Deutsche Bank predicted that the Fed would call for cuts three times this year.
"The next two weeks will be absolutely critical to determining the timing of the move," the BofA Merrill Lynch Global Research said. Bank analysts predicted two cuts this year and another at the beginning of 2020.
The Fed's current target for its benchmark federal funds rate is 2.25% to 2.50%. In a statement the central bank said keeping that range for now should lead to "sustained expansion of economic activity, strong labor market conditions" and continuing low inflation. But the Fed noted that "uncertainties about this outlook have increased" amid rising trade tensions and signs of slower U.S. growth.
While economists expected the Fed to stand pat for now, they had also predicted rates would come down later this year in the face of slower growth. Before the Fed announcement, global markets company CME Group predicted a 82.5 percent chance of easing rates after the Fed's next such meeting in July. After today's announcement, the company's FedWatch Tool predicted a 100 percent chance of rate easing after the July meeting.
The Fed hasn't cut interest rates in nearly 11 years. The last time the central bank did, the economy was plunging into recession; Uber and Lyft hadn't been launched and the first iPad hadn't been released. The Fed raised interest rates three times in 2017 and four times in 2018 as the U.S. economy grew, but Chairman Jerome Powell said earlier in June that the bank was willing to cut rates if the country's economic outlook declined amid the ongoing trade war with China, which flared last month. The circumstances of the last cuts shouldn't be a cause for concern, though.
"The Fed's rationale for instituting a rate cut at this point if they were to do so is more of an insurance policy against a sharper economic downturn," Greg McBride, the chief financial analyst for Bankrate.com, told Newsweek.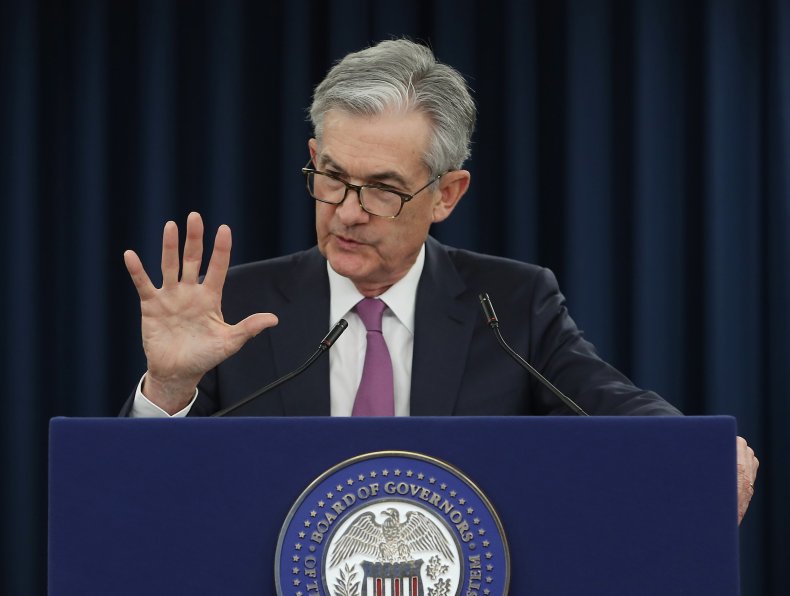 The federal funds rate is the rate at which big banks can borrow money. It indirectly affects interest rates on everything from corporate bonds to mortgages and credit card rates for consumers.
"The biggest impact is mortgage rates. They have already fallen rather substantially in expectation that the Fed will eventually need to cut rates and likely repeatedly," McBride said. Bankrate noted on Monday that both 30-year and 15-year mortgage rates had dropped from a week ago.
Home equity lines of credit also respond to changes in the Fed's rate, with Americans having smaller monthly payments after a rate drop. Rates on savings accounts could also drop, resulting in less interest for consumers.
Large Banks Predict the Fed Will Ease Interest Rates This Year, But That Doesn't Mean a Recession Is Looming | U.S.