Is the Fed 'Out of Bullets'?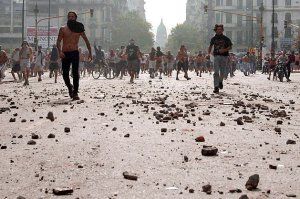 The Dow plummeted 265 points today as traders worried that the Federal Reserve may be out of tricks to goose the economy. The Fed said yesterday that the economic recovery is slowing down; the central bank will continue to essentially print money to buy securities and maintain its $2 trillion balance sheet to curb an even harsher reversal.
The Fed had talked in March about an "exit strategy" from the bold steps it took over the past two years to lessen the recession, but a barrage of bad economic numbers recently means the central bank will be staying in the game.
Still, it appears as though Wall Street believes the Fed may be out of luck. The central bank has already lowered short-term interest rates to almost zero and pumped trillions of dollars into the economy through the purchase of treasuries and mortgage-backed securities. "They may be out of bullets now. What else can they do?" says Ryan Detrick, senior technical strategist with Schaeffer's Investment Research.
And the only two comparable downturns don't offer the government many historic lessons. In reaction to the deep recession of the '70s the government ultimately loosened regulations and lowered taxes. But tax rates now are at some of the lowest levels in decades, and not even the most conservative Republicans are daring to push for reduced oversight over most industries. The Great Depression ultimately ended in World War II. But our two current wars have already cost more than $1 trillion and haven't helped us out of our economic jam.
The problem may be the Fed's tepid response rather than a lack of options, though. Some economists say that instead of the Fed merely preventing its balance sheet from shrinking, as the mortgages it holds mature, it should be pumping even more money into the system--a trillion dollars more.
"I think they were too timid because they got a lot of flak for doing unconventional things," says Joseph Gagnon, a former associate director at the Fed's division of monetary affairs, who believes the Fed should raise its balance sheets to $3 trillion. "They should have done more."