Federal Agency Schools Donald Trump on Climate Change: 'Winter Storms Don't Prove That Global Warming Isn't Happening'
As areas in the Midwest experience record-low temperatures this week, Donald Trump's latest misstatement about climate change has been widely mocked by Twitter users. But now it appears that the president's own federal weather agency is joining in.
"Winter storms don't prove that global warming isn't happening," the National Oceanic and Atmospheric Administration wrote on it's primary Twitter account on Tuesday morning. The tweet was posted as a polar vortex threatened the Midwest region with its most freezing temperatures in decades.
The NOAA's tweet was published after President Trump's own post about the life-threatening weather in the Midwest.
"In the beautiful Midwest, windchill temperatures are reaching minus 60 degrees, the coldest ever recorded," Trump began his tweet on Monday evening. "In coming days, expected to get even colder. People can't last outside even for minutes. What the hell is going on with Global Waming [sic]? Please come back fast, we need you."
The statement was immediately bashed on the internet, with numerous social media users noting the president's misspelling of "global warming."
Wisconsin congressman Mark Pocan, whose state will experience freezing temperatures this week, immediately slammed Trump as a "moron" for not understanding why there could be cold temperatures amid global warming.
"Only a moron would not understand global warming causes huge temperature swings," Pocan said.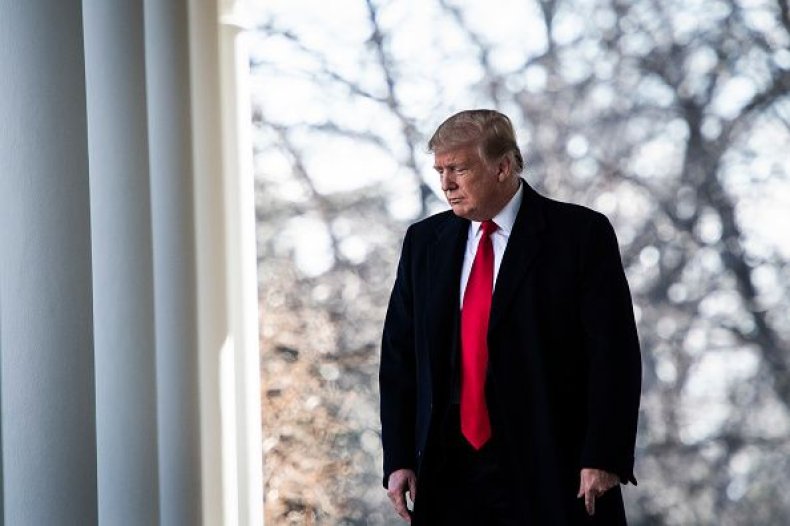 NOAA's tweet also included a link to an article on their website, titled "Are record snowstorms proof that global warming isn't happening?" The first sentence of the article simply reads: "No."
"Not only are severe snowstorms possible in a warming climate, they may even be more likely," the agency wrote. "According to the Third National Climate Assessment, there is some evidence that cold season storms in the Northern Hemisphere have become both more frequent and more intense since 1950."
It's not the first time the president has gotten major climate change facts wrong. During a cold spell in November, Trump tweeted that the "cold blast could shatter ALL RECORDS - Whatever happened to Global Warming?"
In wake of a report from the global scientific community on climate change, in which they warned that countries must take "rapid, far-reaching and unprecedented changes in all aspects of society," Trump said he believed that the climate will "change back again."
"I think something's happening. Something's changing, and it'll change back again," Trump told CBS's 60 Minutes at the time. "I don't think it's a hoax, I think there's probably a difference. But I don't think it's man-made."
This article has been updated to clarify that the NOAA's social media post was not a direct response to President Trump's tweet on global warming.