Portland Federal Agents Bundle Protester Into Van in Viral Video
A viral video shows federal agents bundling a protester into an unmarked van in Portland, Oregon after arresting the person without identifying themselves.
"These federal officers (?) just rushed up and arrested someone for no reason," a Twitter user identified only as "Matcha chai" wrote alongside the short clip, which has since been viewed more than 1.6 million times.
The 39-second clip starts as two agents in camouflage gear approach a protester as the person filming asks them: "What are you doing? Use your words. What are you doing?"
No answer is given.
"I haven't done anything wrong," the protester says with both hands up.
"What's going on, sir?" Another person can be heard asking the agents, again to no response.
"What is going on? Who are you?" The person filming is heard asking as they and others tell the protester they'll help get the person released.
"What's your name? Tell us your name. OK, you're fine, we'll get you out," the person filming adds.
"We got you, friend," they add, as the agents bundle the protester into the back of a van.
"You just violated their rights," someone is heard saying as the van drives off, while another person is said the agents were "kidnapping people."
A picture of the van was posted in a follow-up tweet that added: "They were just targeting folks working on the barricade. They pull up, jump out and chase down people." The Twitter user has been contacted for comment.
The Department of Homeland Security (DHS) has deployed officers in tactical gear from more than six federal law enforcement agencies and departments, The Associated Press reported, to crack down on unrest in Portland, which has seen sustained protests since the death of George Floyd, a Black man, in Minneapolis police custody on May 25.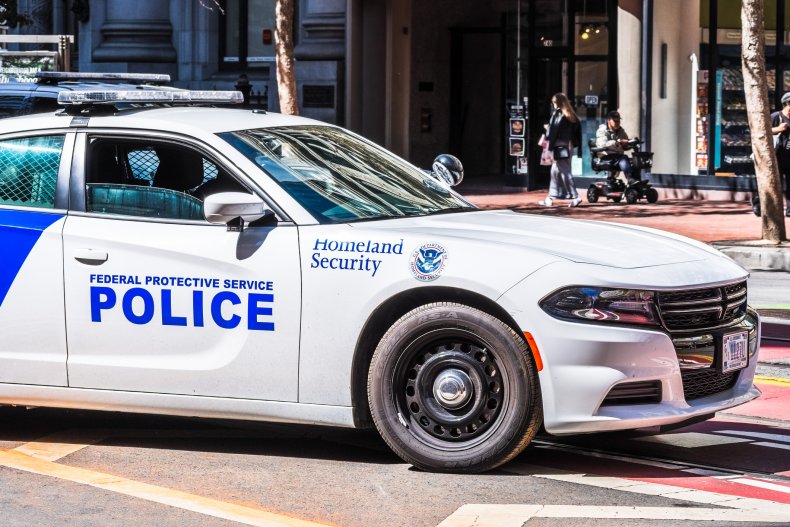 Members of an elite Border Patrol tactical team, a special operations unit that is based on the U.S.-Mexico border and has been deployed overseas, are among the federal forces sent to Portland. The BORTAC members, who can be identified by patches on their camouflage sleeves.
According to U.S. Attorney for Oregon Billy Williams' office, officers from the U.S. Marshals Service, the Federal Protective Service, Homeland Security Investigations and the U.S. Customs and Border Protection have been working to protect the Mark O. Hatfield Courthouse.
Over the weekend, a protester was hospitalized in critical condition after being hit in the head by a less-lethal round fired by an officer with the U.S. Marshals Service.
The internal investigation by the agency has been referred to the U.S. Department of Justice's Office of the Inspector General, Williams said on Monday.
It comes after President Donald Trump praised Chad Wolf, the Acting Secretary of DHS, for the federal response to protests in Portland while speaking in Florida on Friday.
"It was out of control. The locals couldn't handle it, and you people are handling it very nicely," Trump told Wolf.
Wolf responded: "We've had to send in additional individuals. We're making arrests. But there has been violence, there's been assaults on federal law enforcement officers. And it really just shouldn't occur."
He added: "We should have more support of the local police there. But again, the Department of Homeland Security, along with the DOJ, FBI, and others are surging resources, and we're starting to make a difference there."
But Portland Mayor Ted Wheeler has said the does not "need or want" the help of federal forces.
"Today the Acting Secretary of Homeland Security asked to speak with me about demonstration activity in Portland. He expressed his concern about ongoing violence and asked how his agency can help," Wheeler tweeted on Wednesday.
"I told the Acting Secretary that my biggest immediate concern is the violence federal officers brought to our streets in recent days, and the life-threatening tactics his agents use. We do not need or want their help."
Wheeler added: "The best thing they can do is stay inside their building, or leave Portland altogether. Our goal is to end these violent demonstrations quickly and safely. And in the meantime, I asked him to clean up the graffiti on local federal facilities."
Wheeler, the DHS and U.S. Attorney Billy Williams' office have been contacted for additional comment.