Federal Court in Seattle Issues Restraining Order Keeping Police From Using Tear Gas, Flash-Bangs Against Protesters
Judge Richard A. Jones of the United States District Court in Seattle, Washington granted a temporary restraining order on Friday which prevents officers of the Seattle Police Department (SPD) from using certain less-lethal offensive weapons against demonstrators protesting the death of George Floyd.
Under the injunction, which was requested by Black Lives Matter Seattle-King County and the Washington ACLU, SPD officers are prohibited from using tear gas, pepper spray and flash-bang grenades. Although the use of tear gas was banned by the city for 30 days in June, SPD officers continued to use the chemical irritant against protesters.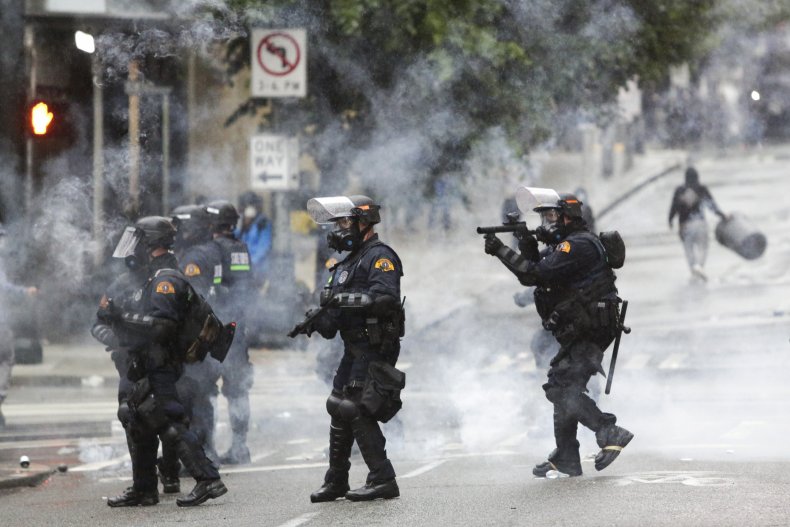 Plaintiffs claimed in the lawsuit that SPD had "exercised an overwhelming and unconstitutional use of force to discourage these protesters from exercising their constitutional rights."
Jones' decision agreed with the plaintiffs' allegations. "The Court holds that SPD's use of these weapons would chill a person of 'ordinary firmness' from protesting," read Jones' ruling in part.
Jones wrote that the use of such deterrents had caused protesters "undue hardship." Because tear gas and pepper spray are "indiscriminate" and not used on a specific individual, "they may even spill into bystanders' homes or offices as they have done before."
The injunction is slated to expire in 14 days. However, individual officers are still allowed to take "necessary, reasonable, proportional, and targeted action to protect against a specific imminent threat of physical harm" to themselves, other individuals or property. In addition, tear gas may only be used when other deterrent efforts have failed and only with the authorization of Seattle's Chief of Police.
In a statement sent to Newsweek on Saturday, a spokesperson for SPD said the Department "supports and will comply with the judge's order which is in effect for 14 days." The SPOD also said the injunction "addresses much of which are already in-line with SPD's practices over the last several days."
Newsweek reached out to the Seattle King-County of Black Lives Matter for comment. This story will be updated with any response.
Seattle's 30-day ban on tear gas was issued in June by Seattle Police Chief Carmen Best, during which time a review of SPD's crowd control policies were expected to be reviewed. Seattle Mayor Jenny Durkan agreed with the ban, saying at the time that "SPD officers do not need to be using tear fas at protests as a crowd management tool."
Sunday night, a man drove a vehicle into a crowd of Black Lives Matter protesters, shooting one demonstrator. As the civil unrest grew, protesters began throwing objects at officers on the scene. SPD tweeted that the use of tear gas had been authorized. "In the interest of public and life safety, leave the area now," the tweet read in part.
Although Durkan apologized for the tear gas incident, some Seattle residents have called on her to resign.
"How many people need to write in about being gassed in their own homes?" City Council member Teresa Mosqueda said during a Monday briefing. "How many people have to be sprayed in the street every night or experience getting hit with flash bombs or rubber bullets? The mayor should ask herself is she is the right leader and resign."
Updated 8:46 p.m. EST 6/15/2020: This story has been updated with a statement from the Seattle Police Department.