Government Shutdown: Democrats Buck Trump, Embrace Dreamers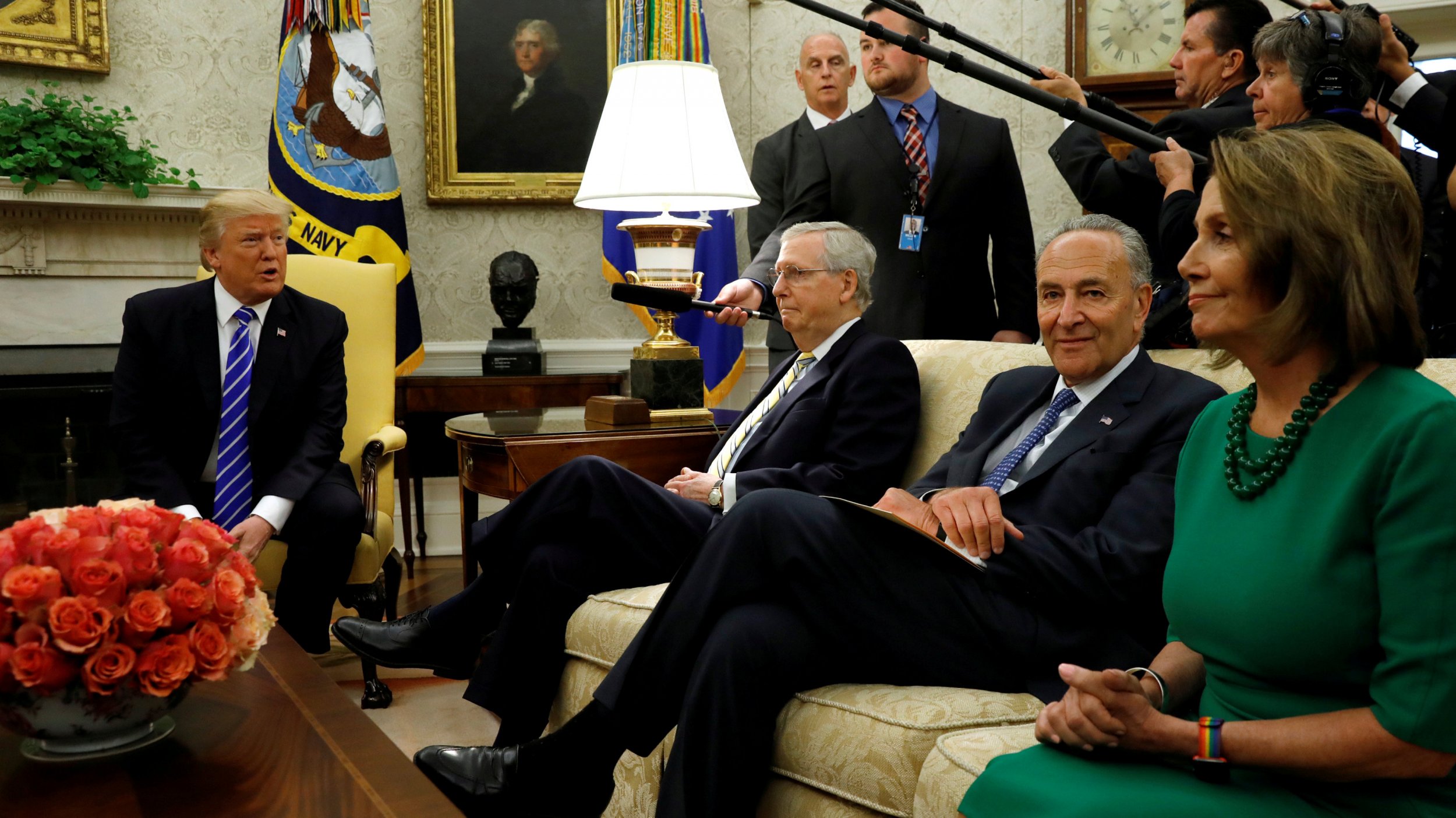 Nobody won on Friday night: neither Republicans nor Democrats, neither President Trump nor the several challengers who hope to replace him in 2020. Instead, as the Senate failed to approve a spending bill and the federal government went into a partial shutdown, the scene on Capitol Hill was one that has become all too familiar in recent years: rancor, intransigence, finger-pointing, threats, profound dismay.
After a late-night attempt to avert a shutdown failed, Senate Majority Leader Mitch McConnell, Republican of Kentucky, and Charles E. Schumer, Democrat of New York, took to the Senate floor in quick succession, each denouncing the opposing party.
"American people should expect better from us than this," McConnell said, plainly bitter that the sufficient number of Democrats didn't vote for the spending bill, which fell nine votes short of the 60-vote majority required for passage. Democrats' primary complaint was that the bill passed by the House earlier this week did not extend the Deferred Action for Childhood Arrivals measure, which would protect some 700,000 so-called Dreamers from deportation. Five Republicans also voted against the spending bill, though not all because of DACA concerns.
And then there was President Trump, who was to travel on Friday evening to his Mar-a-Lago resort in South Florida, where he was to mark the one-year anniversary of his inauguration with a fundraiser on Saturday. The trip was put off as the shutdown became an ever greater possibility. Instead, President Trump's first year ends much as it began, with ferocious partisan clashes.
The shutdown — which may yet be averted with a weekend deal — was the first in the United States history under single party rule. That will make it difficult for Trump to cast blame for the shutdown on the Democrats, since they are in the minority in both congressional chambers. Those efforts, however, are already underway. Almost as soon as the spending bill failed, White House press secretary Sarah Huckabee Sanders sent out a statement that said, in part, "Senate Democrats own the Schumer Shutdown. Tonight, they put politics above our national security, military families, vulnerable children, and our country's ability to serve all Americans. We will not negotiate the status of unlawful immigrants while Democrats hold our lawful citizens hostage over their reckless demands."
The "vulnerable children" in Sanders's statement is an allusion to the six-year extension of the Children's Health Insurance Program, which was in the House bill. That extension effectively forced Democrats in the Senate to choose between recipients of CHIP, as the insurance program is known, and Dreamers, who have come to exert a powerful influence on congressional Democrats. None of the Democrats believed to harbor presidential ambitions — Kirsten Gillibrand of New York, Cory A. Booker of New Jersey, Elizabeth Warren of Massachusetts, Bernie Sanders of Vermont — voted for the measure, having obviously calculated that they would not be able to countenance the ire of progressive activists.
Republicans, meanwhile, were plainly frustrated with Trump, who sought a win but failed to provide a winning formula.
"I'm looking for something that President Trump supports, and he has not yet indicated what measure he is willing to sign. As soon as we figure out what he is for, then I would be convinced that we were not just spinning our wheels," McConnell said earlier this week.
Sen. Lindsey Graham, Republican of South Carolina, voiced a similar frustration. "I think somebody on his staff gave him really bad advice," Graham said, in what was widely seen as a brushback pitch to senior White House policy adviser Stephen Miller and chief of staff Gen. John F. Kelly. Both men are regarded as immigration hardliners who prevented Trump for striking a DACA deal that would have also provided the Trump administration with funds for a border barrier.
A deal seemed to be in place last week, when Sen. Richard J. Durbin, Democrat of Illinois, and South Carolina's Graham, a traditional conservative, brought a compromise to the White House. That compromise, however, was harshly rejected by the White House, with Trump infamously expressing frustration at what he perceived as a deluge of immigrants from "shithole" countries.
A Democratic staffer described what happened to the New York Post: "Graham and Durbin expect to have a meeting, they show up and there's this anti-immigrant cast of characters there. And that was obviously designed by Stephen Miller to try to kill the deal." Miller is a former aide to Jeff Sessions, the current U.S. Attorney General who is known to have strong anti-immigration views. He is also an ally of Stephen K. Bannon, the former White House chief political strategist who calls himself an "economic nationalist."
The last time the government shut down was in 2013, when emboldened congressional Republicans challenged President Obama over the Affordable Care Act. Immigration today energizes progressives just as the health law galvanized conservatives nearly six years ago.
Just two weeks ago, Trump promised that the immigration conundrum would be solved by a "bill of love." No such bill materialized. Trump, meanwhile, vacillated between wanting a solution to the Dreamers' plight and demanding funding for his border wall — even as he said that Mexico would pay for the barrier (Mexican officials say they will not fund the project). Trump clearly wanted to avoid a shutdown, yet he didn't exercise his much-touted deal-making skills. Instead, he left Republicans and Democrats to work out the details. They should little capacity to do so.
On Friday, Trump and Schumer met at the White House, in a discussion that represented the last serious attempt to halt a shutdown. But the effort failed. Now, the White House is trying to frame the failure as a #SchumerShutdown. However, The New York Times reports, "Throughout the day, Mr. Trump told aides that he knows he is going to get blamed for the shutdown, regardless of what happens and how it goes down." His best hope is that senators are so thoroughly rattled by Friday's vote that they work with renewed resolve ahead of Monday, when a government shutdown would be far more noticeable than during a weekend.
"Senators should expect votes tomorrow," McConnell said from the Senate floor well after midnight, as behind him, Sen. Orrin G. Hatch, Republican of Utah, appeared to fall asleep. You couldn't blame him, exactly. It was a long night, a night that ended unhappily for everyone, a night when nothing got done.