Federal Judge Blocks U.S. From Ending Protections for Hundreds of Thousands of Immigrants. What Next?
A federal judge granted hundreds of thousands of immigrants facing the threat of deportation a reprieve on Wednesday, after blocking the Trump administration from terminating temporary protected status (TPS) for people from Sudan, El Salvador, Haiti and Nicaragua.
U.S. District Judge Edward Chen issued a preliminary injunction, documents filed in the Northern District of California of the U.S. District Court revealed, stopping the government from ending temporary protections a week after hearing the case, which was brought forward by the American Civil Liberties Union (ACLU) Foundation of Southern California, National Day Laborer Organizing Network and law firm Sidley Austin LLP.
Chen's injunction will go into effect immediately, less than a month before Sudanese TPS beneficiaries would have been at risk of losing their protections.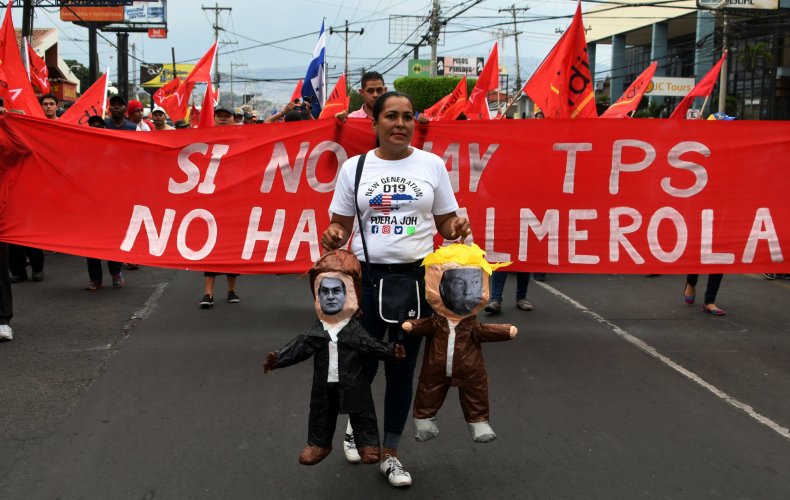 As many as 300,000 people benefit from the TPS program, which allows those from countries hit by crises—including natural disasters, war or epidemics—to remain in the U.S. until the situation at home improves.
Trump's Words Turned Against Him
In his ruling, Chen said that he believed there was evidence the Trump administration's decision to end TPS for at least four countries may have been unconstitutional.
The judge also said there was evidence that "President Trump harbors an animus against non-white, non-European aliens which influenced his...decision to end the TPS designation."
As evidence of Trump's apparent sentiments, Chen cited the U.S. leader's 2015 campaign speech in which he described Mexican immigrants as "drug dealers" and "rapists," as well as his call for Muslims to be banned from entering the U.S. and his alleged reference to African countries as being "shithole countries" during an Oval Office meeting in January.
The judge said "serious questions" had been raised by plaintiffs around "whether the actions taken by the Acting Secretary or Secretary [were] influenced by the White House and based on animus against non-white, non-European immigrants in violation of Equal Protection guaranteed by the Constitution."
He also said that there was "evidence that this may have been done in order to implement and justify a pre-ordained result desired by the White House."
"Tomorrow, We Will Continue Our Fight"
The lead plaintiff in the case was Crista Ramos, a 14-year-old U.S. citizen whose mother is a TPS beneficiary from El Salvador.
Many children who were born in the U.S. like Ramos would face having to either remain in the country without their parents or be torn away from their country of birth and removed with their families.
"I was so happy when I found out about the judge's decision. Ever since the TPS terminations were announced, I have been wondering how I can live a normal life if I am about to lose my mom," Ramos said in a statement on Wednesday evening, according to CNN.
"Today, my family and I are celebrating. Tomorrow, we will continue our fight for permanent status for TPS holders," the 14-year-old added.
Ahilan Arulanantham, senior counsel at the ACLU Foundation of Southern California and attorney for the plaintiffs, said in a statement shared online: "This ruling is a victory against the unlawful—not to mention cruel—dismantling of a program that protected hundreds of thousands of U.S.-citizen children from an impossible choice of leaving their parents or their country."
"If these children's parents were not from countries the administration considers unworthy of humanity, we would not have to wage this fight. But we do, and we will not relent," Arulanantham said.
In Chen's ruling, the judge said his injunction will remain in effect pending resolution of the case "on the merits of further order of this Court."
The judge gave the Trump administration 15 days to report to the court with administrative steps it has taken to "preserve the status quo," including "all steps needed to ensure the continued validity of documents that prove lawful status and employment authorization for TPS holders."​