A federal judge in Los Angeles has ordered the U.S. Immigration and Customs Enforcement (ICE) agency to reduce the number of detainees at a facility in Adelanto, California, so detainees can practice safe social distancing amid the coronavirus outbreak.
In his ruling late on Thursday, Judge Terry Hatter said the facility would have to reduce the number of immigrant detainees at the Adelanto Processing Center in order to create space for those remaining to keep six feet apart during the pandemic.
In order to reduce the population at the facility, Hatter said ICE would be expected to release at least 100 detainees by April 27. Another 150 detainees, Hatter said, would have to be released by April 30.
The judge said detainees who are older than 55 or who have pre-existing conditions should be given priority. Detainees without a criminal history should also be prioritized, the judge said.
Currently, there are approximately 1,300 men and women at the Adelanto Processing Center.
Hatter said that, ultimately, that number would need to be significantly reduced to "a level that would allow the remaining detainees to maintain a social distance of 6 feet from each other at all times and at all places, including while sleeping, eating, showering, and going about other daily activities, except when there is a medical necessity or a safety emergency."
The decision came after the American Civil Liberties Union (ACLU) Foundation of Southern California filed a lawsuit on April 14 alleging that conditions at the Adelanto facilities were putting the lives of detainees at risk.
"Holding people in civil immigration detention in the midst of the COVID-19 pandemic without taking basic steps to protect them from infection from this deadly virus from is, as the court found 'inconsistent with contemporary standards of human decency,'" said ACLU SoCal Senior Attorney Jessica Bansal in a statement published online.
"We are relieved that people detained at Adelanto will now receive the protections for their lives and health that every human being deserves," Bansal said.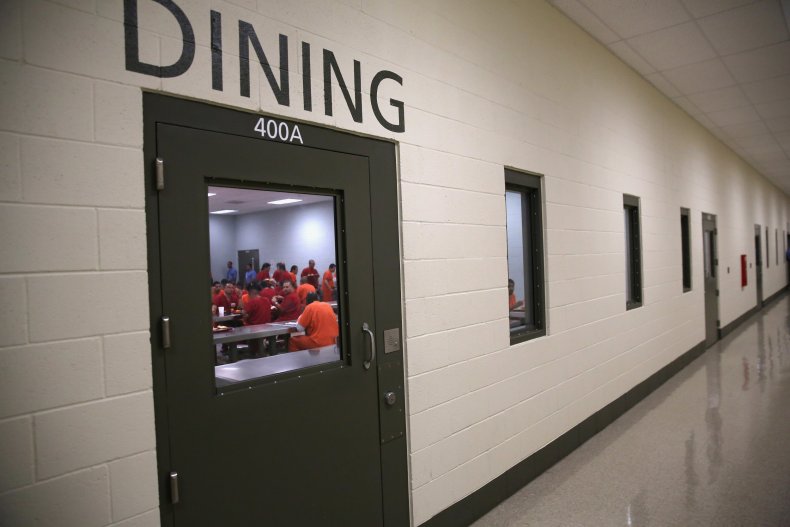 Hatter's decision comes as the number of ICE detainees contracting coronavirus continues to rise.
As of Friday afternoon, as many as 297 ICE detainees had tested positive for COVID-19, with 49 detainees contracting the virus at the Buffalo Federal Detention Facility in Batavia, New York, and another 42 detainees testing positive at the Otay Mesa Detention Center in San Diego, California, according to ICE data.
As many as 35 workers at ICE detention facilities have also contracted the virus, while another 88 people employed by ICE outside detention centers have also tested positive for coronavirus.