Judge Orders Trump To Release Tax Returns, Calls Lack of Response 'Repugnant' to Constitutional Values
A federal judge ruled Monday that President Donald Trump's argument for not releasing his tax returns went against the Constitution and ordered his accountants to turn over eight years of financial records to Manhattan's district attorney.
Judge Victor Marrero wrote in his 75-page ruling that the case presented by Trump's attorneys was "repugnant to the nation's governmental structure and constitutional values."
"Bared to its core, the proposition the President advances reduces to the very notion that the Founders rejected at the inception of the Republic, and that the Supreme Court has since unequivocally repudiated: that a constitutional domain exists in this country in which not only the President, but, derivatively, relatives and persons and business entities associated with him in potentially unlawful private activities, are in fact above the law," Marrero wrote in his ruling.
Marrero's dismissal of Trump's lawsuit means that the president cannot stop his accountants at Mazars USA from turning over his financial documents to Manhattan District Attorney Cyrus Vance Jr.
Vance has been investigating whether Trump broke any New York laws when he reimbursed his former personal attorney Michael Cohen for hush money payments made to two women, Stormy Daniels and Karen McDougal, to keep quiet about their alleged affairs during the 2016 election. In August, the Manhattan district attorney issued a subpoena to the president's accounting firm for eight years' worth of tax returns and other records.
Trump's legal team sued to block the subpoena, arguing that the president would suffer "irreparable harm" if his tax returns were made public. After Marrero rejected that president's case Monday, Trump's team said it would appeal the decision.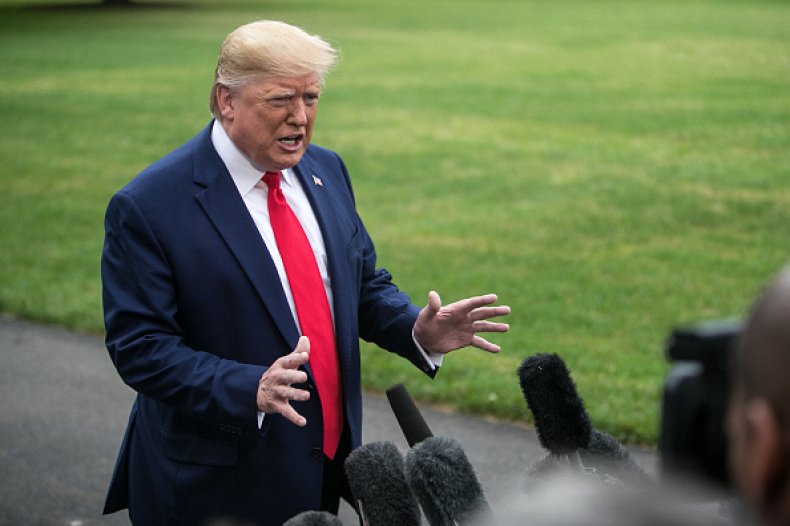 Cohen is serving a three-year prison sentence after pleading guilty last year to campaign finance violations, tax fraud, bank fraud and lying to Congress. Cohen, who once said he'd "take a bullet" for Trump, lamented that he was the only one going to prison over the matter.
"And how come I'm the only one? I didn't work for the campaign. I worked for him. And how come I'm the one that's going to prison? I'm not the one that slept with the porn star," Cohen told The New Yorker in an exclusive interview before he went to prison in May.
Congressional Democrats are also fighting to get a hold of Trump's tax returns. The House of Representatives has subpoenaed six years of Trump's tax returns from the Treasury Department. They also subpoenaed personal and corporate records related to Trump from Deutsche Bank, Capital One And Mazars USA.