On Monday, a federal judge ruled that the U.S. Postal Service (USPS) must reverse a series of ostensible "cost-cutting measures" which have resulted in delivery slowdowns nationwide. The ruling comes just as the USPS is expecting an unprecedented number of mail-in ballots cast in the upcoming national elections.
Judge Gerald A. McHugh of the Eastern District of Pennsylvania placed a preliminary injunction barring the USPS from requiring mail trucks to leave exactly on time—something which resulted in guaranteed deliveries missing their arrive-by dates and mail trucks driving across the county without a single piece of mail on them.
McHugh's injunction also bars the USPS from removing mail-sorting machines or forbidding mail carriers from working overtime, along with other measures. The injunction demands these measures be discontinued at least until Election Day on November 3, according to The Los Angeles Times.
"[The USPS's] ability to fulfill its mission during a presidential election taking place in the midst of a public health crisis is vital," McHugh wrote in a memorandum explaining his order. "The record in this case strongly supports the conclusion that irreparable harm will result unless its ability to operate is assured."
Seven attorneys general representing six states and the District of Columbia sought the injunction against the USPS, alleging that Postmaster General Louis DeJoy had made numerous operational changes without first getting the approval of the Postal Regulatory Commission, as required.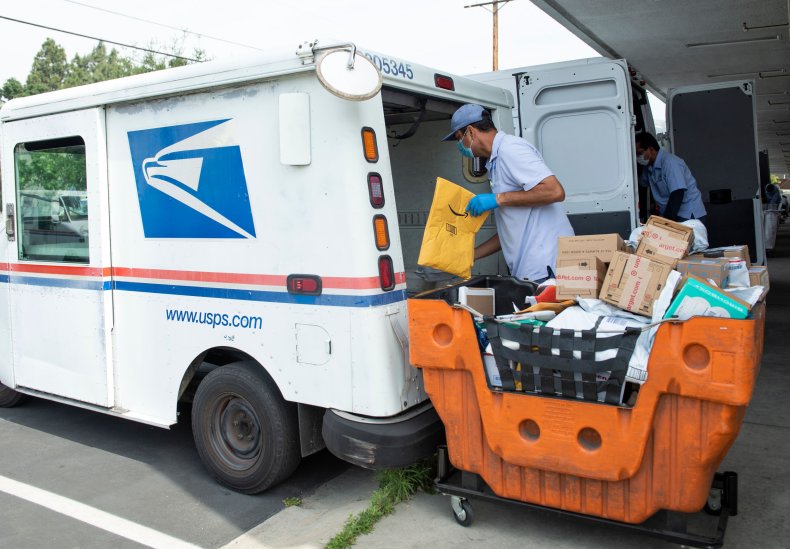 A September 21 study by the U.K. newspaper The Guardian found that the USPS's on-time deliveries for first-class mail took a significant downturn after DeJoy began serving as postmaster general in May 2020
Soon after his becoming postmaster general, DeJoy—a major GOP donor with no previous USPS experience who was hired by a Postal Service Board of Governors handpicked by Republican President Donald Trump—instituted sweeping changes that slowed mail delivery nationwide.
The Guardian's data showed that for the first part of 2020, the USPS delivered about 93 percent of its first-class mail on time, just below the agency's goal of 95 percent. By August, those rates had dipped down to around 60 percent. Some of the states with the most dramatic delays included swing states.
In early August, DeJoy also reshuffled the positions of two top USPS executives and 21 to 31 other executives and staffers who represented "decades of institutional postal knowledge" out of leadership roles or into new positions in the USPS, according to The Washington Post.
In August, DeJoy also promised the USPS would work closely with election officials to ensure timely delivery of mail-in ballots during the election.