A federal judge ruled on Tuesday that voters and poll workers in Texas are required to wear masks at polling places, invalidating a previous exemption for under Governor Greg Abbott's statewide mask mandate.
The exemption—which includes those who are "voting, assisting a voter, serving as a poll watcher, or actively administering an election"—was challenged in order to create "practical and constitutionally-required measures that both protect the public health and guarantee the right to vote" to all Texas citizens, specifically Black and Latino citizens who have been disproportionately affected by the virus.
U.S. District Judge Jason Pulliam ruled that the exemption "creates a discriminatory burden on Black and Latino voters" and imposes a "voting practice or procedure which results in a denial or abridgement of the right of Black and Latino citizens to vote on account of race or color"—a violation of Section 2 of the Voting Rights Act of 1965.
Abbott and Texas Secretary of State Ruth Hughs filed an appeal at the U.S. 5th Circuit Court of Appeals immediately after the ruling.
The governor's mask mandate requires Texans to cover their mouth and nose in public settings—but face coverings aren't required in polling locations or churches based on "constitutional purposes," Abbott told tv station KBTX in July.
He said that he encourages Texans to wear masks, but excludes voters and poll workers from the statewide mandate in order to prevent people from being turned away when trying to vote due to a lack of face covering.
"Your constitutional rights are not voided simply because of a pandemic," he told KBTX.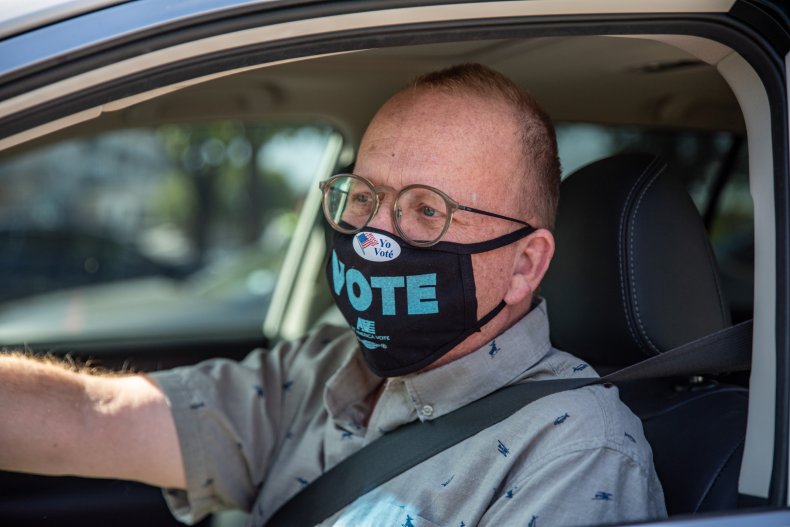 Mi Familia Vota, the Texas NAACP, and two Texas voters filed a broader lawsuit against Abbott and Hughs in July to challenge the mask exemption at the polls, along with suspending rules limiting who can vote curbside. The lawsuit also sought a month of early voting and additional polling locations.
Pulliam dismissed the lawsuit in September after deciding that the changes were outside of his jurisdiction as a federal judge. However, the U.S. 5th Circuit Court of Appeals decided that if Pulliam found the mask exemption is in violation of the federal Voting Rights Act, he would have jurisdiction to rule any changes.
"Under these conditions, Black and Latino voters must choose between not voting or risking their lives or the lives of their loved ones to vote," the plaintiffs wrote in an argument last week. "White voters do not face the same level of risk."
The Texas attorney general's office argued that the issue of violating the Voting Rights Act is arising too late, with over 7 million Texans having already cast their ballots for the upcoming election, over a million more than voters who cast ballots early in the 2016 election.
On Tuesday, the Texas Supreme Court ruled in favor of Abbott's order to limit mail-in ballot drop-off boxes to one per county, which affects largely populated areas in Houston and Austin.
Newsweek reached out to Abbott's office for comment, but did not receive a response in time for publication.