Federal Judge Says Chad Wolf's DHS Leadership 'Likely' Not Valid
Acting Department of Homeland Security (DHS) Chad Wolf may have been appointed to his position in an invalid fashion, according to the Friday ruling of a federal judge.
Wolf's potentially invalid ascension was revealed in an August report from the Government Accountability Office (GAO), which said Wolf and U.S. Citizenship and Immigration Services Acting Director Ken Cuccinelli were promoted because of an "invalid order of succession."
Under the Federal Vacancies Reform Act, individuals within the DHS had been improperly promoted since the 2019 departure of former DHS Secretary Kirstjen Neilsen. After the GAO report, an amicus brief was filed by New York Attorney General Letitia James and other attorneys in a Maryland lawsuit. James' brief supported the lawsuit, which attempted to block rules set by the Trump administration that would make it more difficult for immigrants to obtain employment.
In her Friday ruling, Maryland Judge Paula Xinis said that plaintiffs in the lawsuit were "likely to demonstrate" that former DHS Acting Secretary Kevin McAleenan did not have the authority to confer the title of Acting Secretary onto Wolf.
According to the ruling, Director of the Cybersecurity and Infrastructure Security Agency Christopher Krebs should have replaced Neilsen as DHS Director. "McAleenan's leapfrogging over Director Krebs therefore violated the agency's own order of succession," Xinis ruled. "From this record, the Court cannot help but conclude that McAleenan assumed the role of Acting Secretary without lawful authority."
Xinis also ruled that "because Wolf filled the role of Acting Secretary without authority," the new asylum restrictions were not "'in accordance with the law.'"
Newsweek reached out to the DHS for comment.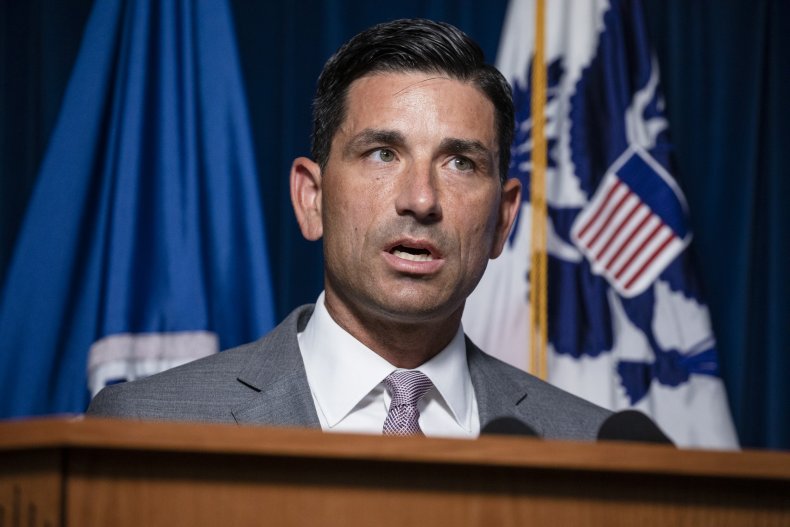 Rules that were challenged in the Maryland lawsuit would have delayed individuals seeking asylum from being legally welcomed into the country. Asylum seekers would be required to wait a year before applying for work permits. In addition, the requirement for work authorization applications to be processed within 30 days would have been waived. Xinis ruled that those rules would serve to harm individuals seeking asylum.
"Not only is this decision welcome news for asylum seekers who were unfairly targeted by the Trump Administration, but the courts have now found that Chad Wolf has no authority at the Department of Homeland Security," said James in a Monday statement. "Every decision Mr. Wolf has made—from trying to punish Dreamers to targeting New Yorkers with an unlawful Trusted Traveler suspension, and everything in between—has been perpetrated by a man with no authority and no business sitting in the chair of the acting secretary of Homeland Security."
"The Trump Administration's continued efforts to violate the law and impose draconian orders through lapdog appointees should be immediately stopped and all decisions already executed should be immediately vacated," the statement continued.
Some lawmakers have called for Wolf's resignation, including Congressional Hispanic Caucus Chairman Joaquin Castro.
"The Trump administration went around Congress to make invalid appointments of anti-immigrant white nationalists in violation of the law," Castro said in an August statement. "From dismantling the immigration system to tear-gassing peaceful protesters, their authority is illegitimate."
Wolf has enjoyed the support of President Trump, who said in August that he wanted to nominate Wolf to be the head of DHS.
"I am pleased to inform the American Public that Acting Secretary Chad Wolf will be nominated to be the Secretary of Homeland Security," Trump tweeted. "Chad has done an outstanding job and we greatly appreciate his service!"