Federal Judge Says House GOP's Proxy Voting Lawsuit Violated Constitution
District of Columbia Federal Judge Rudolph Contreras dismissed a lawsuit filed by House Republicans which claimed that a proxy voting system approved by Democrats violated the Constitution on Thursday. He ruled the lawsuit itself violated the Constitution.
Democrats adopted proxy voting in response to the potential spread of the coronavirus in crowded indoor areas. Under the proxy voting system, representatives do not have to be present during House sessions in order to cast ballots on important issues. Instead, representatives are able to ask other lawmakers present for the sessions to cast votes on their behalf. Each proxy can cast votes for up to 10 other representatives.
Some Republicans believed the system was unconstitutional because it sidestepped the requirement of having a majority of representatives present before casting votes. House Republican Leader Kevin McCarthy filed suit against House Democrats, including House Speaker Nancy Pelosi, in an attempt to stop proxy voting from being conducted.
McCarthy referred to proxy voting as "a brazen violation of the Constitution" and "a dereliction of our duty as elected officials" in a May statement.
Judge Contreras found that the Constitution prohibited lawsuits over how Congress decides on legislation.
Judge Contreras wrote that, as defendants in the lawsuit, House Democrats "are immune from suit under the Speech or Debate Clause of the Constitution." Contreras added that the lawsuit filed by the GOP did not "reach the merits" of legal qualification and granted the motion to dismiss.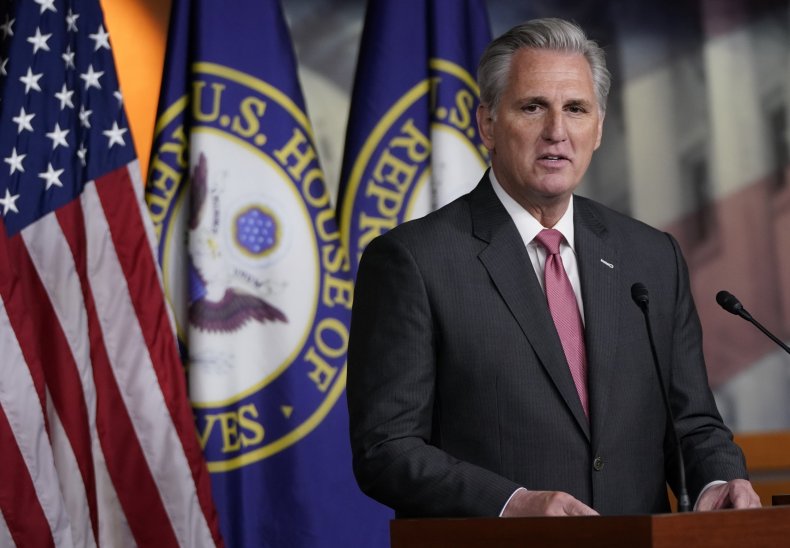 In a Thursday statement, Pelosi called the dismissal "welcome news and hopefully the end of this sad Republican effort to obstruct the House from meeting the needs of the American people during the coronavirus crisis."
Newsweek reached out to Representative McCarthy's office for comment.
Designed to be a temporary measure, voting by proxy is expected to last until mid-August, at which time its usage may be extended by Speaker Pelosi.
Despite the possibility of transmitting the virus, some lawmakers have been seen during legislative sessions not wearing masks. Texas Representative Louie Gohmert, who had resisted wearing any face coverings, was diagnosed with COVID-19 in July. Gohmert was criticized by other lawmakers who had been in direct contact with him for exposing them to the virus.
Democratic Representative Raul Grijalva placed himself into self-quarantine after coming into contact with Gohmert. "In the meantime, my work schedule and the lives of my employees are disrupted," Grijalva said in a July statement. "This stems from a selfish act by Mr. Gohmert, who is just one member of Congress."
Gohmert said that although he been singled out for not wearing a mask in public, he wondered if the times when he did wear a face-covering led to his infection.
"I can't help but think that if I hadn't been wearing a mask so much in the last 10 days or so, I really wonder if I would've gotten it," Gohmert said during a television interview in July. "You know, moving the mask around, getting it just right, I'm bound to have put some virus on the mask."