Federal Judge Says Donald Trump's Attacks 'Undermine Faith in the Rule of Law Itself'
President Donald Trump's incessant attacks on legal decisions that push back against him or his administration are starting to "undermine faith in the rule of law itself," according to one federal judge.
U.S. District Judge Paul Friedman criticized Trump's onslaught on the judiciary in a damning speech at the Judge Thomas A. Flannery Lecture in Washington, D.C., on Wednesday. The annual lecture drew many current and former federal judges, including former Deputy Attorney General Rod Rosenstein.
Friedman told the audience that decreasing faith in the rule of law is a "trend we're seeing throughout public life," adding that it is especially disappointing to see the president of the United States "feeding right into this destructive narrative."
"We are in uncharted territory," the judge said. "We are witnessing a chief executive who criticizes virtually every judicial decision that doesn't go his way and denigrates judges who rule against him, sometimes in very personal terms. He seems to view the courts and the justice system as obstacles to be attacked and undermined, not as a co-equal branch to be respected even when he disagrees with its decisions."
Just before Friedman's speech, Trump and his GOP allies celebrated the record number of judges his administration has appointed to federal courts across the United States. In his first three years as president, Trump has confirmed more than 150 judges to lifetime appointments. By contrast, Barack Obama appointed just over 50 judges in his eight years as president.
Trump told those gathered at the White House for the celebration that he would "do everything in my power to halt judicial activism and to ensure the law is upheld equally, fairly and without political prejudice for all of our citizens."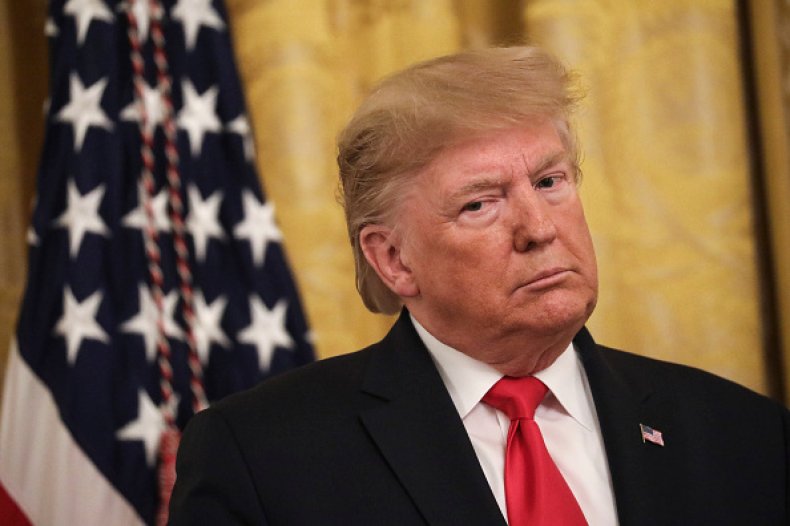 The Trump administration is one of the most sued in history. Plus, there are dozens of ongoing investigations against Trump himself, most dealing with his business empire or his 2016 campaign. When a court decision doesn't go his way, Trump has made it a habit to attack the judge or the ruling as unfair or biased.
Earlier this year, Trump launched an attack on a federal judge who blocked his attempt to build key sections of his border wall with money secured from his declaration of a national emergency. The president tweeted that the judge was an Obama activist who was "against Border Security and in favor of crime, drugs and human trafficking."
In his speech Wednesday, Friedman specifically pointed to Trump's attacks on District Court Judge Gonzalo Curiel, who ruled against him in a case involving Trump University in 2016. Trump asserted at the time that Curiel was being biased against him because of his Mexican heritage and because he was appointed by Obama.
Friedman said that Trump's personal attacks on Curiel were "beyond a dog whistle." The judge added that any rulings against Trump happened because judges are following the law and the Constitution, not because of a larger vendetta against the president.
"This is not normal," Friedman said. "And I mean that both in the colloquial sense and in the sense that this kind of personal attack on courts and individual judges violates all recognized democratic norms."
Federal Judge Says Donald Trump's Attacks 'Undermine Faith in the Rule of Law Itself' | U.S.