Courts vs. Trump: Judge Strikes Down Attempt to Limit Rights of Federal Workers and Their Labor Unions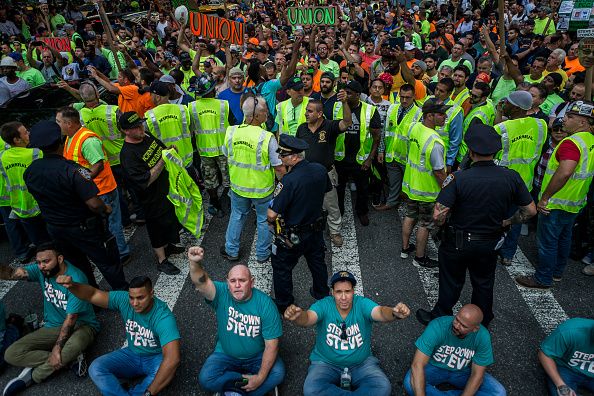 Donald Trump's most recent attempt to make it easier to fire federal employees has been struck down by a federal judge.
In a ruling delivered early Saturday morning, a district judge in Washington struck down most of the key provisions in three executive orders the president signed in late May that would simplify the dismissal of federal workers and cut back the rights of labor unions.
After Trump signed the executive orders, several unions filed cases against the administration to challenge the validity of the legislation. Several of the unions argued that the orders conflicted the Federal Service Labor-Management Relations Act, which states that any rules have to be negotiated between government agencies and the unions representing that agency's workers.
Other unions bringing cases argued that Trump's actions were an "egregious violation of presidential power, and worked such an immediate harm to the collective bargaining rights of federal employees."
Ketanji Brown Jackson, the district judge presiding over the cases, sided on behalf of the unions. In Saturday's ruling, Jackson wrote that most of the major aspects of Trump's executive orders "conflict with congressional intent in a manner that cannot be sustained."
Jackson also determined that while the "president has the authority to issue executive orders that carry the force of law with respect to federal labor relations, it is undisputed that no such orders can operate to eviscerate the right to bargain collectively as envisioned" by the Federal Service Labor-Management Relations Act.
In May, the head of the White House Domestic Policy Council told reporters that the executive orders were intended to "make it easier for agencies to remove poor-performing employees and ensure that taxpayer dollars are more efficiently used."
Susan Suszcyk, the co-chair of a coalition of federal workers unions, said in a statement Saturday that they were "very pleased that the court agreed that the president has far exceed his authority and that the apolitical career federal work force shall be protected from these illegal, politically motivated executive orders."
It's not the first time federal judges have reined in some of the president's legislative actions. In mid-July a judge found that the administration's forced separation of immigrant children from their families was unconstitutional. The separation was a consequence of Trump's "zero tolerance" immigration policy that prosecuted those crossing the border illegally with criminal instead of civil charges.