Marijuana seems to be everywhere these days. In the movies, on the school playground, in the senior center. It has united Martha Stewart and Snoop Dogg. A once counterculture drug of the 1960s, it's now the topic of annual reports and stock prices. It's even made it into the boardrooms of Big Tobacco, Pharma and Alcohol.
But we should slow this weed train down.
Legalization advocates often begin with the well-worn saying that we should not jail pot users. Instead, they say, we should regulate marijuana to gain tax revenue and reverse social injustice.
It's a great theory.
But it's never worked in practice. Legalizing marijuana is, at the end of the day, all about one thing: money. Let me rephrase: It's about making rich white men richer.
It need not be that way. We have set up a false dichotomy between criminalization and commercialization. We think we either have to give marijuana to Big Tobacco or we have to put users in private prisons. Neither of these are good policy choices—thankfully, they aren't the only ones we have.
Instead, we can look to the science—and, despite popular belief, there is plenty we know about marijuana that should give us pause. Today's weed is often 10 times stronger than the stuff of 20 or 30 years ago. More and more mental health problems are linked to today's high-potency marijuana—a British study finds schizophrenia risk quintuples among regular users.
This tells me we need a policy of discouragement and treatment—not glamorization and commercialization.
But as a former Obama appointee, I can't think of something less progressive than what has gone on in legalized states today.
Take Illinois, for example. They tried to prioritize people of color in the marijuana license process. The result? Only 3 percent of the applicants made the first cut, including someone being paid $4 million through mega-firm KPMG to grade the actual applicants. Perhaps he will sell one of the products made by marijuana giant Cronos, who just hired a former Big Pharma exec to lead its company. Or perhaps he will sell some of Big Tobacco's pot products—after all, Altria Philip Morris has put more than $2 billion into the pot industry.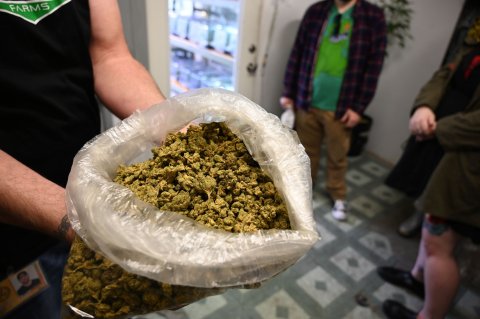 Not much social justice-ing going on.
To make matters worse, some in Congress want to double down on these policies. With wildfires raging in the West, an out-of-control pandemic and unprecedented economic hardships, leadership in Congress has scheduled a vote on the MORE Act, which would federally legalize and commercialize marijuana.
It's a payback to pot lobbyists for their work. And no, the MORE Act is not decriminalization, states' rights or social justice—as advocates have tried to paint it.
It's blanket marijuana commercialization. Unlimited potency, tax breaks to pot companies for advertising and—according to a national trade group—the end of safety-sensitive drug testing for transportation workers as we know it.
Given what we have learned about youth use—surprise, it goes up in legal states—stoned driving deaths (ditto) and the underground market (you guessed it, it gets stronger), this is not what our country needs right now.
After all, according to the independent National Academy of the Sciences, marijuana use has significant links to additional serious mental health conditions—including schizophrenia, anxiety, depression and suicide. Prolonged use has also been shown to lower IQ and motor function and can cause particular damage to the developing brains of young people. And we know this from low-potency pot; the science is still far behind when it comes to the marijuana readily available in "legal" states.
Perhaps we should all step back, slow down and take a clean, fresh breath and get back to work to putting our country back together. Marijuana—and the Big Pharma, Tobacco and Alcohol executives now in charge of that business—certainly won't help us do that.
Kevin A. Sabet, Ph.D., served in three White House administrations, most recently as senior drug policy advisor from 2009 to 2011. He is the president of Smart Approaches to Marijuana.
The views expressed in this article are the writer's own.