Federal Officers Leaving Seattle Following Weekend Protests
After a weekend of protests in Seattle, federal law enforcement have informed city officials that the Department of Homeland Security (DHS) team deployed to the city has left.
Mayor Jenny Durkan and Washington Governor Jay Inslee confirmed in a joint statement that the federal officers have demobilized and left Seattle.
"This demobilization means Washingtonians no longer have to worry about the White House's aim to provoke confrontation and undermine peaceful protests," Inslee said.
The move comes after Durkan requested the removal of federal agents this morning "since there was no actions directed against the federal properties here."
The standby tactical team arrived in Seattle last week in preparations of a weekend of protests to "protect federal buildings."
"The president's actions to target and 'dominate' Democratic cities through the use of federal forces is chilling. It has increased violence in Portland, Seattle and other cities across the country, which was what the president intended. Policing decisions in Seattle should be made by Chief Best–not Donald Trump, and we can rest assured that they will be," Durkan added.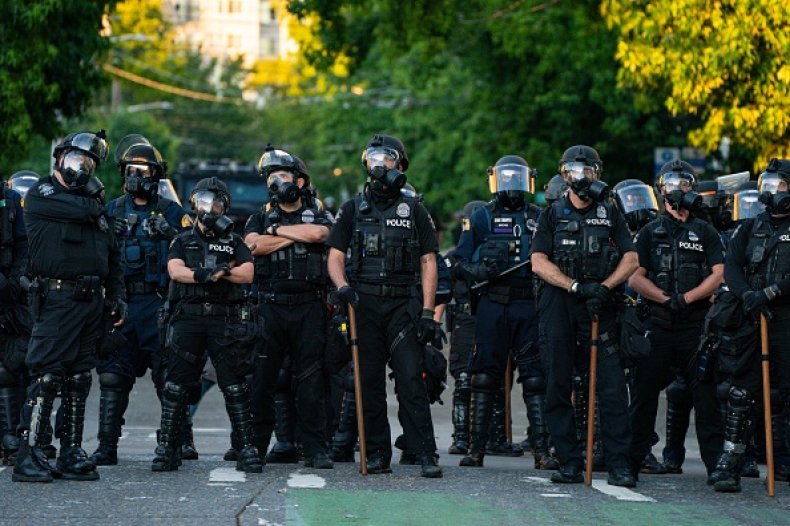 At least 47 people were arrested over the weekend and nearly 50 officers were injured. The protests were held in solidarity with the demonstrations in Portland, Oregon, where federal forces have been aggressively policing the city for most of July.
Federal agents were deployed to Seattle last week in anticipation of the protests, despite criticisms and pleas from local and state officials to retreat.
After conflicting messages from acting Secretary of Homeland Security Chad Wolf, who had previously told Inslee and Durkan that "there was no surge of additional personnel to Seattle," a plane of federal officers arrived in Seattle ahead of the expected protests.
Durkan on Thursday threatened to take legal action "should federal forces intervene like they have in Portland."
Trump said the presence from the Department of Homeland Security were "little involved in Seattle" on Monday.
"The apparent swift departure of Trump's uninvited and unneeded federal forces is a welcome turn of events," King County Executive Dow Constantine said in a statement on Tuesday. "Federalism and the rule of law don't take a break during a presidential election, and the people of King County should be proud of our unwavering support for one another and the Constitution."
As the protests in Portland continue, the presence of federal officers has raised concern among many about the jurisdictions of local government.
Trump told reporters at the White House last week that his administration would send agents to the cities of New York, Chicago, Philadelphia, Detroit, Baltimore and Oakland.
In a statement emailed to Newsweek, a spokesperson for Inslee said the governor "continues to maintain that any federal involvement should only be at the request of local and state officials."