Federal Police Use Tear Gas to Disperse Protesters in Portland
During another night of unrest, law enforcement officers broke up demonstrators in the center of Portland as a political spat grows in which federal agencies are under scrutiny over their policing of the city and the detention of protesters.
President Donald Trump stands accused of a heavy-handed approach in deploying federal officers to the city to tackle the demonstrations sparked by death in custody of George Floyd that have been ongoing for nearly two months.
Demands for federal police to leave the city were the focus of gatherings on Friday that went on through the night. Several hundred people attended a vigil outside the Multnomah County Justice Center, according to Oregon Live, in a gathering which Portland Police declared to be illegal.
People also gathered around 9:30 p.m. local time at two closed city parks across from the Justice Center. They dismantled the fence around the parks and moved parts of it into the street, some of which was retrieved by police, Oregon Live reported.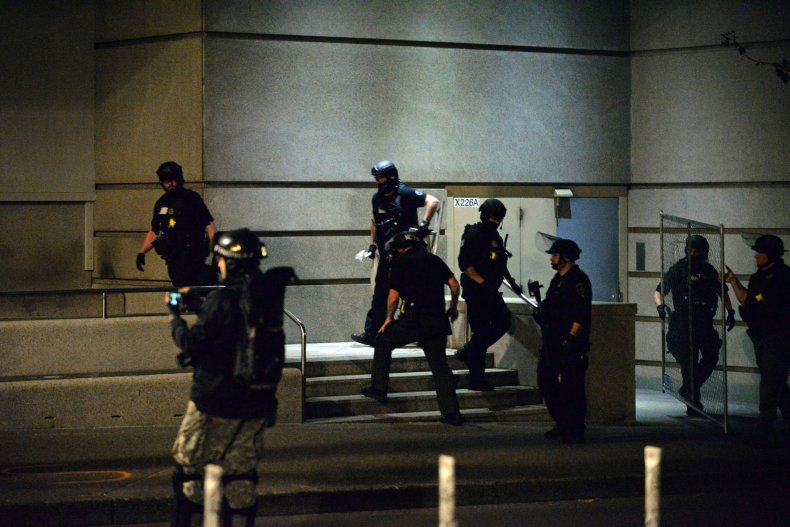 Police said the fencing was being used to block streets and barricade doors to the Federal Courthouse, Justice Center and Edith Green Federal Building. Later in a statement, police said that protesters had five minutes to remove all barricades around the facility.
"Failure to follow this direction may subject you to arrest, citation, or use of force including crowd control munitions," it tweeted. Officers closed in on demonstrators and used tear gas at least twice to break up crowds downtown, according to Oregon Live.
Federal officers, many in camouflage, emerged across from the Justice Center and used impact munitions, stun grenades and gas to force people to leave. Portland Police later confirmed on Twitter CS gas, a type of tear gas, had been used by federal officers outside the Federal Courthouse.
The escalation in tensions between protesters and law enforcement over the last two months has been gathering pace after witnesses told Oregon Public Broadcasting (OPB) that since July 14, federal law enforcement officers in camouflage have taken protesters away in unmarked cars.
A spokeswoman for U.S. Customs and Border Protection (CBP) spokeswoman said agents had been deployed to support a U.S. Department of Homeland Security (DHS) unit to enforce Trump's executive order to protect federal monuments and buildings.
CBP Commissioner Mark Morgan tweeted his agency would continue to arrest "violent criminals that are destroying federal property," however Oregon Governor Kate Brown has described this as a "blatant abuse of power."
Oregon Sen. Jeff Merkley, a Democrat, tweeted a video of someone being arrested by two masked camouflaged people, adding the message: "Authoritarian governments, not democratic republics, send unmarked authorities after protesters."
On Friday, Oregon Attorney General, Ellen Rosenblum, said that the state justice department was filing a lawsuit against the federal government over the detention of protesters "without probable cause."