Thousands of federal prisoners could remain on home confinement after the Department of Justice (DOJ) reversed a decision that would have sent them back behind bars.
The DOJ's Office of Legal Counsel (OLC) issued an opinion giving the Bureau of Prisons "discretion to permit prisoners in extended home confinement to remain there" on Tuesday. The move came after Attorney General Merrick Garland reviewed the law and asked the OLC to reconsider its position. The prisoners were originally released during the administration of former President Donald Trump, following the passage of the Coronavirus Aid, Relief, and Economic Security (CARES) Act.
"Thousands of people on home confinement have reconnected with their families, have found gainful employment, and have followed the rules," Garland said in a statement. "In light of today's Office of Legal Counsel opinion, I have directed that the Department engage in a rulemaking process to ensure that the Department lives up to the letter and the spirit of the CARES Act."
"We will exercise our authority so that those who have made rehabilitative progress and complied with the conditions of home confinement, and who in the interests of justice should be given an opportunity to continue transitioning back to society, are not unnecessarily returned to prison," he continued.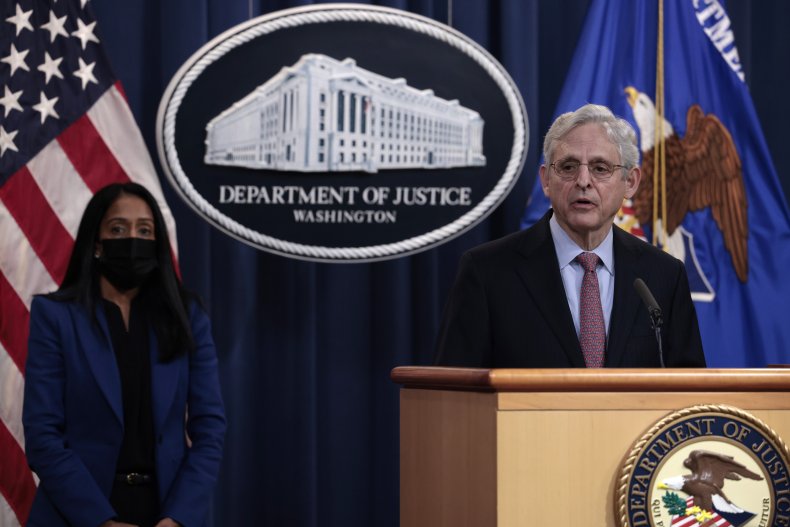 The decision to release federal inmates was made as part of the CARES Act in March 2020. An OLC opinion issued five days before President Joe Biden took office in January 2021 found that most of the prisoners would need to return to federal confinement on the basis that the pandemic no longer constituted an "emergency."
Despite pressure from criminal justice and prison reform activists, Biden administration lawyers sided with the Trump administration's OLC opinion in July, according to The New York Times.
The pressure campaign, including from the American Civil Liberties Union (ACLU) and Senators Dick Durbin (D-Ill.) and Cory Booker (D-N.J.), continued and eventually led to Garland personally reviewing the decision.
"We thank Attorney General Garland for responding to our request to rescind this Trump-era opinion and look forward to continuing to work with the Biden Administration on community-based strategies to improve our criminal justice system," Durbin and Booker jointly told Politico on Tuesday.
"The ACLU and allies on the right and left asked the DOJ and President Biden to keep people home, and today the Justice Department delivered," the ACLU's Criminal Division Director Udi Ofer added. "We also recognize that the threat of eventual return to prison is still present, so we ask President Biden to use his clemency powers to provide permanent relief to families."
Assistant Attorney General for the OLC Christopher H. Schroeder wrote to Garland that the office did "not lightly depart from our precedents" in a memo issued alongside Tuesday's opinion. Schroeder said that the OLC ultimately found the Trump-era reversal had "failed to address important and persuasive counterarguments."
Newsweek reached out to the DOJ for comment.