Federal Reserve Board Nominee Stephen Moore 'Embarrassed' By His Previous Sexist Comments, Will Not Withdraw from Consideration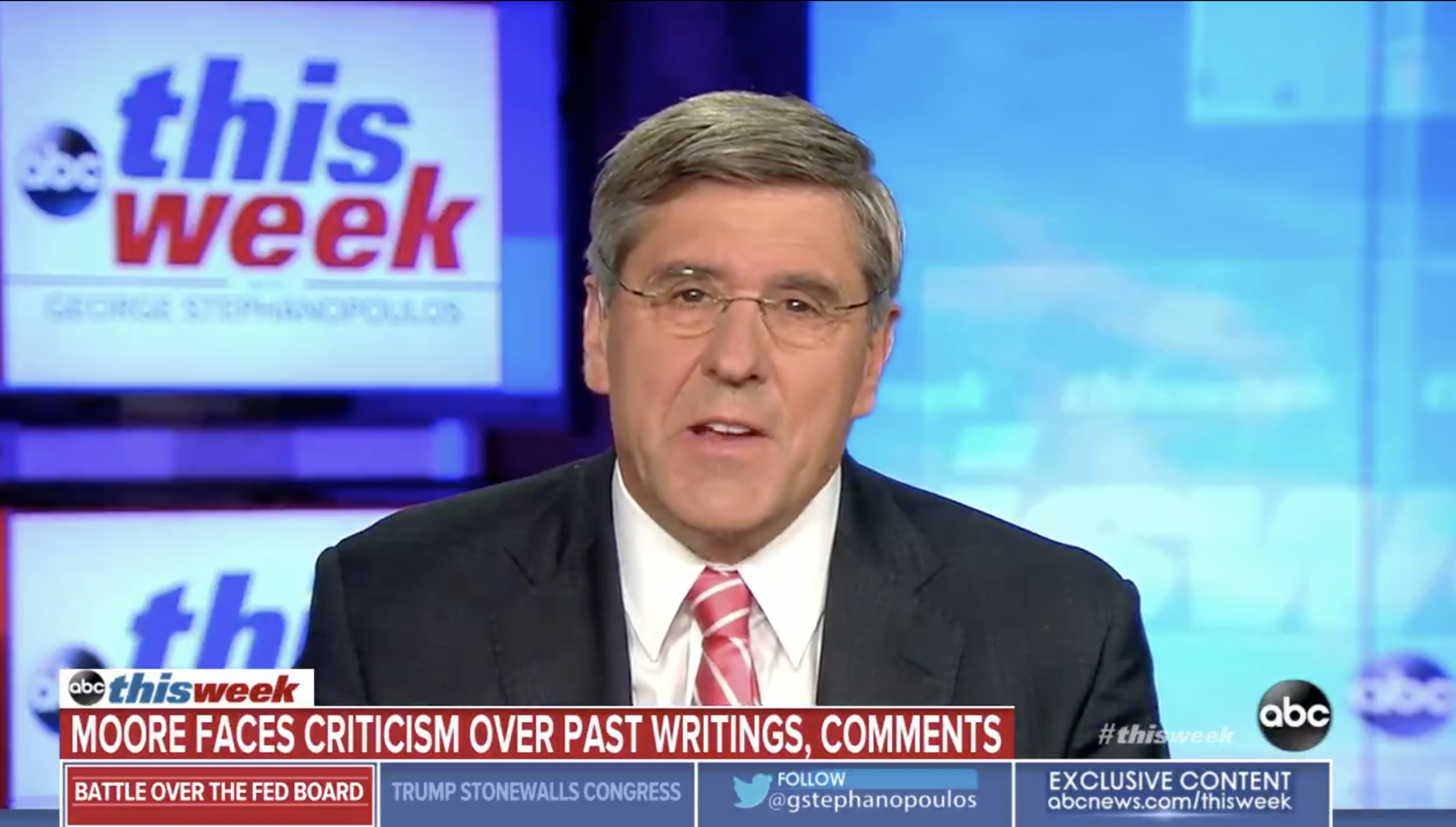 Stephen Moore, economic commentator and President Donald Trump's nominee for the Federal Reserve Board, said Sunday that he's sorry and "embarrassed" by recently unearthed articles he wrote disparaging female athletes and making what some have criticized as sexist remarks about women in general.
Moore called into conservative radio host John Catsimatidis's show on New York City's WNYM Sunday Morning, where the former Trump adviser talked about the "brutal process" of being vetted for an important position at the nation's central bank, and what he described as "character assassination."
"The left finally realized they weren't gonna be able to defeat me by attacking my economic ideas or my credentials so what they've been doing for the last two or three weeks in a very vicious way is, ya know, attacking my — things I said twenty years ago, opening up my divorce, looking at old Christmas letters," said Moore. "I mean, it's been scurrilous but I'm here to tell you that I am not dropping out of this process and they can keep attacking my character."
That said, Moore did bring up the recent CNN article that looked into a number of columns Moore had written between 2000 and 2003 for the National Review, including one where he declared that women should be barred from announcing college basketball games, mocked the idea of women officiating basketball — a sentiment he doubled-down on in the next column, and an entire article arguing against pay equality in pro sports.
It's unclear which of these articles Moore was referring to on Sunday, but he did express his regret for penning at least one of them.
"I'm embarrassed by it," he admitted to Catsimatidis. "I'm embarrassed by some of the things I said 18 years ago. They do not reflect my position, so I'm not making light of it. It was a wrongheaded thing to do. I've probably written a thousand articles over the last twenty years, so if you wanted to find a few of them that were offensive, that might have been, so I want to apologize to people who were offended by it because — My sisters were offended by it.
"I'm not saying that I'm blameless and I'm not saying that I'm an angel," Moore continued. "Just saying that these kinds of things don't have a lot to do with whether I'm qualified to be on the Federal Reserve Board and cutting interest rates."
Moore's argument on the radio show was that political opponents had targeted his personal life because "my economic positions are sturdy and strong and I've been proven a lot more right than wrong when it comes to the economy." He also dubbed his previous work with the Trump administration as a "scintillating success."
However, not everyone has seen it that way.
Justin Wolfers, an economics professor at the University of Michigan, has been very critical of this nomination, tweeting in March that Moore, "hasn't gotten a thing right in twenty years, (check the record), and the Senate should not confirm him."
Earlier this month, Scott Sumner, the Ralph G. Hawtrey Chair of Monetary Policy at George Mason University's Libertarian-leaning Mercatus Center, questioned the qualifications of both Moore and fellow nominee Herman Caine (who has since withdrawn from consideration).
"The remarks on monetary policy made by both candidates seem relatively uninformed, not backed by solid analysis," wrote Sumner. "Once at the Fed, they will frequently interact with Fed staff members who will present arguments using sophisticated economic models. Will they be able to keep up?"
Another question Moore will face if he gets to a Senate confirmation hearing is whether he would be able to remain independent of the Trump administration. Not only has Moore formerly worked with the president, but he co-authored the book Trumponomics​. Addtionally, Moore has made numerous comments in the media since Trump took office that were seen as critical of the idea of an independent Federal Reserve Board.
Moore addressed some of these concerns Sunday during a TV appearance on ABC's This Week, where host George Stephanopolous brought up concerns raised by senators.
"Senator Susan Collins of Maine, she's taken on your call back in December 2018 when you said the chairman of the Federal Reserve should be fired for considering raising interest rates," said the host. "It's going to be tough for you to get confirmed if you don't have the support of Susan Collins, isn't it?"
Moore responded by claiming that this particular comment was "one of the strongest cases for why I should be on the Federal Reserve."
"I was the one — one of the first economists among thousands — when the Fed raised interest rates back in December, I got very angry about it and said this was economic malpractice, it was a terrible decision by the Fed. The stock market fell by 2,500 points in the subsequent weeks, and then the Fed had to reverse course, put its tail between its legs and admit that people like Donald Trump and I were right and they were wrong."
Regarding the possibility that even Republican senators might block his confirmation, Moore pointed to his work with Collins and others on the GOP tax reform bill.
"I think they respect my economic expertise and my record, but if I become a liability to any of these Senators, I would withdraw," said Moore, adding "I don't think it's going to come to that."