Federal Reserve Chairman Says U.S. Economy 'May Well Be in a Recession' Amid Coronavirus Downturn
Federal Reserve Chairman Jerome Powell said the U.S. economy "may well be in a recession" as a result of the coronavirus pandemic on Thursday, but also suggested there could be a "good rebound" later this year.
Powell told NBC News' Today show that the economic downturn resulting from the COVID-19 outbreak was "not a typical downturn" as people were being asked to shutter their businesses for public health reasons.
He also said that there was "nothing fundamentally wrong" with the underlying U.S. economy and argued that confidence would return when the spread of the novel coronavirus was under control.
The Federal Reserve boss's emphasis on the virus being controlled before economic activity could resume appeared to diverge from President Donald Trump's goal to have American "opened up and raring to go" by Easter.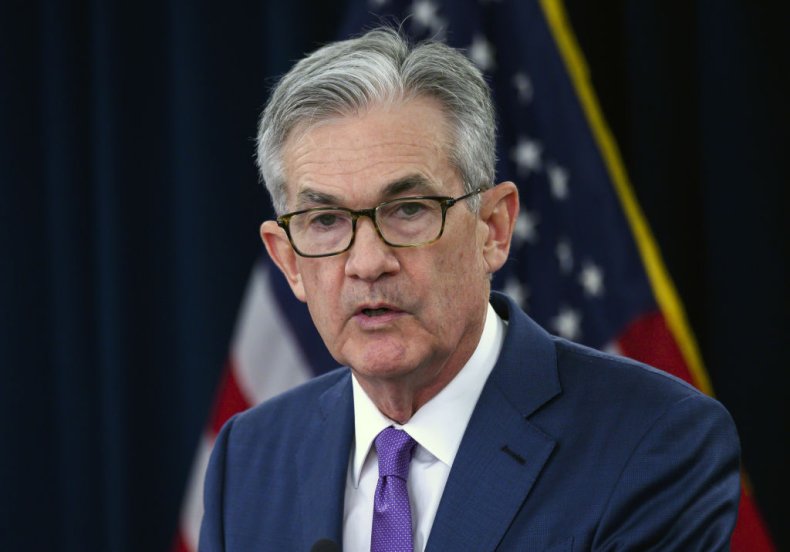 In its efforts to curb the economic damage caused by the ongoing spread of COVID-19, the Federal Reserve has slashed interest rates to near zero and promised to buy an unlimited amount of government bonds.
Asked if there was any limit to the money the Federal Reserve was willing to pump into the American economy, Powell said: "In certain circumstances like the present, we do have the ability to essentially use our emergency lending authorities, and the only limit on that will be how much backstop we get from the Treasury Department."
"Essentially the answer to your question is no," he added. "We can continue to make loans and really the point of all that is to support the flow of credit in the economy to households and businesses."
He later said the COVID-19 pandemic's impact on the economy was a "unique situation" and said it was "not a typical downturn."
"People are being asked to close their businesses, stay home from work and to not engage in certain kinds of economic activity, and so they're pulling back," he said.
"At a certain point we will get the spread of the virus under control, and at that time confidence will return, businesses will open again and people will come back to work."
Powell added that he believed there could a "good rebound" on the other side of the downturn and explained that the Fed was trying to make the rebound "as vigorous as possible."
NBC News host Savannah Guthrie later pressed the Federal Reserve chairman on whether he believed the U.S. was in a recession or inevitably heading for one.
"We may well be in a recession, but again I would point to the difference between this and a normal recession," Powell said. "There's nothing fundamentally wrong with our economy. Quite the contrary, the economy performed very well right through February."
He later added: "In principle, if we get the virus spread under control fairly quickly then economic activity can resume, and we want to make that rebound as vigorous as possible."
Addressing concerns that the Fed was "running out of ammo" in its fight against economic decline, Powell said: "When it comes to this lending, we're not going to run out of ammunition."
Newsweek has contacted the Federal Reserve for further comment and will update this article with any response.
The Federal Reserve Chairman made his remarks before new initial jobless claims were revealed by the Department of Labor on Thursday morning.
A record-breaking surge saw initial unemployment claims jump to 3.3 million across the United States in the week ending March 21. The Labor Department said the numbers were at their "highest level" in history.
Powell's comments also followed the Senate unanimous vote in favor of a $2 trillion coronavirus stimulus package on Wednesday night that will see loans made available to businesses while Americans receive individual checks for as much as $1,200.