Former Fed Chairs Warn Trump that Mixing Politics and Monetary Policy Hurts U.S. Economy
In an unprecedented move, four former Federal Reserve Bank Chairs, Paul Volcker, Alan Greenspan, Ben Bernanke and Janet Yellen, wrote in a scathing (okay, scathing for former Fed chairs, tepid for the rest of us) opinion piece Monday night that politics and monetary policy need to be kept separate.
The commentary comes just as China allowed its currency to weaken in response to President Donald Trump's trade wars with Beijing. The drop in valuation led to a steep fall in U.S. markets Monday and in U.S. treasury yields. Trump has been looking for ways to fight back by involving the Central Bank in his tariff wars. In July, he considered asking the Fed to devalue U.S. currency but ultimately decided against it. On Monday, however, he pressured the independent body to cut interest rates.
"China dropped the price of their currency to an almost a historic low," Trump wrote on Twitter. "It's called 'currency manipulation.' Are you listening Federal Reserve? This is a major violation which will greatly weaken China over time!"
Last week Fed Chair Jerome Powell cut interest rates for the first time in a decade as a way to aid the economy through these trade wars, but the president seems to want more.
In the past, Trump has been quick to criticize the Federal Reserve. "As usual, Powell let us down," the president tweeted late last month. We are winning anyway, but I am certainly not getting much help from the Federal Reserve!"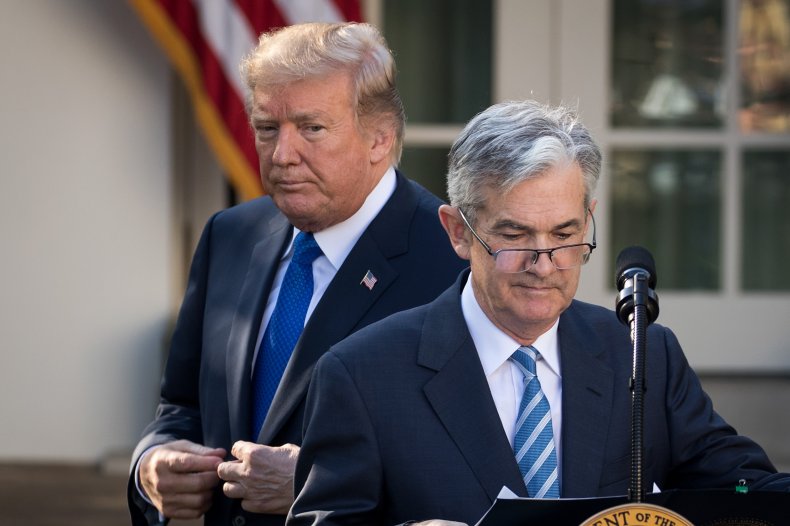 When GDP didn't grow by Trump's desired 3 percent in late July, he blamed the Fed. "GDP Up 2.1% Not bad considering we have the very heavy weight of the Federal Reserve anchor wrapped around our neck. Almost no inflation," he wrote.
The group of former Fed Chairs didn't call out President Trump by name, but he was clearly the target of the warning that it would be unwise for the Central Bank to succumb to short term political influence.
"History, both here and abroad, has shown repeatedly, however, that an economy is strongest and functions best when the central bank acts independently of short-term political pressures and relies solely on sound economic principles and data," they wrote.
These attempts to control monetary policy might give a temporary bounce to the economy (and to a politician's favorability), said the group, but will ultimately end in "worse economic performance in the long run, including higher inflation and slower growth."
Even if the Fed is simply perceived to be influenced by the politics of the day, they wrote, unstable financial markets and worse economic outcomes abound.
"Elections have consequences," said the opinion pieces. "That certainly applies to the Federal Reserve as well as to other government agencies." When current chair Powell's four-year term ends, the president will have the opportunity to nominate him once more or seek out a new person for the role.
"We hope that when that decision is made, the choice will be based on the prospective nominee's competence and integrity, not on political allegiance or activism," wrote the former chairs.