President Donald Trump's War With the Federal Reserve's Jerome Powell, Explained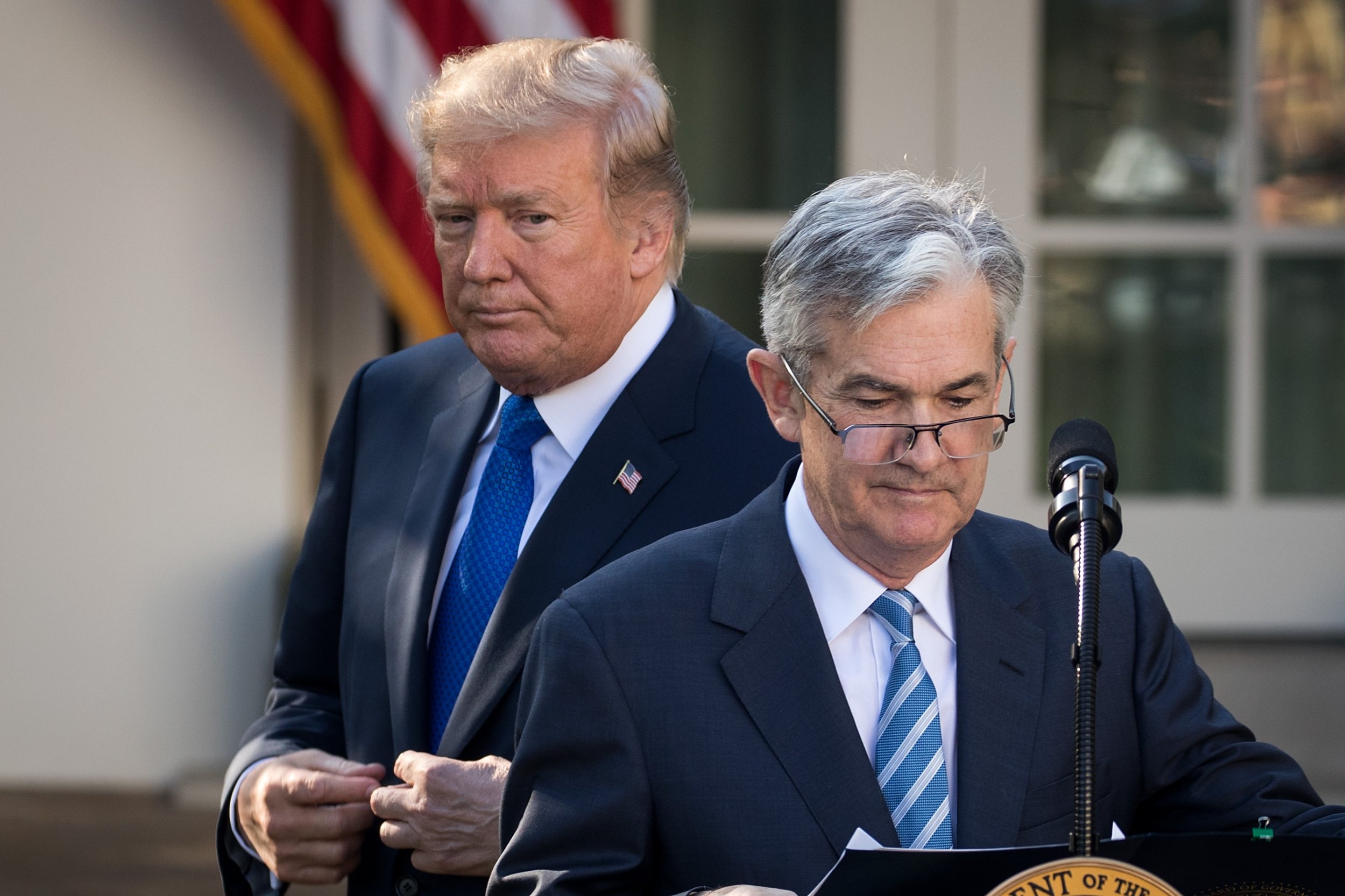 President Donald Trump is angry.
He doesn't like that General Motors is closing five plants across North America and laying off 14,700 workers. He doesn't like that economists are predicting an imminent recession.
And he hates the Federal Reserve Bank. In fact, most of these economic problems, says Trump, stem from the Fed. He is "not even a little bit happy" with his choice for Federal Reserve Chair, Jerome Powell.
"I'm doing deals, and I'm not being accommodated by the Fed," Trump said in an interview with The Washington Post Tuesday. "They're making a mistake because I have a gut, and my gut tells me more sometimes than anybody else's brain can ever tell me."
Powell, Trump said, was not doing his gut's bidding. "So far, I'm not even a little bit happy with my selection of Jay. Not even a little bit. And I'm not blaming anybody, but I'm just telling you I think that the Fed is way off-base with what they're doing," the president noted.
American presidents typically stay away from public criticism of the monetary decisions made by the Federal Reserve, the country's independent, central bank system. But, as he is known to do, the president has strayed from tradition.
The Fed controls monetary policy in the U.S. by setting the direction of interest rates, which in turn influences the cost of borrowing money. When the economy is stalling, lowering interest rates give it a boost. Once things are back on track, those interest rates typically go back up and the cost of credit increases once more.
After the 2008 financial crisis, the Federal Reserve kept rates artificially low for more than a decade before starting to slowly increase them. The Fed has hiked rates three times so far in 2018, citing an improving economy. But Trump worries that these hikes will temper the booming stock market, which he likes to take credit for.
Rising rates can hurt the stock market because other investments, like bonds, become more attractive to investors. Higher rates also make it difficult for companies to take out cheap loans and grow business.
So perhaps Trump has a right to be angry, but the Fed still has a mandate to work independently and free of political influence. And it's certainly a difficult task to remain neutral when the man who appointed you is saying he isn't happy with your performance.
In a lunch meeting at the Economic Club of New York Wednesday, Powell defended his decisions to raise rates. While the economy is strong right now, he said, "sound policymaking is as much about managing risks as it is about responding to the baseline forecast." That means that leaving interest rates low could have a profoundly negative impact down the line.
"We also know that the economic effects of our gradual rate increases are uncertain, and may take a year or more to be fully realized," he said. "While [Fed officials'] projections are based on our best assessments of the outlook, there is no preset policy path."
Trump replaced the prior Fed chair, Janet Yellen, with Powell earlier this year. The president said he found Yellen to be competent in her role, but sources told The Washington Post he was disturbed by her diminutive stature and wanted someone taller in the job. Powell is about six feet tall.
General Motors cited the president's tariffs, a lack of sales and fear of a general economic downturn for their layoffs and closures this week.