Federal Union Employees Protest Trump's Arrival in Texas: 'We Want to Work and Stop the Shutdown'
Federal union workers gathered in McAllen, Texas, to protest against the government shutdown as President Donald Trump arrived at the Southern border.
Between 30 and 45 members of federal unions were present at a demonstration, David Rodriguez, chief steward for the American Federation of Government Employees chapter based in Mercedes, Texas, told Newsweek. Montserrat Garibay, Secretary-Treasurer of the Texas AFL-CIO offered a lower estimate of about 25 to 30 federal workers.
A video posted on Instagram by the Texas AFL-CIO showed AFGE members chanting "we want to work and stop the shutdown."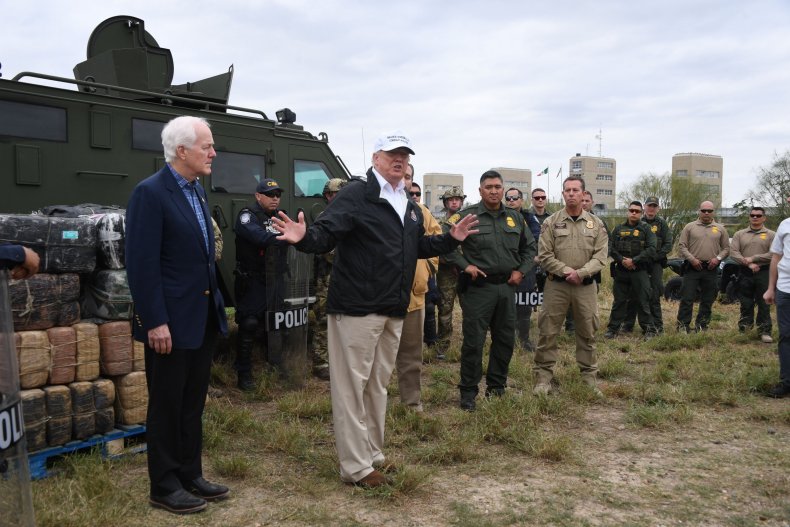 Trump was greeted by hordes of protesters and fans as he arrived in Texas. Some expressed support for the president's proposal to build a wall on the country's southern border, citing concerns about security and immigrants, according to WOAI.
Opponents of the president said Trump was lying about the crime and danger of migrants. "He makes it seem like all we have is drugs and gangs in McAllen," resident Brandi Kennedy, who has lived near the border for 12 years, told the local outlet.
Counties along the U.S.-Mexico border have lower violent crime and homicide rates than those in nonborder counties and the countrywide rate, according to the CATO Institute.
The approximately 800,000 workers not getting paid during the partial government closure are scheduled to miss their first pay day on Friday, when the shutdown enters its 21st day.
"Once that first paycheck [doesn't come], we're no longer talking about the theoretical; we're talking about tangible missing of paying electric bills, paying mortgage or rent—at which point, the narrative shifts," High Point University political science professor Brandon Lenoir told Vox.
Other federal workers protested outside the White House on Thursday, with some holding signs saying they wanted to return to work.
"We want to send a very strong message—that this is not about politics, it's about getting people back to work," spokeswoman for the National Federation of Federal Employees Brittany Holder, who helped organized the protest, told The Washington Post.
House Speaker Nancy Pelosi cast doubt on Trump's intentions on Thursday, a day after Democratic leaders held an unsuccessful meeting the president.
"I don't even know if the president wants the wall. I think he just wants a debate on the wall. And he's having some difficulty with it," she said during a press briefing.