Federal Watchdog Opens Case File on Zinke's 'Make America Great Again' Socks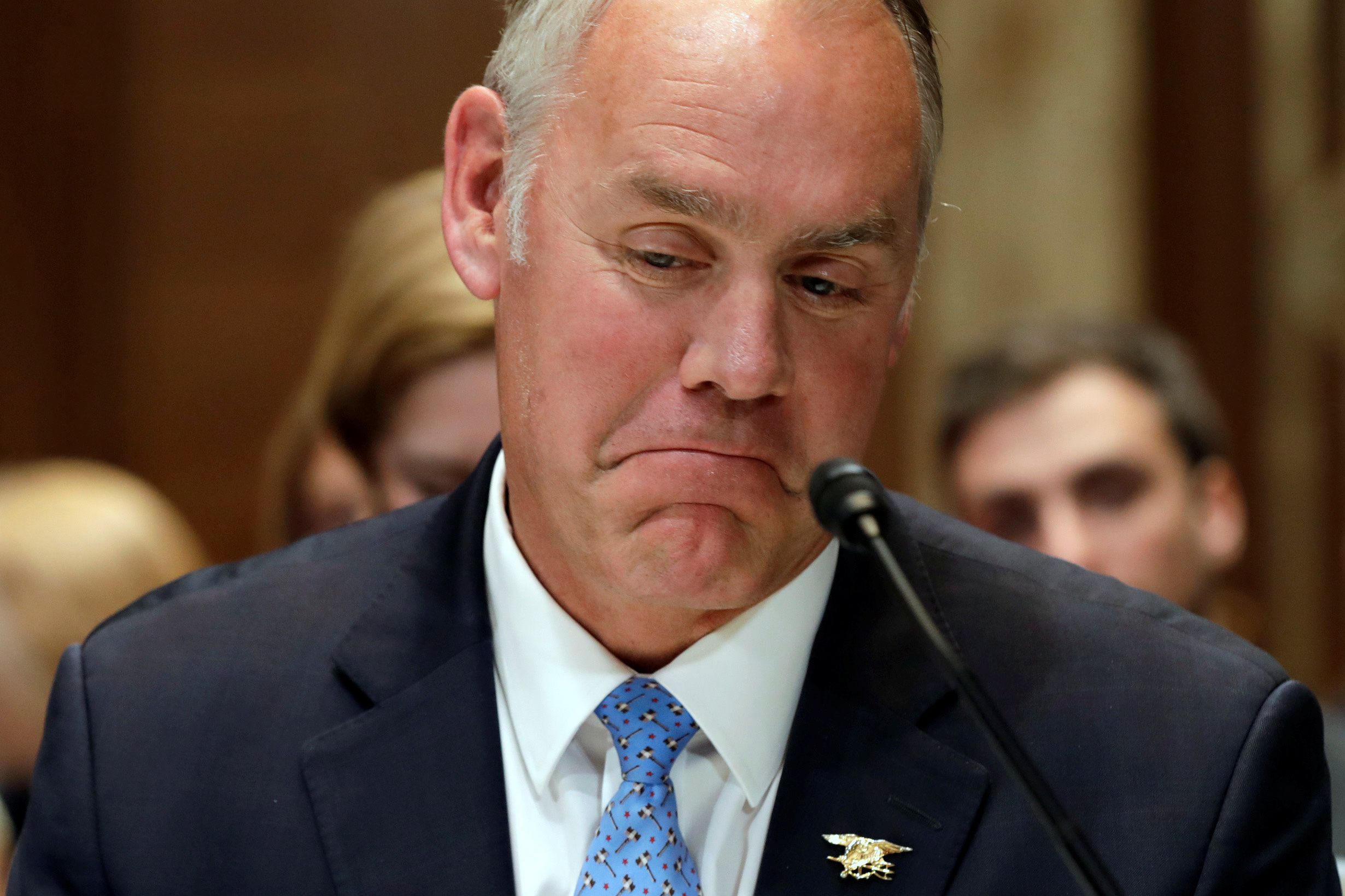 The U.S. Office of Special Counsel, an internal federal watchdog group, has opened a case file into whether Department of the Interior Secretary Ryan Zinke violated a campaign law that prohibits government employees from engaging in politics when he tweeted a photo of himself wearing "Make America Great Again" socks.
The case file, which is not the same as an investigation, was opened after a complaint from the government watchdog group Campaign for Accountability, according to CNN.
Office of Special Counsel spokesman Zachary Kurz told Newsweek by email that he can "confirm that OSC received the complaint and has opened a case file. However, I'm unable to comment on or confirm whether an investigation has been opened."
The Department of the Interior could not be reached by Newsweek for comment about the case file and whether Zinke had been contacted by OSC.
On June 26, Zinke tweeted a picture of his socks that featured President Trump's face and his campaign slogan, along with the caption: "Breaking in new socks on a hike with the governor today."
The potentially-violated campaign law in question is the Hatch Act, which bars government employees from engaging in politics to ensure federal employees are not influenced within their official government role.
OSC released a statement in March that said because the president is officially a candidate for reelection, engaging in political activity while on duty or in a federal building was prohibited.
It read, in part, that, "while on duty or in the workplace, employees may not: wear, display, or distribute items with the slogan 'Make America Great Again' or any other materials from President Trump's 2016 or 2020 campaigns; use hashtags such as #MAGA or #ResistTrump in social media posts or other forums; or display non-official pictures of President Trump."
Zinke's original tweet was later deleted and he apologized with another tweet, which was also deleted, that featured the same picture of the socks with the "Make America Great Again" part scribbled out, according to a screenshot from The Hill.
"Earlier I tweeted a pic of my new socks not realizing it had what could be viewed as a political slogan," Zinke said. "I've deleted it and apologize for the mistake. I remain excited about all the incredible policy work POTUS is doing."
Kurz told Newsweek that because Zinke is a presidential appointee with Senate confirmation, he can only be disciplined by the president for a Hatch Act violation.
Zinke also came under recent fire back in March for upgrading three sets of double doors in his office that cost $139,000.
Although it bears a similar name, it should be noted that the Office of Special Counsel does not have anything to do with Special Counsel Robert Mueller. The open case file regarding Zinke's socks is not part of Mueller's investigation into possible Trump campaign ties with Russia and foreign interference of the 2016 election.