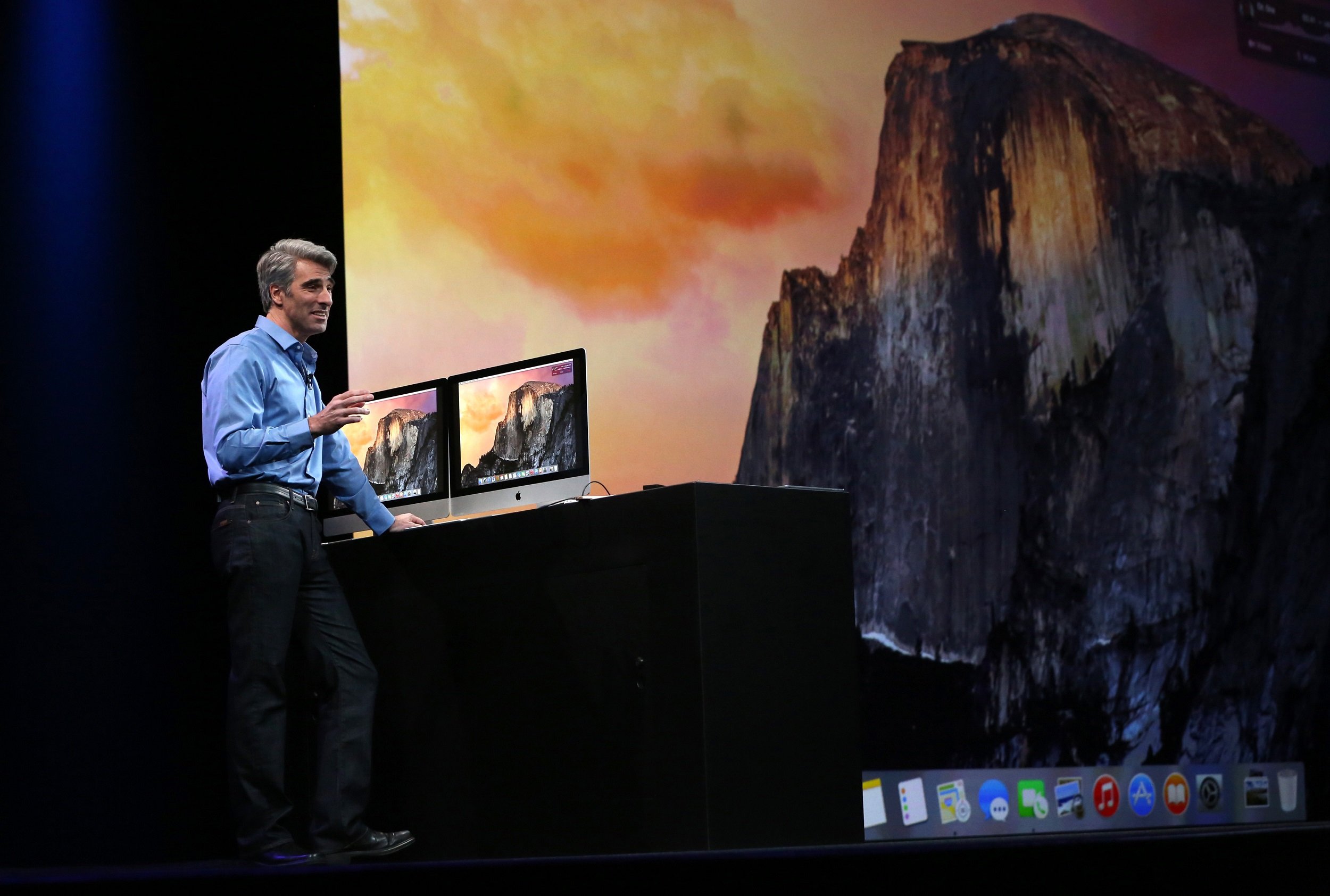 Tim Cook knows his place. The Apple CEO, shirttails out and radiating ebullience, offered a few introductory remarks about changing the world to the 6,000 app developers gathered at the company's WorldWide Developers Conference keynote in San Francisco Monday. Then he left the stage for most of the two-hour presentation while his software chief, Craig Federighi, wowed the crowd with the new features for Apple's dual operating systems, OS X Yosemite and iOS 8.
[Related: Apple's Show and Tell: Five Takeaways]
This wasn't the first time Federighi was called upon to be the face of Apple. At last year's WorldWide Developer's Conference Cook was also content to play master of ceremonies and let the more charismatic Federighi serve as the star of the show.
Apple's keynote presentations are the most closely watched technology introductions, highly orchestrated, obsessively rehearsed theater meant to create emotional highs and dramatic surprises for the audience. Legions of Apple fans line up around the block to attend the events, hoping to be the first to gaze upon the company's latest innovations, which are shrouded in secrecy and bathed in rumors until the unveiling.
Apple co-founder and former CEO Steve Jobs famously stalked the stage like Mick Jagger, mesmerizing the crowd with his carefully scripted magic show, eliciting wild applause from the crowd as he revealed what he often described as "amazing" products and features, whether it was a redesigned icon or the revolutionary iPhone.
Tall and slender with a coiffed grey hair, the 44-year-old Federighi brings more boyish charm than Svengali to the stage, but achieved similar results to Jobs. He definitely had the attention of the audience and smoothly put Apple's new software through its paces.
Fortunately, he had great product material to work with in his presentation. The new operating systems that debuted Monday have loads of new, compelling features, and will be available to developers now to create their apps but consumers will have to wait until the fall.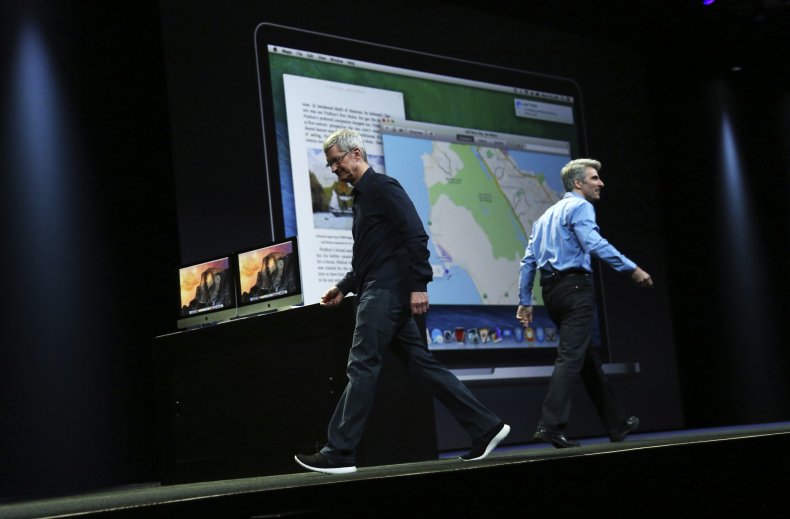 "Continuity" emerged as a new buzzword in the Apple vocabulary. Continuity in this context means closer ties between between the OS X Yosemite desktop software and iOS 8 mobile software. For example, with the new Handoff feature Macintosh users will be able to create a wireless hotspot or answer a phone call from an iPhone without any configuration, even if it is across a room in a handbag. In addition, users can start an email or other action on their iPhone and immediately pick up the task on their iPad or Macbook with a swipe or click.
Apple also made significant moves to turn the iPhone and iPad into more of a hub for all the apps that manage health with iOS 8. HealthKit pulls together data, such as weight, blood pressure and caloric intake, from a variety of apps into a centralized dashboard. "That information lives in silos," said Federighi. "You can't get a single comprehensive picture." It gives each app the capability to use data from other apps. For example, the Nike+ apps using NikeFuel could display data from other apps gathered in HealthKit to provide a more comprehensive view for each user.
Similarly, HomeKit allows Apple devices to integrate control for door locking, light dimming, temperature and other home automation functions from a central dashboard. Apps that integrate via HomeKit can be orchestrated to work together. For example, you could say to your iPad or iPhone, "Get ready for bed," and your house would respond by dimming lights and locking doors.
Federighi's path to the spotlight in San Francisco this week began about 30 years ago. He first learned to write programs for the Apple II. He was 14 when the Macintosh was launched in January 1984, and vowed at that time to get a job at Apple. He didn't land at Apple after earning a masters degree in computer science at the University of California, Berkeley, but still ended up working for Steve Jobs.
He joined NeXT, the computer company Jobs founded after he left Apple, as a software engineer. When Next was acquired by Apple for $400 million in December 1996, Federighi's youthful vow was fulfilled. He left Apple for a decade to serve as the chief technical officer at business software company Ariba, but then rejoined Jobs and Apple 2009 to lead engineering for the Macintosh operating system software.
Federighi brings a new dimension to the Apple stage, a more earnest and a less uptight act, eliciting more laughs than in past Apple events. To highlight the feature that allow users to make phone calls from a Macintosh, he made an awkward call to Dr. Dre, one of his new colleagues from the Beats acquisition, to welcome him to Apple.
Dr. Dre answered with a gruff, "Hello," and with some nervousness, even though it was obviously scripted, Federighi replied, "Hey doctor, you are on my speaker phone with me and my Mac. We all want to welcome you to Apple." He also made fun of Apple design chief Jony Ive's British accent and penchant for chamfered edges and milled aluminum.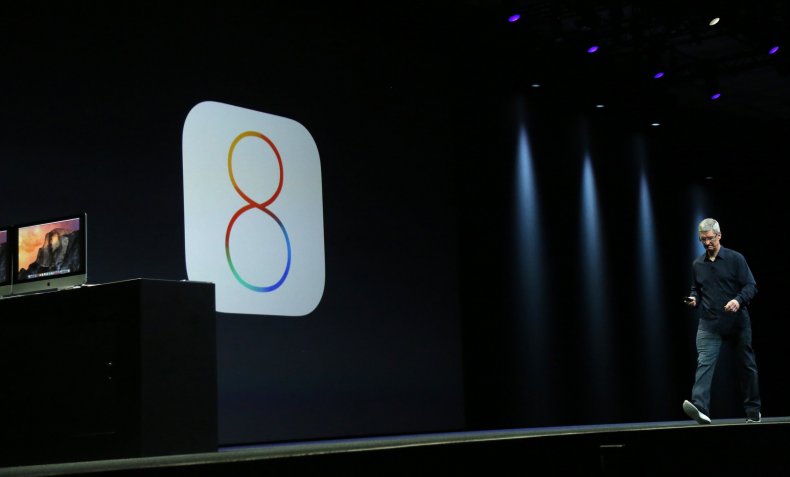 During one of Cook's brief appearances on stage, he called Federighi "my colleague Superman," acknowledging his lieutenant's command performance. The software chief responded, "Clearly this is some kind of endurance training Tim is doing to me."
Apple's Superman brings more than a bit of levity to his performance. He also has credibility with one of Apple's most important constituencies in the tech industry battle for the hearts and minds of consumers — developers both inside and outside of Apple.
Federighi gets excited about translucency in title bar windows and and praises "beautifully crafted icons." He got really pumped up about Apple's new programming language, Swift. "It totally rules," he said, touting closures, generics and namespaces to the developers' delight and applause.
Apple's developer community, which has fed the App Store with 1.2 million apps, grew 50 percent from last year, reaching 9 million members, Cook said. The App Store is a clear measure of Apple's success, and is critical to the sale of the hardware devices that produce the massive profits for the company. In the first two quarters of 2014 the iPhone accounted for about $58.6 billion of Apple's $103 billion total revenue.
Google's Android app store is similarly huge and growing, and competing for developer attention, but Apple hopes that the new features, extensibility of apps, continuity and programming tools of iOS 8 will spur more developers to devote their resources first to its platform.
Now that the dust is settling on Monday's software announcements, the Apple fans will once again turn their attention to new hardware. As expected, a new, larger iPhone, the much-rumored iWatch and an iPad with a 12-inch screen failed to make an appearance. In addition, Apple's new star players, such as former Burberry CEO and now retail head Angela Ahrendts or the company's newest executive, Beats' Jimmy Iovine (Dre's partner) were merely witnesses to the Federighi show. But ultimately it was Tim Cook's show, and he demonstrated his executive acumen in letting the software and Federighi do all the talking.
Dan Farber has served as editor in chief of CBSNews.com, CNET News, ZDNet, PC Week, and MacWeek.