A FedEx Fake News Piece Shows Why Americans Distrust the Mainstream Media | Opinion
The headline was designed to shock. And imply that something was terribly wrong—even corrupt—with the people running one of America's biggest companies. "How FedEx cut its tax bill to $0" read a banner headline on the front page of the business section of The New York Times on November 17, 2019.
The headline seemed odd to me because I know a lot about FedEx. As do many of the people who live near me, close to Memphis, Tennessee, home to the company's worldwide headquarters and one of its big distribution hubs. But more about FedEx, Memphis and the real story later. Let's get back to the Times, and its deceptive op-ed posing as a news story.
Here are the opening paragraphs:
"In the 2017 fiscal year, FedEx owed more than $1.5 billion in taxes. The next year, it owed nothing. What changed was the Trump administration's tax cut—for which the company had lobbied hard.

"The public face of its lobbying effort, which included a tax proposal of its own, was FedEx's founder and chief executive, Frederick Smith....

"Four months later, President Trump signed into law the $1.5 trillion tax cut that became his signature legislative achievement. FedEx reaped big savings, bringing its effective tax rate from 34 percent in fiscal year 2017 to less than zero in fiscal year 2018."
The implication from the headline and opening paragraphs was plain as day: FedEx lobbied hard for a tax break so it could dodge taxes, with the Republican Party and President Donald Trump's help.
I can't speak for other companies in America, but I feel compelled to speak for my hometown company and its founder, Fred Smith. The company Smith started in 1971 now employs 490,000 workers worldwide, ships over 15 million packages each day and has a fleet of 180,000 motorized vehicles and 678 airplanes (more than Air France or Lufthansa).
Smith was born in a small Mississippi Delta town called Marks. It didn't take long for life to hand him his first obstacle: a crippling bone disease that sidelined him for a chunk of his youth. By the age of 10, he'd regained his health and became a good athlete. By 15, he'd learned to fly an airplane.
A Yale graduate who studied economics, Smith didn't join the anti-war movement when he graduated college. He instead joined the U.S. Marine Corps. During his two tours of duty in Vietnam, Smith learned a lot about aviation and logistics. He was a platoon leader and forward air controller, flying in the back seat of the OV-10, a plane designed to aid in counter-insurgencies. He rose to the rank of captain and was awarded the Silver Star, Bronze Star and two Purple Hearts.
It seems anytime Smith gets a chance, he credits his experience in the Marines for teaching him how to treat people. And lead them.
I know a lot about FedEx because I write about American entrepreneurs and how they drive the economic life of our nation. What Smith managed to do with an idea—and FedEx was an idea—changed the way Americans do life. And business. Needless to say, it was no duck walk turning an idea into a business as complicated and big as FedEx.
I also know a lot about FedEx because the company employs people I know. And not just any jobs: all sorts of good-paying blue- and white-collar jobs. FedEx employs 330,000 Americans nationwide and is the No. 1 employer in Memphis, with just over 33,000, most residing in the city and surrounding counties.
Moreover, life without FedEx in our neck of the woods would be unimaginable for the tens of thousands of business owners and workers in the region. Downstream jobs at car dealers, restaurants, retail stores, doctor and dentist offices, law offices, shipping companies, nail salons, hair salons and so many more would struggle to exist without the presence of FedEx and its employees. As would the local governments who depend on the company to drive the tax base that employs teachers, firemen and other government workers. And that's not to mention the remarkable charity work FedEx does.
Talk to nonprofits in the region, and you'll quickly discover that FedEx talks the civic responsibility talk—and walks the civic responsibility walk. In short. FedEx is a model corporate citizen.
I also know FedEx because I own shares in the company, and the company has been very good to my family, delivering great gains for decades. FedEx stock has been very good to millions of American families who own shares through their retirement savings.
The fact is, FedEx didn't pay taxes in 2018 for a bunch of good and moral business reasons, some of which the Times buried in its story, and others it didn't reveal at all. Which is why Smith took it upon himself to rebut the fake news with an op-ed of his own in The Wall Street Journal.
FedEx didn't pay taxes in 2018, Smith explained, because his company chose to invest in the future: They increased capital expenditures. "We placed a major order for 24 Boeing wide-body freighters, funded major facilities modernizations and expansions, put additional funds in our pension plan, and increased wages by more than $200 million," Smith wrote.
That would have made a heck of a Times business section headline: "Trump Tax Cuts Move FedEx to Buy 24 Boeing Planes." Or "Trump Tax Cuts Beef Up Pensions and Drive $200 Million Wage Increase for FedEx Workers."
Smith wasn't finished with his rebuttal.
"I know the FedEx aircraft orders created thousands of incremental new jobs for Boeing, General Electric (the engine supplier on freighters), and a multitude of smaller suppliers. In fact, each order of a 777F injects about $540 million into the U.S. economy, supports 1,850 jobs, and generates roughly $45 million in federal, state and local taxes."
That, too, is something that would have made a great story: the impact of FedEx's investment on Boeing—another big American company—and its suppliers. And the jobs, revenue and taxes generated by that investment.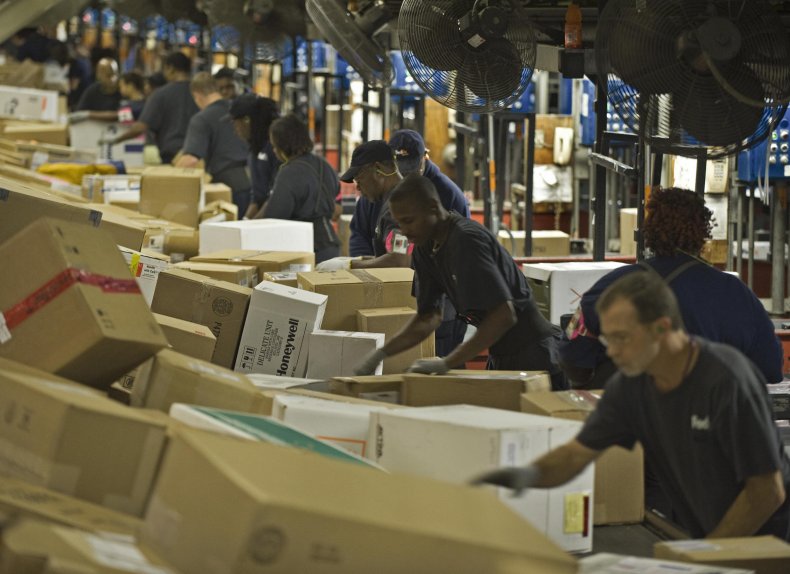 That's why FedEx didn't pay taxes in 2018. Because business investments can be expensed, thus deferring tax obligations. Anyone who's ever run a fruit stand knows that if you don't have profits left because you invested them in equipment or people, you don't have anything left to tax. That's not a scandal. It's not even a story. It's how business works—and runs.
Smith went on to add that FedEx paid $10 billion to the IRS in the five years prior to 2018. $10 billion! And he explained that after the temporary effect of the capital expensing, he expects FedEx "will pay billions more into the U.S. Treasury from the earnings produced by our investments."
There wasn't a Times headline for those facts. Or the billions the company generates through its payroll, vendor relationships, gasoline taxes, and countless other federal, state and local tax streams. We all know why.
The fact is, I—and millions of Americans—know FedEx well. We know people who work for the company, trust them with our most urgent deliveries and have an ownership stake in the enterprise too.
We're getting to know The New York Times a whole lot better too. What, we all wondered, was it up to when it ran this fake news story? And in the business section of the paper, no less?
The editors of the paper might not know the answer to those questions. But millions of fans of FedEx do. And tens of millions of us rooting for our great American companies to succeed—workers and shareholders alike—know too.
Lee Habeeb is vice president of content for Salem Radio Network and host of Our American Stories. He lives in Oxford, Mississippi, with his wife, Valerie, and his daughter, Reagan.
The views expressed in this article are the author's own.