FedEx Investigates After Hundreds of Packages Found in Alabama Ravine
FedEx has launched an investigation after police officers with the Blount County Sheriff's Office (BCSO) found hundreds of packages in an Alabama ravine.
The BCSO officers discovered 300 to 400 FedEx packages of various sizes which had seemingly been thrown off a roadside in the county's western region, Sheriff Mark Moon said. Moon said the packages had likely been outdoors for at least 24 hours before they were discovered, AL.com reported.
FedEx officials arrived on the scene by Wednesday evening, hours after the packages' discovery, WBMA-LD reported. The company then dispatched trucks to pick up the remaining packages.
However, FedEx wasn't able to retrieve all the packages by sundown. The company said it would continue retrieving them on Thursday morning. A BCSO deputy will guard the remaining packages through Wednesday night. Then, FedEx will scan all the discarded packages to determine their origins and intended destinations.
"We're looking into this internally and obviously can't confirm anything until we do," FedEx said in a statement issued to the aforementioned news station. "We will follow up if we're able to find more information."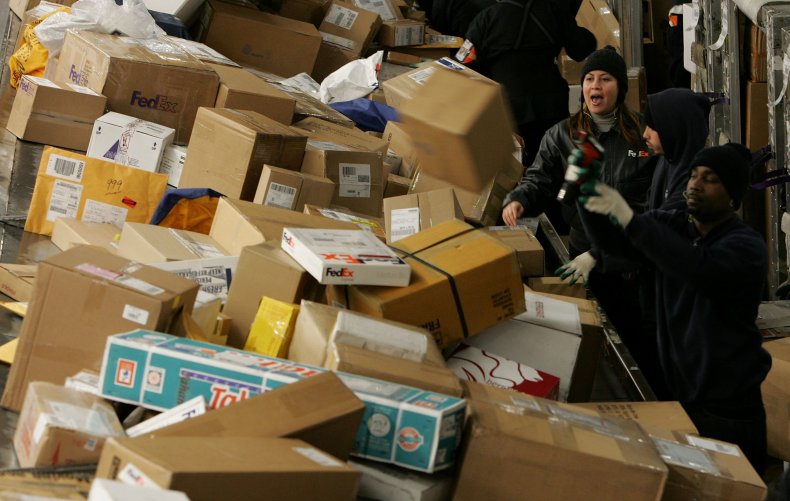 FedEx has struggled throughout the year to hire package sorters nationwide, The Wall Street Journal reported Tuesday. The worker shortage has forced the shipping company to reroute thousands of packages to its other hubs in order to ensure their arrival.
The company rerouted over 600,000 packages a day, leading to worsening service, said FedEx Chief Operating Officer Rajesh Subramaniam President, during a call with investors last month.
The company—along with UPS and the U.S. Postal Service—have faced the increases in shipping that typically coincide with the gift-buying winter holiday season.
FedEx said it would need 90,000 holiday workers this year, 20,000 more than last year. The company said it spent $450 million between June and August to lure and retain workers with higher wages, paid overtime and other benefits.
This year, consumers will be shipping packages amid global supply chain issues that have threatened the availability and low prices of common foods and retail goods. This has caused more consumers to shop and ship their holiday gifts earlier than usual, Ryan Kelly, a marketing vice president at FedEx, told the Journal.
When asked whether the federal government could help ensure the timely delivery of holiday packages, White House Press Correspondent Jen Psaki told reporters in mid-October, "We are not the Postal Service or UPS or FedEx. We cannot guarantee."
"What we can do is use every lever at the federal government's disposal to reduce delays, to ensure that we are addressing bottlenecks in the system," Psaki added.