FedEx and UPS Dismiss Calls to Ship Mail-in Ballots Amid USPS Warnings of Delays
Two private mail services dismissed the possibility of helping the struggling U.S. Postal Service with shipping mail-in ballots amid warnings that voters might not be able to complete their election ballots on time.
United Parcel Service (UPS) and FedEx responded Friday to social media calls asking that they help the Postal Service (USPS) as it faces a looming financial crisis and "significant" delays ahead of the November presidential election.
But private companies are technically barred from handling state ballots. USPS, a government agency that "receives no tax dollars for operating expenses," is the only service with the legal ability to validate such documents.
"State ballots must be postmarked to be considered valid and only the USPS has lawful postmarking status. Therefore UPS, FedEx and other private parties cannot technically be involved in shipping ballots," UPS told Reuters in a statement.
FedEx does not accept individual ballots, the company told Reuters.
"We advise that customers planning to return their ballots via FedEx should closely review their state's guidelines on absentee voting and deadlines for ballots or related election documents," FedEx said.
The calls for help come amid the USPS's announcement Friday that it had written to 46 states and Washington, D.C., warning that voters might not have enough time to complete and return their ballots before the November 3 election. The letters add another layer to a worsening situation, as USPS is already facing budget concerns.
USPS is anticipating an influx of mail-in votes for the election as many Americans are opting to cast their ballots from home out of concern for the coronavirus pandemic. Mail voting is expecting to surge to 50 percent of the country, Reuters reported.
Newsweek contacted USPS for comment, but did not hear back in time for publication.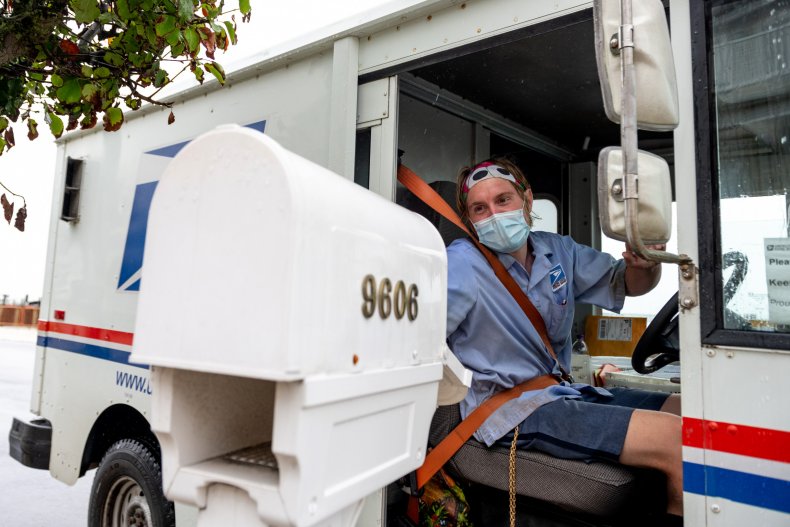 President Donald Trump for weeks has expressed his disapproval of universal mail-in voting, asserting it would cause "the greatest fraud in history." During an interview Thursday, Trump said he didn't support House Democrats' efforts to secure additional funding for USPS in the next coronavirus relief package.
Democrats are seeking $25 billion for the Postal Service and $3.5 billion just for election resources for the fall.
"They need that money in order to have the Post Office work so it can take all of these millions and millions of ballots," Trump told Fox Business' Maria Bartiromo Thursday. "If they don't get those two items, that means you can't have universal mail-in voting because they're not equipped to have it."
Many of Trump's critics took his comments as evidence that he is working to intentionally sabotage postal operations to help him secure a second term, as the majority of mail-in voting proponents are Democratic voters.
Trump later walked back his comments, saying during a press briefing Thursday evening that he wouldn't veto additional funding for the USPS, but that securing the money would be dependent upon Democrats and Republicans reaching an agreement in their bill negotiations.
"I can understand the Post Office and if we could agree to an overall bill, which is obviously a much bigger number than just the Post Office, then that would be fine, but they have the post office as one of their requests," Trump said. "Whether it's the post office or the $3.5 billion for universal mail-in ballots, they're not willing to make a deal. These are two points within a very big deal."