Feds Arrest Man Behind Threats to South Park Creators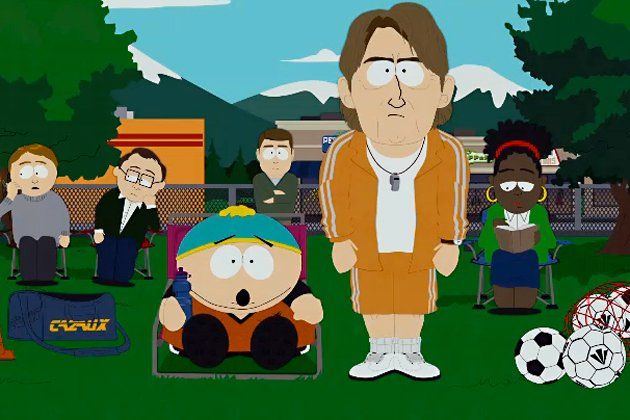 Federal authorities in Virginia have arrested the man who allegedly wrote online posts threatening the creators of South Park after the show ran an episode that included the Prophet Muhammad. The Justice Department announced the arrest of 20-year-old Zachary Chesser Wednesday, saying authorities had stopped him at a New York airport on July 10 before he made a planned trip to Somalia to allegedly try to join an Islamic militant group.
The Justice Department said in a press release that Chesser admitted to using "several online profiles dedicated to extremist jihad propaganda." One of those profiles was Abu Talha al-Amrikee, the poster who threatened South Park creators Trey Parker and Matt Stone in April after an episode that made fun of religious figures, including Muhammad, says a law-enforcement official who spoke on condition of anonymity. The posts, made on RevolutionMuslim.com, encouraged readers to "pay Comedy Central a visit," listed addresses of the television network's New York offices, and said Parker and Stone "will probably wind up like Theo Van Gogh for airing this show." Van Gogh was a Dutch filmmaker killed by an Islamic militant in 2004 after he produced a controversial film that criticized Islam for demeaning women.
When authorities arrested Chesser at the airport, he had his infant son in tow, allegedly in an effort to stay under the radar. He was reportedly planning to travel from New York to Uganda and then to Somalia, where he would join Al-Shabab, the militant group with ties to Al Qaeda that has claimed responsibility for a pair of coordinated bombings in the Ugandan capital during the World Cup final that killed scores of people. Those bombings occurred on July 11, one day after Chesser was prevented from boarding the plane.
"This case exposes the disturbing reality that extreme radicalization can happen anywhere, including Northern Virginia," said U.S. Attorney Neil H. MacBride in a press release. "This young man is accused of seeking to join Al-Shabab, a brutal terrorist organization with ties to Al Qaeda. These allegations underscore the need for continued vigilance against homegrown terror threats."
Declassified first reported Chesser's ties to the South Park threats in April, when New York police were stepping up security at Comedy Central's headquarters, fearing that the online posts might incite violence. Chesser's alleged posts also include "an article detailing the prerequisites involved in leaving for jihad, which closely follows the steps Chesser took" before trying to join Al-Shabab and fight in Somalia, according to the Justice Department.