Feds Ask Marjorie Taylor Greene to Account for Over $3.5M of Unitemized Donations
The Federal Election Commission (FEC) has asked Rep. Marjorie Taylor Greene (R-Ga.) for more information about $3.5 million in contributions to her re-election campaign.
In two filings posted to the FEC website on Monday and surfaced on Twitter by Georgia Public Broadcasting reporter Stephen Fowler on Tuesday, the congresswoman's husband Perry Greene—her campaign treasurer— was asked to provide additional details about donations the campaign received during the first two quarters of 2021.
Between January and March, the Greene campaign received $2,558,631.61 in unitemized donations from undisclosed donors, while the campaign received another $967,045.73 in unitemized donations between April and June. The campaign reported a total of more than $4.5 million in donations during the same time period.
Candidates are not legally obliged to itemize donations or disclose the identity of their donors for contributions that total under $200 during an election cycle. For donations that do need to be itemized, campaigns must supply details including the name of the donor, the donor's address, occupation, employer and the date of the donation must be provided.
The FEC has given the Greene campaign until October 12 to provide clarification about the $3.5 million. To comply with FEC rules, the campaign must either provide information about the donors or show that the money came from small donors only—from at least 17,630 different individuals contributing no more than $199.99 each. Since the campaign has received a high volume of donations this year, it could have easily raised the $3.5 million strictly through small donations.
"The letters sent by the FEC are standard requests for additional information that Congresswoman Greene's campaign has received before and provided a prompt response," Greene's spokesman Nick Dyer said in a statement to Newsweek. "Simply put, MTG has unprecedented support from the America First grassroots across the country and the vast majority have chipped in $10 or $20, far below the $200 aggregate threshold."
"With an average contribution of around $30, her 100,000+ donors are the people President Trump called the Silent Majority," added Dyer. "They are everyday Americans who know Congresswoman Greene is fighting for their families and values each and every day in Washington D.C."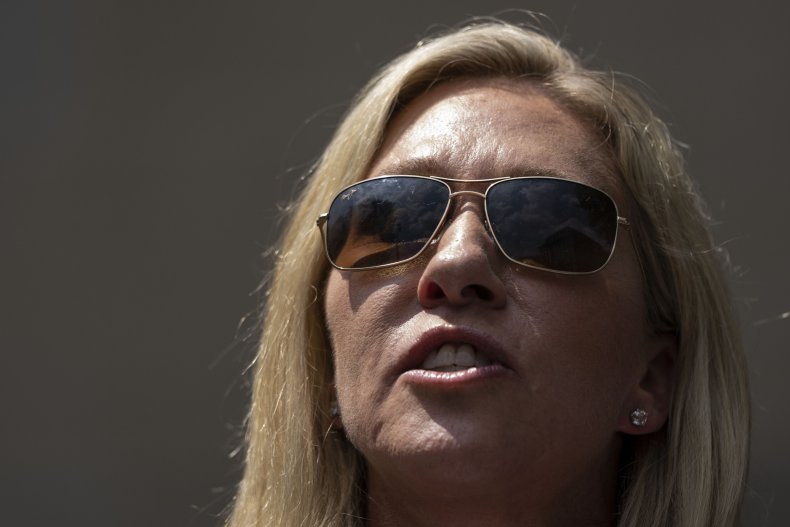 Greene's status as one of the most prominent supporters of former President Donald Trump and baseless claims that the 2020 presidential election was "stolen" from him, as well as her remarks against COVID-19 vaccines and other public health restrictions, have made her a media fixture since she entered Congress in January. The attention likely played a role in increased contributions to her campaign, including the small donations.
Donations to Greene's campaign spiked earlier this year while she was embroiled in controversy over her comments and actions related to the January 6 insurrection at the U.S. Capitol, as well as past remarks taken from her social media accounts. Greene used the controversy to appeal to her supporters for campaign contributions, while comparing herself to Trump in the process.
"Never before has a Republican been under attack like me since the Democrats tried to impeach and remove President Trump from office," an early February fundraising email from Greene stated, according to Talking Points Memo. "And without your support, I have no way of defending myself."
Update (9/9, 4:07 p.m.):This article has been updated to include a statement from Rep. Greene's spokesman Nick Dyer.