The U.S. Marshals Service announced Thursday that 39 missing children had been found in Georgia after completing a two-week initiative dubbed "Operation Not Forgotten."
The investigation was conducted by the Marshals Service's Missing Child Unit and Southeast Regional Fugitive Task Force, along with Georgia state and local authorities and the National Center for Missing and Exploited Children (NCMEC). Authorities were able to rescue 26 children and safely locate a further 13 children. There were nine "criminal associates" arrested during the operation.
"When we track down fugitives, it's a good feeling to know that we're putting the bad guy behind bars. But that sense of accomplishment is nothing compared to finding a missing child," Missing Child Unit Chief Darby Kirby said in a statement. "It's hard to put into words what we feel when we rescue a missing child, but I can tell you that this operation has impacted every single one of us out here. We are working to protect them and get them the help they need."
Marshals have taken part in the rescue of over 1,800 children since a partnership with NCMEC began in 2005. The Missing Child Unit was established after the Justice for Victims of Trafficking Act of 2015 went into effect. The law gave the Marshals Service additional authority to work with federal, state and local law enforcement agencies to help find missing, exploited or endangered children, regardless of whether cases include the involvement of a fugitive or sex offender.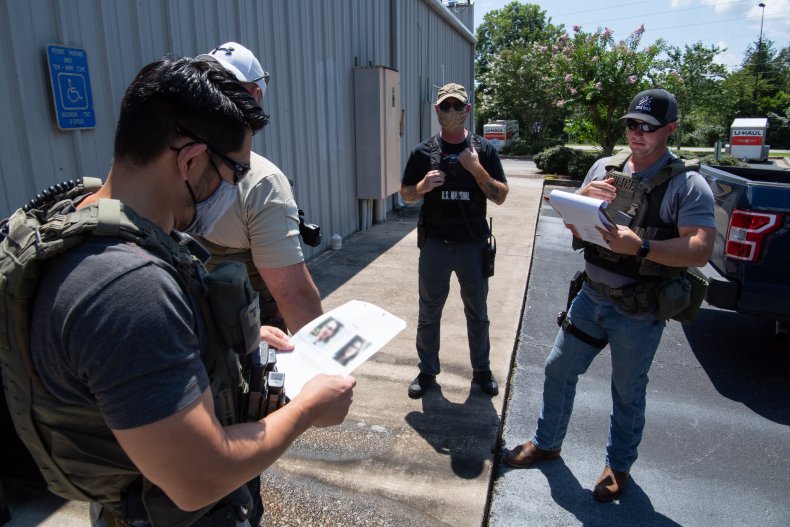 The nine people arrested were charged with a variety of alleged crimes, including sex trafficking, registered sex offender violations, illegal drugs and weapons possession, custodial interference and parental kidnapping. There were 26 warrants cleared, including 19 arrest warrants, with some of those arrested having had multiple warrants.
"This is a priority of the United States Marshals Service," Marshals Service Director Donald Washington said during a press conference. "We are responsible for bringing to justice about 100,000 fugitives every year... This operation of going and rescuing children, in my view, is far, far more important. The numbers are not nearly 100,000 when we talk about missing children that we are able to recover. But one missing child is worth thousands, in my mind, of fugitives that we go out and get."
The two-week operation occurred after months of coordination and planning between Marshals, Georgia authorities, NCMEC, the nonprofit Children's Healthcare of Atlanta and the FBI. Washington said that a particularly critical element of the operation was the work done by agencies in Georgia, including the Georgia Bureau of Investigation, Georgia Office of the Attorney General, Georgia Department of Family and Children Services and the Georgia Department of Juvenile Justice.
"The 26 kids who were rescued during Operation Not Forgotten, these rescues were the direct result of the collaboration among many agencies," Washington said. "There is no more meaningful work that law enforcement does than rescuing children. Our children are not for sale and they are not ever forgotten."
Newsweek reached out to the U.S. Marshals Service for additional comment.