Feds to Pay All Depositors as Signature Bank Closes Following SVB Collapse
The U.S. Treasury Department on Sunday announced a measure to strengthen the public's confidence in the country's banking system following last week's collapse of Silicon Valley Bank (SVB) and Sunday's seize of Signature Bank. That's insuring depositors got their money, but with no extra burden on taxpayers.
That's for all eligible banks, not just the two making headlines over the last week, according to the Federal Reserve.
"This action will bolster the capacity of the banking system to safeguard deposits and ensure the ongoing provision of money and credit to the economy," the Federal Reserve posted on its website.
Top officials said Sunday they intend to make sure all depositors for SVB have access to their funds as do the depositors for Signature Bank.
This comes as the U.S. stock market took a tumble on Friday and before Asian markets opened on Monday morning.
A joint statement from Secretary of the Treasury Janet L. Yellen, Federal Reserve Board Chair Jerome H. Powell and FDIC Chairman Martin J. Gruenberg on Sunday evening said all depositors will have access to their funds on Monday, March 13, and that "no losses associated with the resolution of Silicon Valley Bank will be borne by the taxpayer."
The joint press release on the Federal Reserve Board's website stated that Yellen and Powell consulted with President Joe Biden before making their announcement. It also says it "approved actions enabling the FDIC to complete its resolution of Silicon Valley Bank, Santa Clara, California, in a manner that fully protects all depositors."
"We are also announcing a similar systemic risk exception for Signature Bank, New York, New York, which was closed today by its state chartering authority," the joint statement read. "All depositors of this institution will be made whole. As with the resolution of Silicon Valley Bank, no losses will be borne by the taxpayer."
They added that "shareholders and certain unsecured debtholders" won't be protected and that senior management from the institutions have also been removed. The losses incurred to the Deposit Insurance Fund to support uninsured depositors "will be recovered by a special assessment on banks, as required by law," the statement read.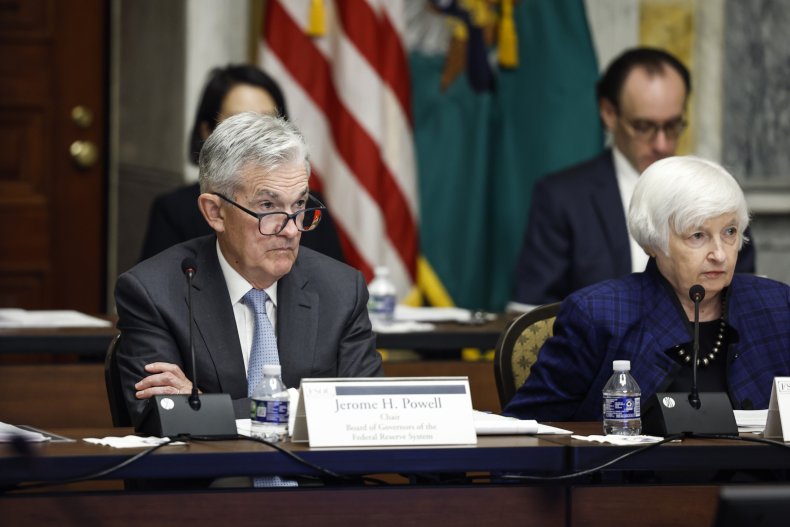 This extends to New York-based Signature Bank, which was closed Sunday by authorities. Silicon Valley Bank's shutdown was the second-largest banking shutdown in U.S. history, and Signature Bank is now the third-largest shutdown.
Reuters reported Sunday that Signature Bank had deposit balances of $89.17 billion on March 8, much lower than the $110.36 billion in assets at the end of 2022.
Silicon Valley Bank backs quite a bit of tech firms and start-ups just like Signature Bank backs many cryptocurrency businesses.
Biden told reporters on Sunday that he would answer questions about the new banking crisis on Monday but the White House released a statement.
"I am firmly committed to holding those responsible for this mess fully accountable and to continuing our efforts to strengthen oversight and regulation of larger banks so that we are not in this position again," Biden said. "Tomorrow morning, I will deliver remarks on how we will maintain a resilient banking system to protect our historic economic recovery."
The Federal Reserve Board also said it will make sure banks "have the ability to meet the needs of all their depositors."
"The U.S. banking system remains resilient and on a solid foundation, in large part due to reforms that were made after the financial crisis that ensured better safeguards for the banking industry," the statement read. "Those reforms combined with today's actions demonstrate our commitment to take the necessary steps to ensure that depositors' savings remain safe."
The banking crisis has already affected the stock market as the Dow Jones Industrial Average fell by 345 points, or 1 percent. The S&P 500 fell by 1.45 percent and the NASDAQ Composite lost 1.76 percent.
Sunday's move by the feds was made before Asian markets opened Monday morning.
Newsweek reached out to the U.S. Treasury Department via email for comment.