'Feeling Fat and Lazy?': Jameela Jamil Slams 'Fatphobic' Times Square Billboard
Times Square is known for its advertisements, but one in particular is catching the attention of online critics.
The billboard, featuring a frustrated woman with her head in her hands—a classic diet-culture trope—asks the rhetorical question: "Feeling fat and lazy?" Meanwhile, a thinner, smiling woman, fitness coach Deborah Capaccio, is superimposed in front, along with her social media handle and website.
The advertisement, which according to the New York Post is located "on the southeast corner of West 48th Street and Seventh Avenue," has drawn ire from spectators who accuse it of fatphobia, including actor and activist Jameela Jamil—but Capaccio isn't backing down.
The controversy speaks to the larger issues surrounding diet culture and, in particular, the marketing of so-called "weight-loss" techniques and tools to vulnerable consumers. According to March 2021's edition of The U.S. Weight Loss & Diet Control Market report, the weight-loss industry was worth $78 billion in 2019. That peak has since dropped slightly, as a result of the COVID-19 pandemic and recession, but the report notes that "providers are looking for a strong rebound in 2021, as Americans are vaccinated and businesses reopen."
In a lengthy Instagram post earlier this week, Jamil called out the massive NYC billboard: "This is a blatantly fat phobic and also quite ableist ad. It bothers me to no end that we are still yet to recognize cruelty and offense to fat people as hate speech. It is still open season on fat bodies."
She added that "with most of America being fat, this amazes me, how many people's mental health we are this reckless with, under the pretense of caring about their physical health."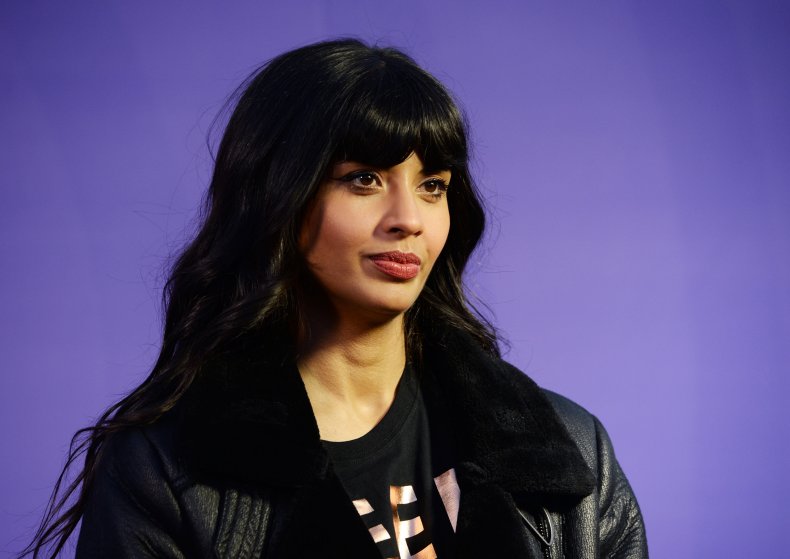 The 35-year-old Jamil, perhaps best known for her role as Tahani Al-Jamil on NBC's The Good Place, is outspoken on issues relating to body image and disordered eating, often drawing from her own struggles with anorexia. "Fat people are not automatically lazy and unhealthy. Thin people are not automatically active and healthy," she wrote. "I was anorexic for 20 years because of adverts like these, and messaging like this, and I didn't eat a meal for the majority of those two decades. Do you think I had the energy to do anything? I couldn't exercise, I couldn't clean, I often couldn't even brush my hair/teeth."
Jamil was not the only one to speak out against the billboard. Singer and influencer Matthew Anchel also took issue with the ad, as documented in a video posted to social media.
"Can you f**king believe this billboard?" he says in the clip. "What is this? I want to petition to have it taken down." He went on to call the billboard "so offensive to fat people."
In a statement to Newsweek, Anchel said that seeing the billboard so prominently displayed in Times Square was "shocking."
"I'm a born and raised New Yorker and my city is a place where we accept everyone, so seeing something that was so clearly disparaging about fat people featured so prominently was upsetting," he said. "Being fat doesn't mean [you're] lazy and fat is not a feeling."
He added that "this messaging makes people who are trying to love themselves and live in their bodies feel like...there really is something terrible about their not thin body."
Despite the criticism, Deborah Capaccio, the fitness coach behind the billboard, appears to stand by her message. In a conversation with Newsweek, she explained that "the words fat and lazy were specifically used on the billboard after interviewing [hundreds] of women suffering from yo-yo dieting and body image issues. They themselves told us, over and over again, that they used these words to describe how they felt."
According to Capaccio, "the idea behind using these words was to act as a mirror, reflecting back to the women suffering, triggering a response of discomfort, and to motivate them to go to our website."
She also emphasizes her billboard "asks [a] question" that viewers can respond to—rather than directing a statement at them. "If the reader says no, I do not feel this way, fantastic," she explained. "Unfortunately, in today's culture, we cannot use certain words regardless of their context without being shamed, judged and canceled. But that's ok, the backlash has been well worth it as we have been able to help more women than we would have without the controversy."
According to Capaccio, her program's "philosophy is never to shame anyone with a weight problem...but instead get to the root cause of their struggle first."
In a July 7 Instagram post, she explicitly denounced the idea that her advertisement was fatphobic, writing: "Feeling fat and lazy? YEP. I do! [I also feel proud af!] Fat shaming? Um my goodness NO."
Her website, GetYourSparkleBackGirl.com, features similar messaging, as it promises to "[take] you from feeling fat and lazy to being fit and energetic."
Advertisements like Capaccio's are often criticized as contributing to diet culture, which in turn can perpetuate patterns of disordered eating and negative body image. According to the National Association of Anorexia Nervosa and Associated Disorders [ANAD], "eating disorders affect at least 9 percent of the population worldwide" and "are among the deadliest mental illnesses, second only to opioid overdose."
Updated 07/22/2021, 4:50 p.m. ET: This story has been updated with a statement from fitness coach Deborah Capaccio.
Updated 07/23/2021, 11:15 a.m. ET: This story has been updated with a statement from singer and influencer Matthew Anchel.