A superintendent of a high-needs school district in Arizona compared his ongoing coronavirus pandemic struggle of deciding between opening schools safely or risking the loss of funding to having a gun to his head.
Jeff Gregorich, the superintendent of schools at Hayden Winkelman Unified School District in Arizona, relayed his story of hitting "one obstacle after the next" as the state prepares to return to in-person classes on August 17. Arizona Republican Governor Doug Ducey last month announced a series of "data-driven benchmarks" and issued an executive order mandating schools to provide on-site learning and services in two weeks. In late June, Arizona was forced to roll back reopening after coronavirus cases spiked. Speaking with The Washington Post, Gregorich bluntly warned, "Kids will get sick, or worse. Family members will die. Teachers will die."
"These kids need every dollar we can get. But COVID is spreading all over this area and hitting my staff, and now it feels like there's a gun to my head," Gregorich said. "I already lost one teacher to this virus. Do I risk opening back up even if it's going to cost us more lives? Or do we run school remotely and end up depriving these kids?"
Gregorich said many of his difficult decisions and anxiety-worn days stems from an ultimatum he and other state educators received from the governor: "we have to reopen our schools to students on August 17th, or else we miss out on five percent of our funding." He described Arizona's Hayden Unified School District, which only has about 300 students, as a "high-needs district in middle-of-nowhere Arizona."
One of the primary problems with a reduction in funding option is "I've got nothing to cut," and 90 percent of the overwhelmingly Hispanic students are free-and-reduced lunch.
He noted that that his students, their parents and the teachers are "like family," with his wife teaching at one school and his own four kids having gone through the district as students years before. Gregorich said he has spent every recent day sanitizing doors, measuring out social distancing spaces in classrooms and preparing for the certainty that "it's going to hurt either way" no matter what decision he ultimately makes.
Gregorich said several teachers informed him they will retire if he opens up schools this month and pleading with him, "Please don't make us go back. This is crazy. We're putting the whole community at risk." He described a "skeleton staff" in which the average salary of teachers is about $40,000.
The Arizona Department of Health Services on Monday announced that there were 1,030 new COVID-19 cases Monday and 14 additional known deaths. This marks a steady decline from recent weeks, in which Ducey was obliged to shut down many businesses and public spaces for a second time after they'd reopened too early in June.
Last month, 87 doctors signed a letter to Ducey urging him to keep schools shut for at least the first quarter of the academic year, describing the return to in-person school in August as "ill advised" and "dangerous."
"No educator should be forced to make this choice," the letter continued. Gregorich repeatedly referred to politicians and others mandating schools to reopen in person versus using a virtual learning option as pure "fantasy."
"Some of these kids are out in the wilderness right now, and school is the best place for them. We all agree on that. But every time I start to play out what that looks like on August 17th, I get sick to my stomach. More than a quarter of our students live with grandparents. These kids could very easily catch this virus, spread it and bring it back home. It's not safe. There's no way it can be safe."
Newsweek reached out to both the school district offices and the governor's office for additional remarks about the reopening process Monday afternoon.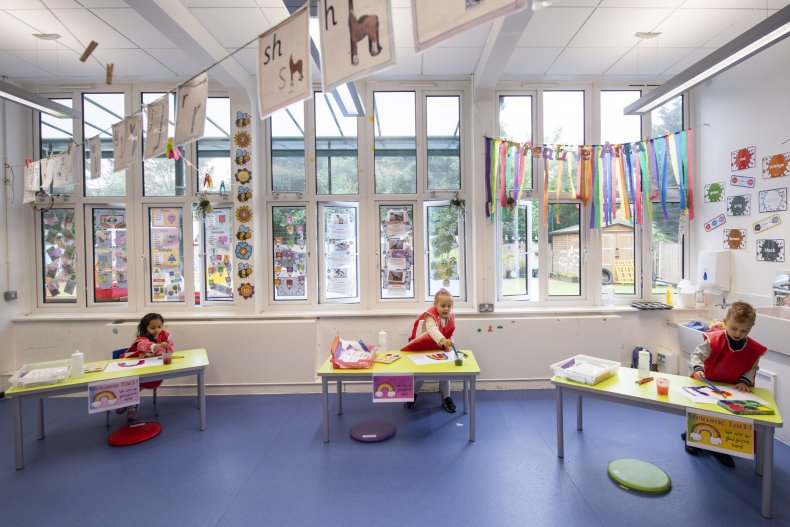 About the writer
Benjamin Fearnow is a reporter based out of Newsweek's New York City offices. He was previously at CBS and Mediaite after working as a news curator at Facebook. Fearnow has pieces published in The Atlantic as well as stories published about him in Wired and The New York Times. He attended the Columbia University School of Journalism after graduating from Indiana University-Bloomington. Email: b.fearnow @ newsweek [dot] com.