Feet, Film and Flaubert: A Conversation with Manolo Blahnik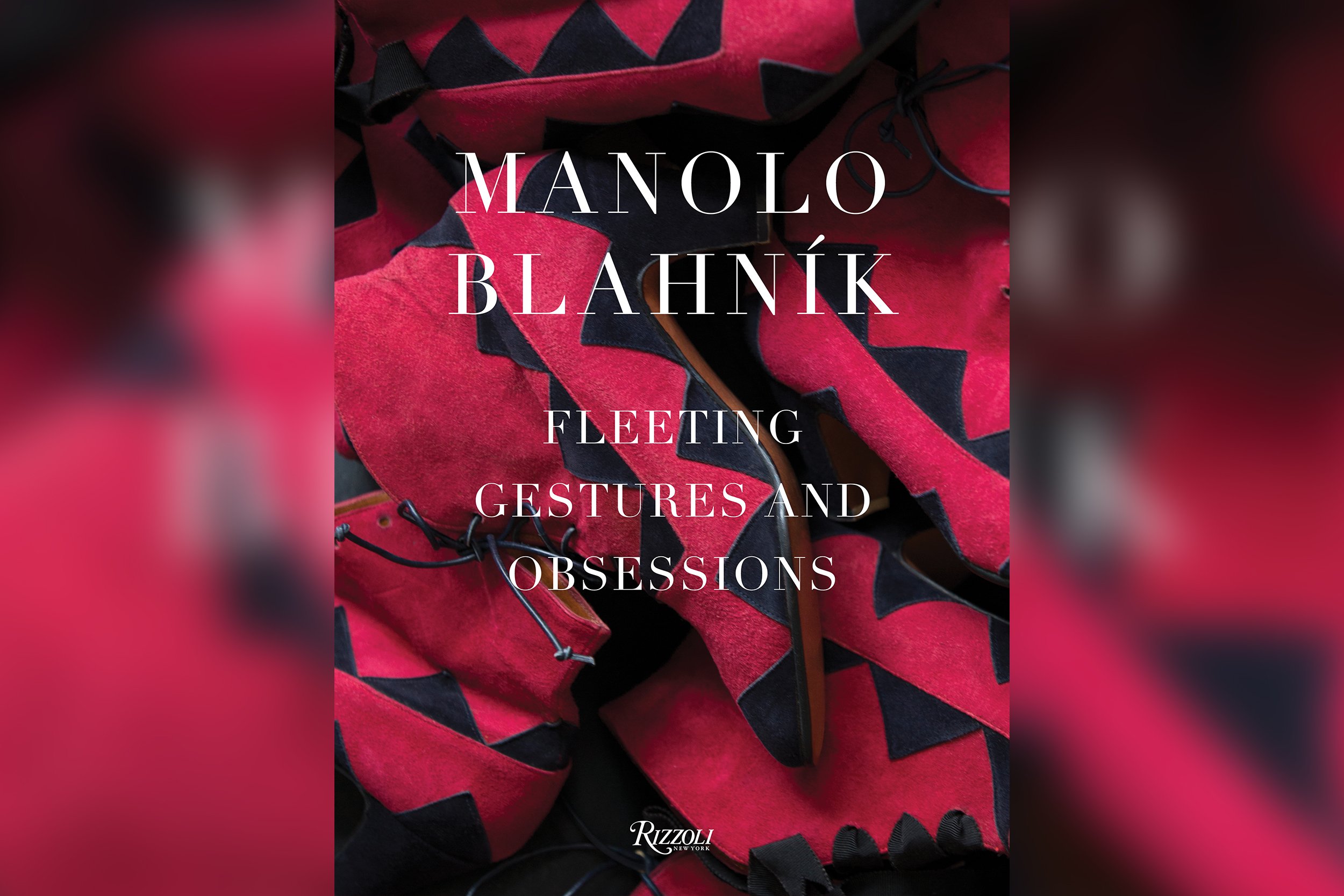 Manolo Blahnik, sitting down for a conversation with Newsweek recently amid the stocked shelves of the brand new Rizzoli bookstore in New York City, declares: "One thing I hate, is to keep people waiting. Even for Madonna. I find it offensive. Lines should not exist."
His arrival was, of course, quite prompt.
Clad in a double-breasted suit of the happiest lemon yellow, offset by a yellow-and-blue bowtie, owlishly round glasses and white kid gloves (to prevent Sharpie stains while signing books), Blahnik resembles more the eccentric owner of a fictitious chocolate factory than a purveyor of high-fashion footwear that's spawned multiple generations of devoted fanatics.
"Forty years! It's a life, it's two lives, three lives!" he says, his voice booming as he recounts his long career even as he talks about how he was beginning work on his new collection last week—and he's only just starting to choose the materials and fabrics.
At a time when the market is flooded with towering, clunky platforms and vertiginous single soles with ruthlessly high-sloped arches that run in ergonomic opposition to how humans were meant to stand, Blahnik remains staunchly committed to his clean design sensibility. His forte has always been mules and pumps with modest heels ranging between two to three inches (occasionally higher, but never too severe), which are built to be worn, danced in and worn again—versions of which he produces season after season.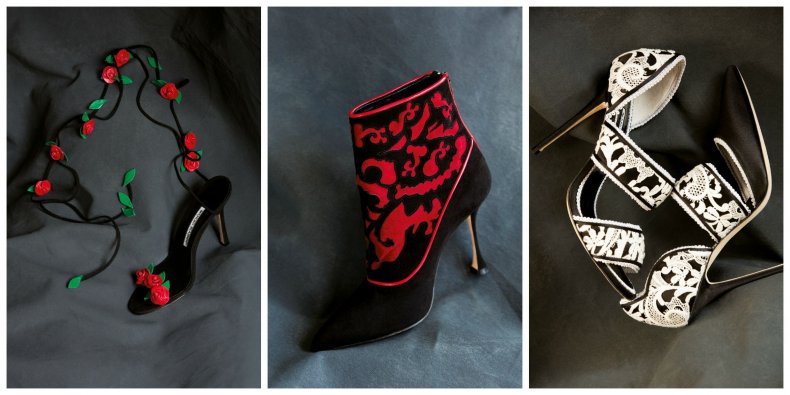 "It's about the material, the design and the technological part of it, the balance, which I think I have now mastered, as I have not many people complaining about the comfort of my shoes," Blahnik says. Even today, he remains the sole designer for his family-owned company—now run by his niece, Kristina Blahnik, the recently appointed CEO—with nary a luxury conglomerate stakeholder in sight.
While his eponymous creations are cemented in the annals of the pop-cultural landscape (thanks, in part, to a certain fictitious Manhattan newspaper sex columnist who must not be named and her $40,000 obsession with "Manolos"), his maiden venture into the shoe business was not the smoothest of steps. Commissioned to make the accompanying shoes for famed British couturier Ossie Clark's runway show in 1972, Blahnik, possessing neither much experience nor technological soundness, constructed them with rubber in the soles. With no steel to hold the wearer steady, the result was a line of models wobbling down the runway, straining against toppling over. What could have been a potentially career-wrecking move turned out otherwise, as critics and show-goers raved about how the girls walked so differently from the staid gait that was the norm for runways.
"Without this big accident, I would not be able to comprehend how this shoe works," says Blahnik of the near disaster. He learned the correct technique for producing non-wobbly heels, and went on to have a prolific shoe-making career that has reached into its fifth decade. He's produced more than 30,000 designs and garnered the kind of first-name recognition that's usually afforded only to pop stars and athletes.
Blahnik is the first shoe designer ever to be honored by FIT's Couture Council Award for Artistry of Fashion. "I haven't yet digested it, but it's a great, great, great honor," he says when asked how he feels about one of the two big reasons he's decamped from his home in Bath, England for this whirlwind trip to New York.
The other reason is the launch of his new book, Fleeting Gestures and Obsessions, for which he's here at the Rizzoli bookstore to be interviewed by Vogue's Andre Leon Talley. The idea for the 500-page compendium of photographs of Blahnik's creations stemmed from the designer wanting to chronicle his cinematic and literary obsessions, which couldn't necessarily be communicated through the arch and heel of a perfectly designed pump.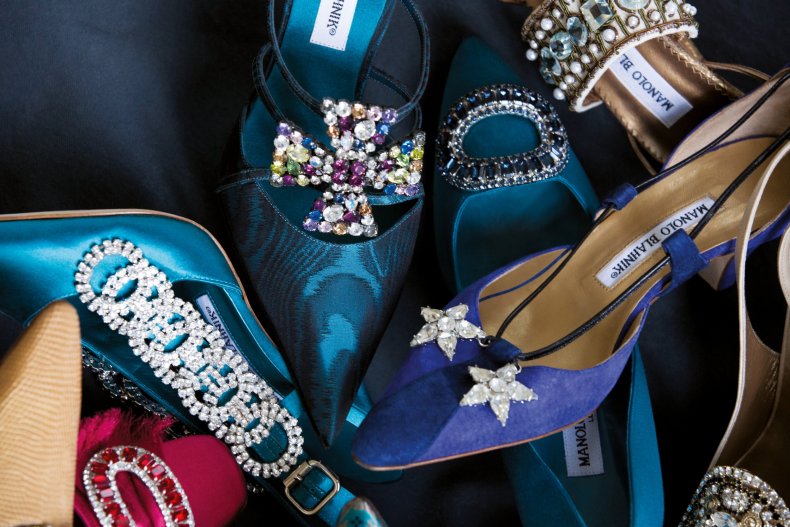 Published by Rizzoli, the book's pages are interspersed with photographs taken by Michael Roberts and transcriptions of conversations between Blahnik and an eclectic variety of people, on subjects that are equally eclectic: He debates the subtle differences between Tyrrhenian sandals and Persian slippers with a professor of classics at Cambridge, going into peals of delight over the pearls studded in Caligula's sandals; he meditates on the gloriously naked feet of Alain Delon in the film Purple Noon; he narrates the story of how he came to possess Cecil Beaton's planter hat; and he spouts forth theoretical deconstructions of the works of Tennessee Williams and Gore Vidal.
"Have you watched this new version of Madame Bovary with Mia Wasikowska? It's divine!" he exclaims. Like Frédéric Moreau, the titular hero of Gustave Flaubert's L'Education sentimentale, one of his favorite novels, Blahnik in person is prone to elaborate flights of fancy, wherein he flits from topic to topic with a bristling energy that belies his 72-odd years. One moment he's excitedly talking about re-reading Pompeii by Mary Beard, the Cambridge classicist and his good friend, and in the next he's telling Newsweek that he does not gladly suffer fools who cannot converse with him about the films and the books that he loves.
"I was almost about to strangle the woman," he says in mock-horror, recalling some poor conversationalist from two days ago who had the gall to confess to him that she didn't know Julie Christie. "I ADORE her," he declares, launching forth into a monologue of rapt admiration over the actress's performance as a woman suffering from Alzheimer's in a film whose name he cannot immediately recall. It's an abomination, he thinks, that she wasn't given the Oscar for her exquisite performance in this particular movie, whose name he really cannot remember right now. Luckily, this writer is well aware of Christie and her work, and reminds him that the film he's talking about is Away From Her. His surprise is visible.
"Young people today find these people very...anon," Blahnik says. "They don't exist anymore." He says he produced his new book "for the young people of this generation—your generation—to learn about the art and artistry of these people and what they did and how it's going to last forever."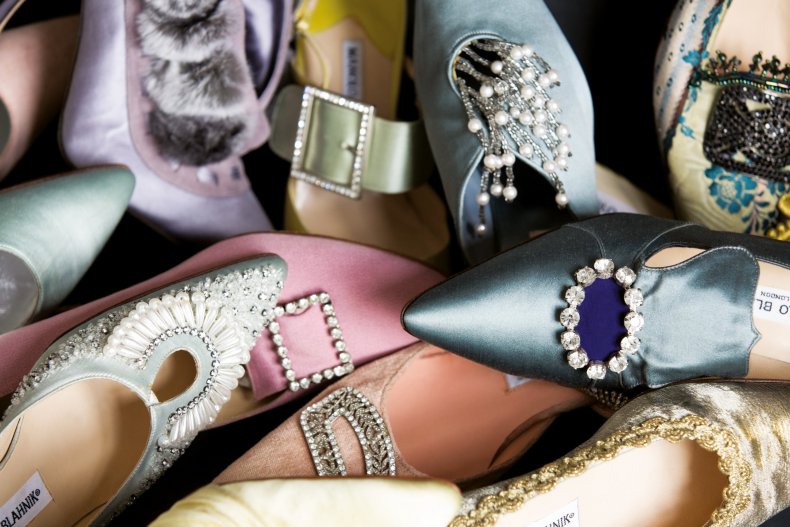 The back room in Rizzoli is packed with Manolo devotees of all genders and ages, clutching their paving-stone-size copies of the book and erupting into peals of laughter at the repartee between Blahnik and Leon-Talley, the designer's longtime friend, collaborator and partner in shenanigans such as dressing up like Greta Garbo from Queen Christina (more on that to follow).
Leon-Talley recounts meeting Blahnik for the first time at an acquaintance's house on Fire Island, when the latter would turn out, day after day, impeccably outfitted in brightly colored linen suits of periwinkle blue, citrus green, tangerine and lemon yellow, right down to matching oxfords he'd made himself. Leon-Talley would drape himself in Geoffrey Beene blankets and accessorize with a Chinese parasol, and together they'd make their way to the beaches of Fire Island in their rive gauche ensembles, impervious to the looks of disdain thrown their way by the local residents.
"We thought we were EVERYTHING!"
When the two men take the stage, what follows is an hour punctuated with hand-to-the-heart rapturous declarations of "Fabulous!" over their shared cinematic obsessions. There are musings on the eternal tussle between being trashy and stylish, with a rueful admittance that without one, the other cannot exist. There is a discussion about how Rihanna is the true heir to the Marlene Dietrich school of sublimely confident movement, but not without a sly, mischievous interjection from Blahnik about how she may have resembled a "huge omelette" in her flaming yellow Guo Pei confection at the Met gala.
There are remembrances of great shoe moments on screen—Barbara Stanwyck's marabou-lined mules in Double Indemnity, and Marlene Dietrich's pumps in The Devil is a Woman. There is a steady proliferation of famous first names of people who have shaped the careers of both men: Diana (Vreeland, the Vogue editor who told Blahnik that he must do nothing else but shoes), Paloma (Picasso, who once gifted Blahnik a signed copy of Gore Vidal's Myra Breckinridge), and Bianca (Jagger, without whom no tale of '70s disco debauchery is ever complete).
"I must go; I could go on talking to you about Flaubert forever because I like you and you know who Julie Christie is," says Blahnik conspiratorially, signaling the end of our conversation, as a handler appears to whisk him away to get ready for the onslaught of people waiting to get their copies signed.
Unlike the slightly skewed priorities of the fictitious sex columnist who made them a part of everyday lexicon, this particular writer's budget is too exhausted from paying New York City rent to spend an ungodly sum on a pair of Manolos just yet. However, in the moments following his parting words—quite like Leon-Talley with his rive gauche parasol and Geoffrey Beene ensemble, and like the legions of women who have probably felt this way from wearing his shoes—for one brief moment, I, too, think that I am everything.
Feet, Film and Flaubert: A Conversation with Manolo Blahnik | Culture