Felicity Huffman Gets 14 Days in Jail As First Parent Sentenced in College Admission Scandal
Actor Felicity Huffman was sentenced on Friday to 14 days in prison for the role she played in the college admission scandal.
Appearing in Boston court on Friday, Judge Indira Talwani listened to both the prosecution and the defense before issuing her decision. In sentencing Huffman to 14 days, she opted for the lower end of the guidelines offered by the prosecution.
During the hearing, according to the WCVB journalist Adam Bagni, Talwani said Huffman "clearly accepted" the charges against her and that her lack of criminal history would help her. The judge added that she had to think about the defendent, the crime, the nature of the offense and the purpose of the sentencing, which she identified as one that promotes respect for the law.
"I have inflicted more damage than I could've ever imagined," Huffman told the court on Friday.
News of the college admission scandal broke in March and revealed a number of parents who allegedly used their wealth to aid their children's admission to college based on fraudulent information. In the months that followed, colleges reformed policies and lawmakers proposed measures in an attempt to prevent a similar situation from occurring again.
If a bill is signed into law in California, colleges that qualify for the Cal Grant Program, including those that are private, will have to disclose if applicants linked to donors or alumni received special admissions treatment.
Huffman, one of many parents indicted in the FBI operation "Varsity Blues," was accused of paying "mastermind" Rick Singer thousands of dollars to have her daughter, Sophia Grace's, SAT exam score altered. She pleaded guilty to conspiracy to commit mail fraud and honest services mail fraud in May.
As part of her plea agreement, Huffman, who originally faced up to 20 years in prison, was under guidelines to serve between zero and six months. Prosecutors, though, recommended that Huffman serve one month in jail, followed by 12 months of supervised release and a fine of $20,000.
"Most parents have the moral compass and integrity not to step over the line. The defendant did not," prosecutors said during the hearing, according to Bagni.
Huffman's legal team requested a one-year term of probation, 250 hours of community service and the $20,000 fine as called for in the plea agreement.
Prosecutors argued that community service wasn't a punishment since Huffman already participates in community service. Prosecutors claimed that punishment needed to be something a person didn't want to do, but "already does and enjoys."
However, the defense argued that probation was a "real punishment" and said Huffman was one of the two least culpable defendants," according to Bagni.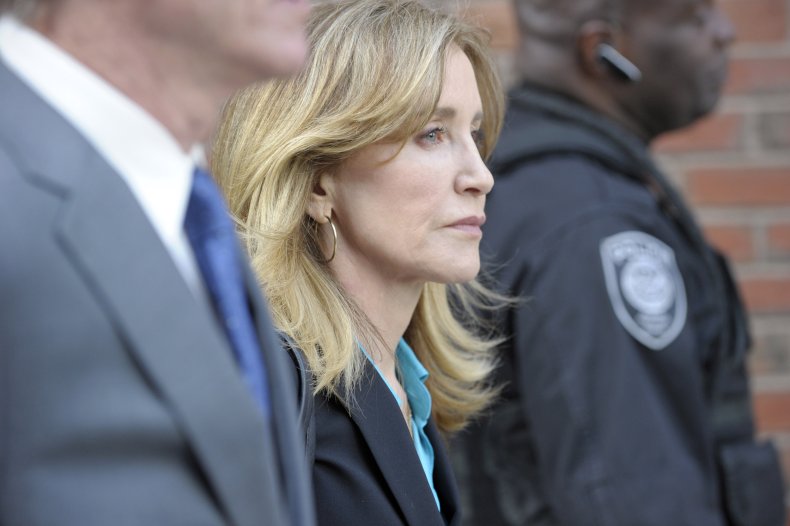 "I can promise you that in the months and years to come that I will try and live a more honest life, serve as a better role model for my daughters and family and continue to contribute my time and energies wherever I am needed," Huffman said in a statement after the hearing.
Along with an apology to her family, she apologized to the students who "work ahrd every day to get into college," as well as, the parents who made sacrifices supporting them.
While many were shocked to hear the news of the lengths parents would allegedly go to in an effort to help their children get into college, a former admissions officer said she wouldn't be surprised if another scandal came out.
"I don't think this is going to be the last 'Varsity Blues' scandal but I do believe without a doubt coaches and universities and parents and students are going to see this as a positive in terms of safeguarding their admissions process versus what it was before," Amy Goodman, a former associate director of admissions at Bucknell University, previously told Newsweek.
Goodman noted that increased checks and balances could be a valid preventive measure, there will still be loopholes.
"This will not be the end of a scandal but the scandal, I don't think, will be to this extent because of the new initiatives made by the universities," Goodman said.
In a letter to the judge ahead of the sentencing hearing, Huffman wrote there was "no justification" for what she did, but offered an explanation of her actions. Sophia wanted to be an actor and was hoping to pursue it as a major in college. However, according to Huffman, her math SAT scores weren't up to par and after working with Singer for about a year, he suggested they have a proctor alter her exam.
"I didn't want my daughter to be prevented from getting a shot at auditioning and doing what she loves because she can't do math," Huffman wrote. "...In my desperation to be a good mother I talked myself into believing that all I was doing was giving my daughter a fair shot."
Given everything that happened, Huffman explained that she now sees the irony in that logic because what she did was "the opposite of fair."
Huffman also admitted to beginning to pursue a similar situation for her younger daughter, Georgia but said her actions with Sophia haunted her so deeply that she stopped the process for her other daughter.
"Long before her arrest in this case, she made her decision to right to right the ship," the defense said during the hearing in reference to her putting a stop to the process for Georgia.
When she learned what her mother did in an attempt to foster her admission, Sophia reportedly tearfully questioned why her mother didn't believe she could gain admittance on her own.
Over the past few months, Huffman repeatedly expressed remorse and shame over her actions, saying that she would accept the decision of the court. As the first parent to be sentenced in the scandal, Huffman's sentencing could be indicative of how the judge would rule in the future, although, each case has its own nuances.
This article has been updated to include a statement from Felicity Huffman.