Felicity Huffman Says There's 'No Justification' for College Admission Scandal, Explains Why She Agreed to Cheat
Ahead of her sentencing, actress Felicity Huffman penned a letter to the judge that explained why she decided to pay to falsify her daughter's SAT exam scores.
Huffman was among the parents arrested in March in the FBI operation "Varsity Blues." Indictments claimed she paid thousands of dollars to Rick Singer in exchange for the altering of her daughter's college entrance exam scores.
The actor pleaded guilty in May to conspiracy to commit mail fraud and honest services mail fraud and is scheduled to be sentenced on Friday. Prosecutors suggested a one-month jail sentence, along with other conditions, but the defense is hoping for community service and probation.
Huffman will have the opportunity to address Judge Indira Talwani at the sentencing hearing, but ahead of the in-person meeting, she penned a letter. In the three-page missive, she took responsibility for her actions and outlined the circumstances that led to her arrest.
"Please, let me be very clear; I know there is no justification for what I have done," Huffman's letter began.
She acknowledged that the bigger picture didn't matter because she could have said "no" to cheating on SATs and told the judge she repeatedly asked herself why she did what she did. Through the letter, she attempted to answer that and several other questions.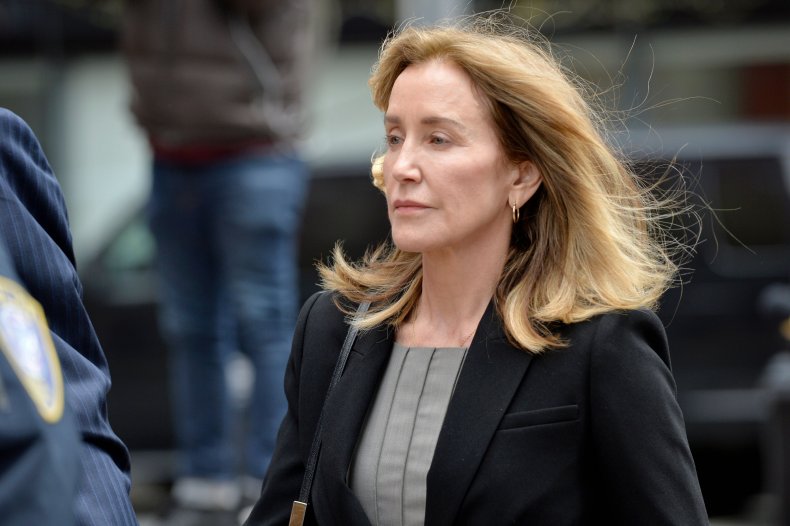 She began by describing to the judge the difficulties her daughter, Sophia, had as a young child, which ultimately led to occupational therapy and the understanding that she had Sensory Modulation Issues. Over the years, Sophia was diagnosed with learning disabilities and while grateful for the advice, help and expertise the family received, Huffman said they came to outweigh her maternal instincts and moral compass.
As the mother of a student attending a public performing arts high school, Huffman wrote that parents advised her that Sophia would benefit from a private college counselor, as the school's staff was stretched thin. This prompted her to hire Singer, who was allegedly recommended as one of the best experts in the area.
Singer, according to Huffman, informed her that schools wouldn't consider Sophia, who wanted to major in theater, for an audition if her math SAT scores didn't improve.
"I honestly didn't and don't care about my daughter going to a prestigious college," Huffman wrote. "I didn't want my daughter to be prevented from getting a shot at auditioning and doing what she loves because she can't do math."
Despite working with Singer for about a year, Sophia's scores still weren't up to par, at which point, he told Huffman a proctor could bump up Sophia's scores after the test. This was a measure he did for many of his students, Huffman wrote he told her.
"As warped as this sounds now, I honestly began to feel that maybe I would be a bad mother if I didn't do what Mr. Singer was suggesting," Huffman wrote.
After weeks of indecision, the actor agreed to falsify Sophia's SAT scores. She considered doing the same for Georgia, her younger daughter, but it "haunted" her to the point she knew it wasn't right and stopped the process for Georgia.
"In my desperation to be a good mother I talked myself into believing that all I was doing was giving my daughter a fair shot," Huffman explained. "I see the irony in that statement now because what I have done is the opposite of fair."
The actress repeatedly expressed shame over what she did and concluded her letter with the sentiment that she was grateful to be able to explain, but not excuse, what happened.
Along with a one-year term of probation, Huffman's team suggested 250 hours of community service and a $20,000 fine. While the prosecution recommended one month of jail time, it's also possible she could serve up to six months, according to the plea agreement.
Huffman will be the first parent indicted in the college admission scandal to be sentenced.