Who Is Felicity Huffman's Husband? Read William H. Macy's Letter to College Admission Scandal Judge Before Sentencing
Actor Felicity Huffman is set to be sentenced for her role in the college admission scandal. Ahead of the hearing, her husband, actor William H. Macy, penned an emotional letter to the judge.
Huffman and her husband arrived in Boston on Wednesday for her hearing, which was scheduled to take place on Friday. If Huffman is sentenced on Friday, she'll be the first parent indicted in the scandal to learn her fate.
Huffman pleaded guilty in May to conspiracy to commit mail fraud and honest services mail fraud. Facing up to 20 years in prison, as part of her plea deal, the prosecution recommended one month in prison. Her attorneys are hoping for community service and probation.
Ahead of her sentencing, several people, including Huffman herself, wrote letters to Judge Indira Talwani.
In Macy's letter, he thanked the judge for giving him the opportunity to discuss his wife. He explained that she grew up in Colorado with six sisters, a brother and a "strong, loving, fierce, eccentric and sometimes violent" mother.
At 15 years old, Huffman moved to Los Angeles to pursue acting, put herself in high school and auditioned while taking classes, Macy explained.
"I think the result of her unstructured upbringing was a determination that her children would always have a mother there backing them up," he wrote.
When Sophia Grace, the couple's oldest daughter, was born, Macy said Huffman "threw herself into parenting," reading books and seeking out the best and brightest on parenting. One book, The Gift of a Skinned Knee, impressed her so much that she met the author and continued to meet with her over the years, he said.
"Felicity has always worked to make sure that our daughters 'don't get squished.' I think growing up, she saw her sisters and her brothers get their spirits pounded down and she's always been determined that nothing will stop our daughters from becoming women in full," Macy wrote.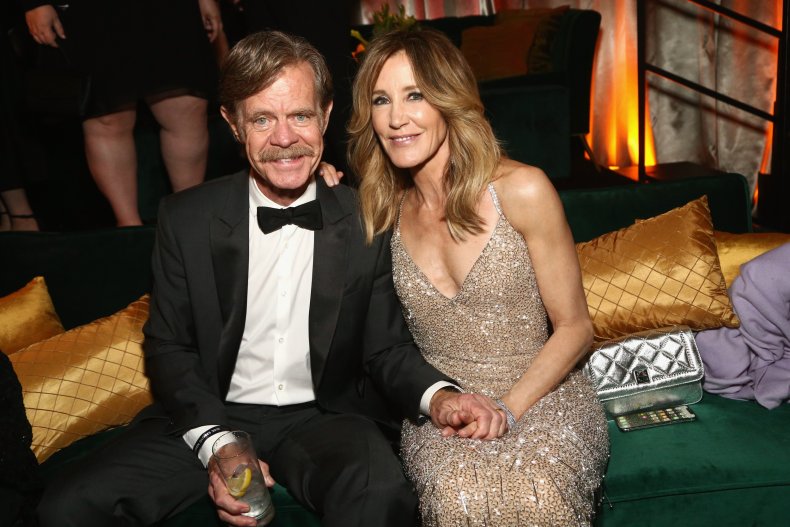 He said that watching Huffman being a mother was a "wonderful thing to see" and shared two moments that he said showed her ability to balance allowing their kids to have fun and keeping them in line. He explained that the woman who had their daughters sign a contract containing rules for computers and phones also baked small cakes for a birthday that party guests could decorate and then use in a food fight.
When Sophia Grace was four, Huffman identified her difficulty with transitions and sensory overload, leading to the discovery she needed Occupational Therapy, Macy explaned. He also said his wife was the first to identify their oldest daughter's difficulty in school.
"But motherhood has, from the very beginning, frightened Felicity and she has not carried being a mom easily," Macy conceded. "She's struggled to find the balance between what the experts say, and her common sense."
Macy outlined the impact Huffman's March arrest had on his daughters. Sophia Grace was turned away from a school she previously secured an audition and continues to have nightmares, he said. Georgia, the couple's younger daughter, "surprised" Macy. He said the event clearly impacted her emotionally, but she used the last six months to succeed academically, help the community and took on a summer internship.
His daughters, Macy said, are "amazing young women," for which he credited Huffman.
In concluding his letter, Macy wrote, "every good thing in my life is because of Felicity Huffman."
Huffman, according to the indictment, paid "mastermind" Rick Singer thousands of dollars to have her daughter take the SAT exam with a proctor. After the exam, the proctor altered her answers to boost her score.
Huffman penned her own letter to the judge, which said there was no justification for her actions. She will also have the opportunity to address Talwani in person at the hearing, which is scheduled for 2:00 p.m. ET.
Read Macy's letter in its entirety below: