FEMA Chief Says Coronavirus Funds Put Agency in 'Really Great Place' for Hurricane Season
Layering natural disasters on top of a pandemic can complicate response measures, but Federal Emergency Management Agency (FEMA) Administrator Pete Gaynor told Trump administration officials that coronavirus funding has put the agency in an advantageous position ahead of hurricane season.
The Atlantic hurricane season officially starts June 1, and ordinarily FEMA would kick it off with $40 billion in disaster relief funding, Gaynor told President Donald Trump on Thursday. This year, though, they're starting off with just shy of $80 billion.
"That's the result of Congress appropriating nearly $40 billion for COVID-19, so we're in a really great place when it comes to funding, personnel and supplies," Gaynor said.
Asked if FEMA was ready for a "slightly enhanced hurricane season," Gaynor responded that FEMA "is always ready."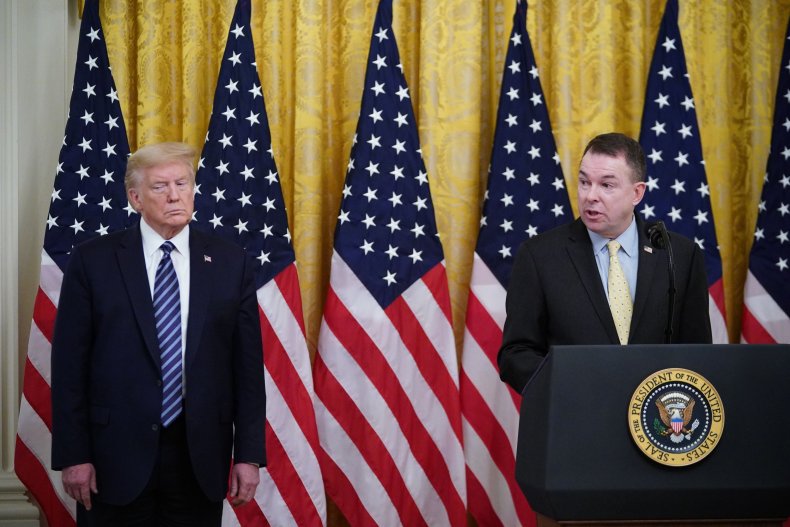 Although the season hasn't officially begun, there have already been two named storms. Tropical Storms Arthur and Bertha, both relatively weak storms, occurred in May and brought heavy rain and wind to the Carolinas.
Having two named preseason storms is an "unusual" occurrence, and it isn't necessarily indicative of how the season will turn out. However, Dan Kottlowski, senior meteorologist at AccuWeather, told Newsweek that this fits into the company's forecasts and that "everything's kind of falling into place."
AccuWeather predicted there would be two to four early-season storms and 11 to 20 named storms throughout the season. Of those storms, up to 11 were expected to be hurricanes and three to six of them would be major hurricanes, defined as a Category 3 or higher.
"[Tropical Storms Arthur and Bertha] really bring to light we've gotta get ready for this season," Kottlowski said. "This season could be a very, very active season, and I'm worried people are so preoccupied with the coronavirus that they might get overwhelmed."
Fortunately, hurricane preparedness isn't entirely different from what people have been doing to isolate themselves as part of states' stay-at-home orders. However, at a time when millions of people are unemployed, keeping nonperishable items and water on hand can be a financial burden some aren't prepared to bear, Becky DePodwin, an AccuWeather meteorologist and emergency management specialist, told Newsweek in April.
Pandemic or not, hurricane preparedness plans "cannot change," DePodwin said, and people still need the same amount of supplies as they would in a normal season. So she suggested that people factor hurricane preparedness into a budget for a potentially reduced income.
Gaynor also encouraged people to prepare for hurricane season and told Axios on May 5 that FEMA's new "surge" National Response Coordination Center will facilitate managing hurricane disasters.
"We're doing a lot of things that are not necessarily in any playbook that has existed," Gaynor told Axios, highlighting the need to evacuate and shelter while social distancing and protecting those who are most vulnerable to COVID-19.
Because colleges have closed, unoccupied dorm rooms could be a way to provide a safe emergency shelter while social distancing, Ruth McDermott-Levy, director of Villanova University's Center for Global and Public Health, told Newsweek in April.
During Thursday's briefing, Vice President Mike Pence acknowledged challenges in dealing with storms amid a pandemic, but he said states would deal with hurricanes "safely and responsibly." He added, "Bottom line is, we're ready."