FEMA Flood Map Houston: Flood Advisory Alert Active for Galveston, Texas, As Heavy Rainfall Hits the U.S.
The U.S. is set to get a little wet from today until the weekend with heavy rainfall hitting the majority of the country.
According to the National Weather Service (NWS), a "complex frontal system" is developing over the Mississippi Valley and is expected to produce areas of light snow to moderate snow to the upper Great Lakes. However, rain is forecast for the majority of the Lower Mississippi Valley with a few "embedded thundershowers" possible.
The NWS also predicts that the southern Appalachians will experience light freezing drizzle or freezing rain in western North and South Carolina.
In Texas, there is a Flood Advisory for central Galveston County in the southeast of the state. In effect until 3:00 a.m. CST today, the alert is based on the doppler radar and automated rain gauges indicating that a band of heavy rain will move into the area and produce one to two inches of rainfall. Even though the rain is expected not to last long, minor street flooding is possible in the advisory area, according to NWS League City, and with tides being elevated, water will be slow to drain.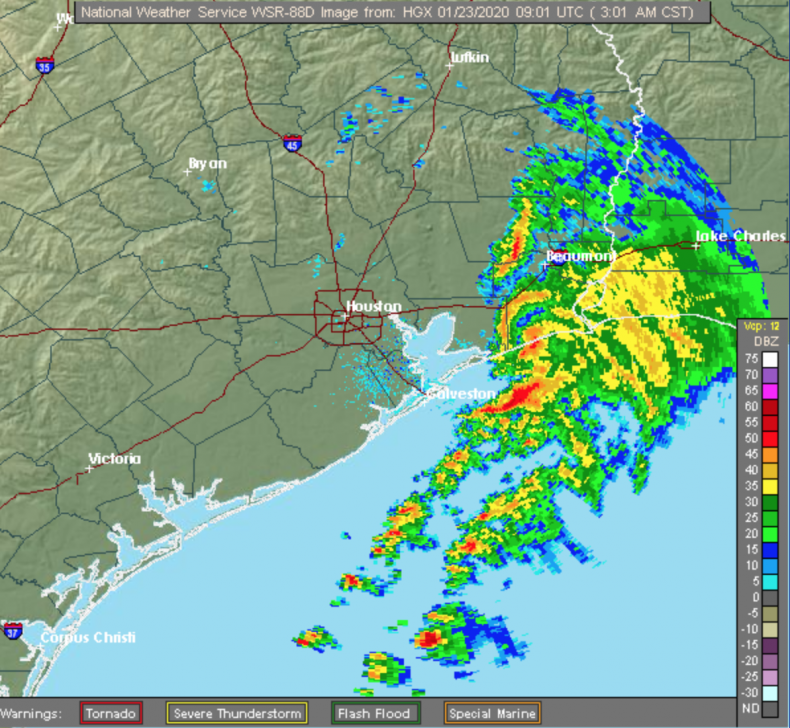 The affected areas include:
Galveston Island West End
Galveston Causeway
Texas City
La Marque
Hitchcock
Galveston Pier 21
Bayou Vista
Jamaica Beach
Tiki Island
Pelican Island
Galveston State Park
Crystal Beach
Schlitterbahn
Scholes Field
The Strand
Port Bolivar
Offatts Bayou
Gilchrist
Rollover Pass
Galveston Pleasure Pier
From tomorrow, a surface low pressure system will consolidate and move northwest into the mid Mississippi Valley, with snow spreading into western Mississippi and Wisconsin, according to NWS. Mixed sleet and freezing rain is forecast for the central Appalachians with a period of rain predicted for the Tennessee Valley, Southeast and the mid Atlantic.
During the course of the weekend, the mid Atlantic a new low will develop with rain hitting New York and southern New England. Snow, sleet and freezing rain will affect the states inland, with New Hampshire and Maine also see a quarter to half of an inch of freezing rain, according to NWS.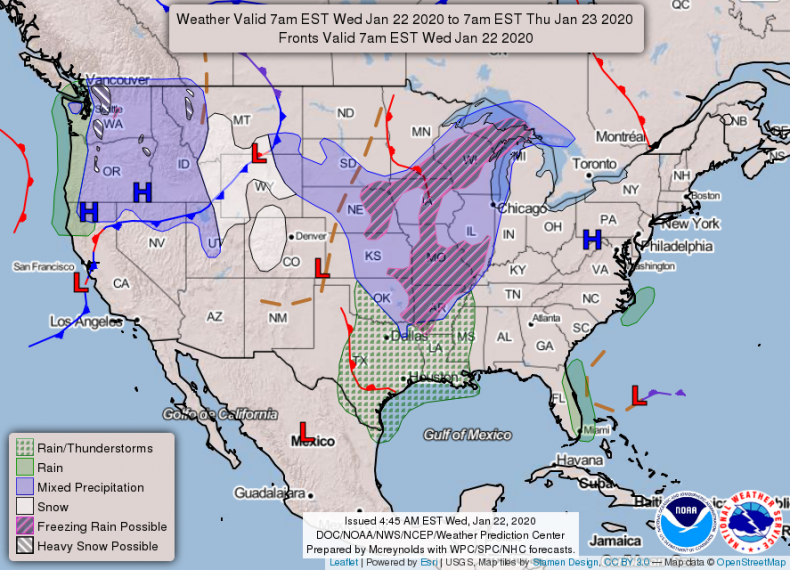 The weather service predicts that temperatures over the U.S will be near to above average over the next couple of days into the weekend. For the Lower and Middle Mississippi Valley today, the Southeast to mid Atlantic tomorrow and northern to mid Atlantic and New England this weekend, temperatures will be cooler.
For residents affected by the flooding advisory, they can check the latest flooding map by FEMA on its website.