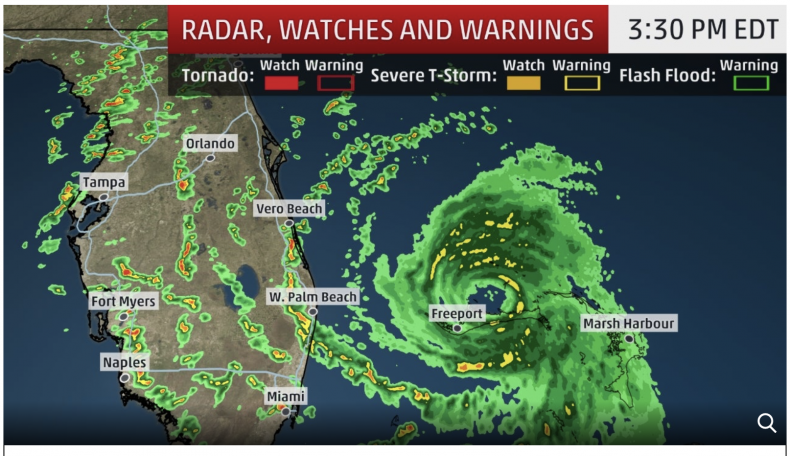 In a 3 p.m. call with members of the press on Monday, representatives of FEMA, the National Guard and United States Northern Command fielded questions about preparations for Hurricane Dorian's approach towards the Southeastern United States. Their key message: Do not delay if you are ordered to evacuate.
"The bottom line on readiness is that the time to act is now," FEMA's David Bibo told reporters, emphasizing, "It's critical that folks not lose focus on this storm."
The storm, now a strong category 4 hurricane, was virtually parked over Grand Bahama island Monday afternoon, with all forecast models predicting the eye of the storm would turn north, missing the U.S. East Coast. Florida, Georgia and the Carolinas will likely be spared the level of devastation experienced in the Bahamas.
Tropical storm force winds from Dorian's massive storm system extend over 140 miles away from the center of the storm, FEMA News Desk Manager Michael Hart cautioned the public. Even if the eye of the hurricane does not make landfall in the U.S., the public should still be wary of its movements, Hart said.
FEMA and military disaster response agencies are preparing for trouble from Dorian in Florida, where the first effects of the storm system were already being felt as of 3:30 p.m. EDT on Monday, to North Carolina, where high winds and storm surge is expected in the coming days.
A representative of FEMA's Office of Disability Integration and Coordination stressed the additional importance of preparation for individuals with special needs. The most important consideration for disabled individuals is planning what to bring in case of evacuation. Items such as extra hearing aid batteries, spare tires for a wheelchair, and prescription and dosage information can prove critical in disaster situations.
Disabled residents and caretakers should also consider which mode of transportation they will take to evacuate, and prepare accordingly whether they plan to use a family car, Paratransit, or other systems.
Administrators also reminded people with service animals and family pets to bring up-to-date vaccination records and rabies tags, and to research which local shelters accept pets ahead of time.
Bibo asked reporters to remind the public of the importance of listening to local authorities. "When people do not evacuate, they put not only themselves and their families in harm's way, but first responders as well," he told Newsweek.
Bibo and the National Guard representative on the call expressed appreciation for Floridian's cooperation so far, after mandatory evacuation orders went into effect in nine counties on Monday.
"We have not seen much resistance at all," National Guardsman Anderson told the press. "I want to echo my FEMA colleagues: You just don't want to put your first responders' lives in jeopardy. We will come and get you, but please heed the call."